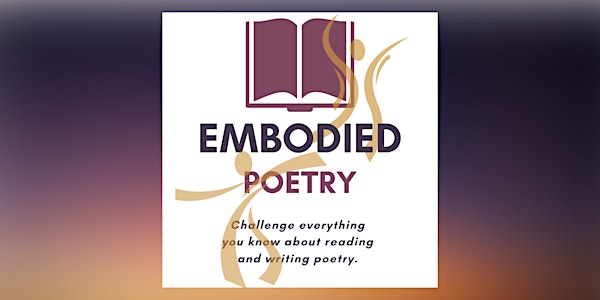 Embodied Poetry
Poetry is for every BODY!
When and where
Date and time
Tuesday, August 9, 2022 · 5:30 - 7:30pm CDT
Location
Rockhurst University Community Center 5401 Troost Avenue Kansas City, MO 64110
Refund Policy
Contact the organizer to request a refund.
Eventbrite's fee is nonrefundable.
About this event
Challenge what you know about reading and writing poetry. Let's go on a journey together to discover how our lived experiences can guide us through our senses to experience poetry in a new and exciting way.
Maybe you have always wanted to read more poetry, but you just don't "get it."
Perhaps you are tired of the traditional ways poetry is read and interpreted.
Possibly, you want to find a way to lean into and understand the feelings you have in your body.
We know what it is like to be stifled by the way poetry is "supposed" to be interpreted. We both studied literature and poetry in school and we both taught it in formal school settings - perpetuating the cycle where we no longer felt in alignment.
Which is why we decided to create this workshop. It allows us to break free from the confines of traditional interpretation and explore what poetry could mean if we were allowed to experience it with our senses.
We could allow our lived experiences to guide our interpretation.
We could feel our bodily reactions and use those to explore the poem.
We could share freely, without judgment, our interpretations.
It would be an entirely new poetic experience!
Imagine…
what a poem could mean outside the current acceptable way of understanding poetry.
allowing your lived experiences guide your interpretation of a poem and be valid.
feeling the poem in different parts of your body and understanding the emotions that are tied to them.
If you've ever wanted to experience poetry in a non-traditional way, or want to explore this way of interpreting poetry further, then please join us for
Embodied Poetry
9 August 2022
5:30 - 7:30pm
Rockhurst University Community Center
Open up poetic possibilities…
When you join us for Embodied Poetry, you will not only open your mind up to new possibilities, but you will open your body up to feeling the power poetry can hold.
In this two-hour workshop you will work with two experienced teachers/facilitators who have a passion for stepping outside traditional thinking and exploring different ways to interpret poetry.
We will read poetry together and discuss it from a place of safety. There are no wrong answers and your interpretation is as valid as any "expert's."
We will work through exercises to help us notice the reactions our bodies give us and what they might mean.
We will explore what it means to critique a poem through the lens of embodied experiences versus traditional cerebral edits.
We will have fun!
About Jerri and Mary:
We met under very non-literary circumstances, but it didn't take long for us to discover our shared passion for the written word and our desire for something outside the current confines of literary and poetic critique. Fast forward several years and this class was born - a way to discover what critiquing a poem could look like beyond the traditional views. How could it change how poetry is written and read?
For more about Jerri, please visit www.everydayscribe.com.
For more about Mary, please visit www.marysilwance.com.
Please join us for this workshop if you:
Want to explore poetry in a new way.
Are open to experiences outside the traditional.
Want to meet other people who feel the same.
FAQ:
When is it?
9 August 2022, 5:30 - 7:30pm
Where?
Rockhurst University Community Center
How much does it cost?
$29 for a two-hour workshop with two facilitators.
What happens after I secure my spot?
Good for you for taking a step in a new direction of poetry! Once you secure your spot, you will receive an email with the details of the event, so you can have them handy, and receive a list of suggested items to bring.
What do I need to bring?
Yourself. A notebook. Perhaps a poem you would like to share. Always a drink (stay hydrated!) and any snacks you might like, though we will have a few light refreshments available.
What happens if I need to cancel or can't attend?
Please let us know as soon as possible and we will refund your money.
Do I have to be a poet?
Absolutely not! You will get a lot from the class as someone who wants to experience poetry differently than traditional teachings provided.
Do I have to share my work?
We know how scary it is to share your work and will not ask you to if you don't feel comfortable doing so.
Do I have to speak at all?
We encourage you to participate fully, but you will not be required to speak if you don't want to.
What will we be actually doing?
We will spend some time getting to know what we bring-our lived experiences, our bodily experiences-to an interaction with art. Once we've familiarized ourselves with our unique somatic knapsack, we will then critique some poetry both through the traditional lens and our experiential lenses. From there participants are invited to respond to our work as well as share their own work for an embodied response.
What if I don't like poetry?
Maybe this is your opportunity to fall in love with it.