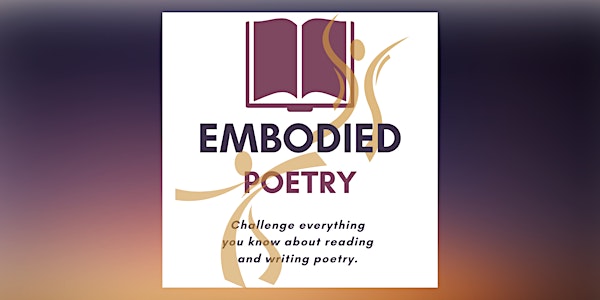 Embodied Poetry: Five Week Writing and Response Series
Poetry is for every BODY!
When and where
Location
Kansas City Public Library 4801 Main St Kansas City, MO 64112
Refund Policy
Contact the organizer to request a refund.
Eventbrite's fee is nonrefundable.
About this event
Challenge what you know about reading and writing poetry. Let's go on a journey together to discover how our senses and lived experiences can deepen our poetic adventures.
Maybe you have always wanted to read and write more poetry, but you just don't "get it."
Perhaps you are tired of the traditional ways poetry is critiqued.
Perhaps you're tired of creating poetry within the confines of poetic conventions and want to explore your poetic practice from a more embodied place.
Possibly, you want to find a way to lean into and understand what you feel through poetry.
WHAT IF we could:
use our bodily reactions to explore a poem?
allow our lived experiences to guide our interpretation?
share freely, without judgment, our interpretations?
It would be an entirely new poetic experience!
Imagine…
allowing your lived experiences to guide interpretation and creation of poetry and be valid.
feeling poems in different parts of your body and exploring the emotions tied to them.
If you've ever wanted to experience poetry in a non-traditional way, or want to explore this way of interpreting poetry further, then please join us for
Embodied Poetry
Tuesday Evenings, 18 October - 15 November 2022
5:30 - 7:00pm
Kansas City Public Library - Plaza Branch (in-person)
Also on Zoom!
Open up poetic possibilities…
When you join us for Embodied Poetry: Writing and Response, you will not only open your mind up to new possibilities, but you will open your body up to feel the power poetry can hold.
In this five week series, you will work with two experienced teachers/facilitators who have a passion for stepping outside traditional thinking to explore different ways to interpret poetry.
We will read and write poetry together and discuss it from a place of safety. There are no wrong answers and your interpretation is as valid as any "expert's."
We will work through exercises to help us find ease in responding to and creating poetry from an embodied space.
We will explore what it means to critique and create poems through the lens of embodied experiences.
About Jerri and Mary:
We met under very non-literary circumstances, but it didn't take long for us to discover our shared passion for the written word and our desire for something outside the current confines of literary and poetic critique. Fast forward several years and this class was born - a way to discover what critiquing a poem could look like beyond the traditional views. How could it change how poetry is written and read?
For more about Jerri, please visit www.everydayscribe.com.
For more about Mary, please visit www.marysilwance.com.
What will we do for five weeks?
Week 1: Welcome! We will explore what it means to critique a poem through the lens of embodied experiences.
We will read and write poetry together and discuss it from a place of safety, working through exercises to help us notice the reactions our bodies give us and what they might mean.
*This class will be similar to the 2-hour Embodied Poetry Workshop earlier this year, if you attended.
Week 2: Generative poetry session: Through writing prompts and exercises, we will begin writing poetry from our senses, experiences, and emotions.
Week 3: Response poetry session: Traditionally thought of as "critique" sessions. These sessions will focus less on technical aspects of poetry (word choice, line breaks, stanzas) and more on where/when/how the poem made us feel and react.
Week 4: Generative poetry session: In this week's session, we will dive into our backpacks (discussed in session 1) for our generative prompts.
Week 5: Response poetry session and wrap up!
Bonuses!
A community of embodied poets that could extend beyond this class.
A list of embodied practices that you can do outside of the sessions.
Places to submit your poems for publication.
One time 5% discount on a future class hosted by Jerri or Mary or both.
Please join us for this workshop if you:
want to explore poetry in a new way.
are open to writing poetry outside of the traditional guidelines.
want to build a community around new poetic practices.
FAQ:
When is it?
Tuesday evenings, 18 October - 15 November 2022 5:30 - 7:00pm CDT
Where?
Plaza Branch of the Kansas City Public Library (or on Zoom!).
How much does it cost?
$99 for five weeks of guidance of embodied practices, generative poetry workshops, and response sessions (traditionally thought of as critiques).
What happens after I secure my spot?
Good for you for taking a step in a new direction of poetry! Once you secure your spot, you will receive an email with the details of the event, so you can have them handy, and receive a list of suggested items to bring.
What do I need to bring?
Yourself. A notebook and pen (or pencil). An open mind.
What happens if I need to cancel or can't attend?
Please let us know as soon as possible and we will refund your money. Please note that Eventbrite fees will not be refunded.
Are there a minimum number of attendees needed for the series to proceed?
Thank you for asking! Yes. Since this workshop series involves responding to poems written during the sessions, we want a minimum of four (4) people to sign up. If we do not get at least four attendees, we will cancel the event and refund your full enrollment plus Eventbrite fees. We will notify you if this happens after registration closes end of day 16 October.
Do I have to be a poet?
Absolutely not! But you will be a poet by the end of the five weeks!
Do I have to share my work?
We will have two response workshops during the five week session where you will be asked to share your poetry (hopefully poems you wrote in the generative sessions).
Do I have to speak at all?
If you would rather someone else read your poem out loud, that can be arranged. Just let us know if you don't want to read.
What will we be actually doing?
See the schedule of sessions above!
What if I don't like poetry?
Maybe this is your opportunity to fall in love with it.