Embattled: Christians Under Pressure in Europe and Beyond
Description
Christians around the world have been tortured, killed, or forced to flee their homes because of their beliefs. In Syria and Iraq, the systematic targeting and killing of Christians has been declared to be genocide by many international bodies. Christians are persecuted in North Korea, and are being killed by Boko Haram and the Fulani Herdsmen in parts of Nigeria.
Here in Europe, Christians have been increasingly under attack: from legal restrictions on conscience, association, speech, and parental rights to hate crimes and social hostility against the faithful. Christian refugees in Europe are particularly vulnerable to discrimination and infringement of their freedom of religion.
With this in mind, we have organized Embattled: Christians Under Pressure in Europe and Beyond, a conference with the goals of informing lawmakers, professionals, clergy, and media from Austria and neighboring countries about the challenges and pressures faced by Christians in Europe and around the world, as well as proposing legal, political, and cultural solutions.
Ján Figel', EU Special Envoy for the promotion of freedom of religion and belief outside the EU will provide our opening keynote speech. Panelists will describe the perils faced by Christians outside Europe. We are particularly honored to include the testimony of "Timothy C.", a brave man who fled certain death for his religious beliefs in North Korea. And we have a speaker to discuss the targeted attacks on Christians by Boko Haram and the Muslim Fulani Herdsmen in Nigeria -- a topic about which many are unfamiliar. Other speakers are leading experts who are working toward solutions on a global scale.
Additionally, to address the increasing state restrictions on religious liberty in Europe, speakers include legal experts, politicians who work to protect fundamental freedoms, including Swedish MEP Lars Adaktusson, and activists who work with Christian refugees in Europe.
We will offer English/German interpretation.
---
PROGRAMME:
Friday, November 25th
17:00 Tour of the Vienna Rathaus (City Hall) with Gudrun Kugler (Optional)
Saturday, November 26th
Festsaal des Erzbischöflichen Palais / Archbishop's Palace
Wollzeile 2, 1010 Vienna, Austria
Photo exhibit: Refugees in Iraq - Anton Fric
8:30 Registration
9:00 Opening & Welcome remarks:
Christoph Cardinal Schönborn, Archbishop of Vienna
9:20 Session I: Christians outside Europe – Setting the Stage
KEYNOTE: Ján Figel', Special Envoy for the Promotion of Freedom of Religion and Belief outside the EU

Ewelina Ochab (ADF International): Attacks on Christians by Fulani Herdsmen and Boko Haram

"Timothy C.": Escaping North Korea & Governmental Religious Persecution
Discussion moderated by Andreas Thonhauser (ADF International)
10:50 BREAK
11:15 Session II: Christians outside Europe – Our Response
KEYNOTE: Lars Adaktusson, Swedish MEP: How Can International Bodies Help Persecuted Christians?

Panel Chair: Pia de Simony (Christian Solidarity International Austria)

Pater Hanna Ghoneim, Melkite Priest and Founder of Stiftung Korbgemeinschaft-Hilfe für Syrien: How Can We Help Syrians Remain in their Homeland?

Tamás Török, Under Secretary of State in the Ministry of Human Capacities, responsible for persecuted Christians – Hungary: How Can National Governments Help Persecuted Christians?

Michaela Koller, Journalist; Chairwoman of the Board of Stephanus-Foundation for Persecuted Christians and Consultant for Freedom of Religion of ISHR: How Can NGOs and the Media Raise Awareness?
13:00 – 14:15 Lunch: hosted by the Observatory on Intolerance & Discrimination against Christians in Europe
14:15 - 14:30 Kirche in Not Österreich: Presentation of 2016 Religious Freedom Report
14:30 Session III: Christians in Europe – Setting the Stage: Legal & Political Challenges to Religious Liberty

Panel Chair: Gudrun Kugler

Paul Coleman (ADF International): Legal Restrictions on Freedom of Religion in Europe

Ellen Kryger Fantini (Observatory): Rising Social Hostility Against Christians in Europe

José-Luis Bazán (COMECE, Legal Advisor): Freedom of Religion and the Harassment of Christian Refugees in Europe

15:45 BREAK

16:15 Session IV: Christians in Europe – Our Response

Panel Chair: Ellen Kryger Fantini

Robert Clarke, (ADF International): Legal Responses to Governmental Restrictions on Religious Liberty - National and International

Manuel Baghdi, advisor to Cardinal Schönborn for refugees and the Middle East: How Can Churches Help Persecuted Christians?

Paulus Kurt (Head of Working Group for Refugees of ZOCD: Recommendations for the Protection of Christian Refugees in Europe
Gudrun Kugler: Political Initiatives to Address Infringement of Religious Liberty
17:30 Conclusions
18:00 Closing reception hosted by Observatory
Local partners: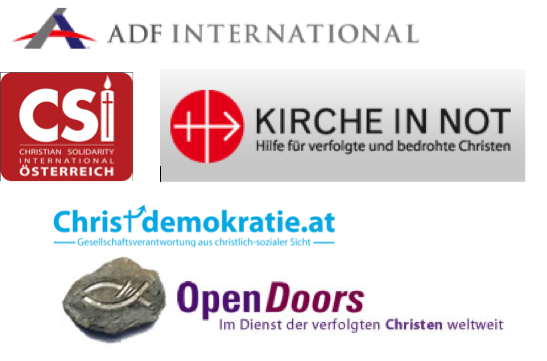 Date and Time
Location
Festsaal des Erzbischöflichen Palais / Archbishop's Palace
Wollzeile 2
1010 Vienna
Austria