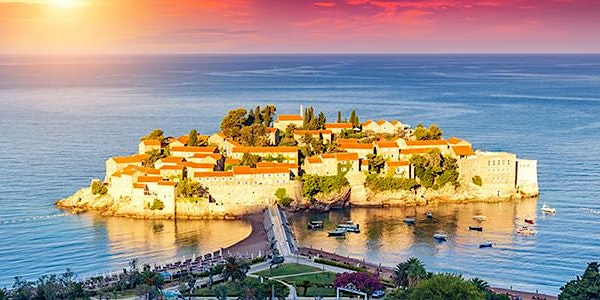 Embassy of Montenegro Dinner Reception with the Ambassador of Montenegro
Location
Embassy of Montenegro
1610 New Hampshire Avenue Northwest
Washington, DC 20009
Sales Have Ended
Ticket sales have ended
We are sold out and look forward to welcoming you to a future event!
Description
We cordially requests the pleasure of your company for an enchanting evening of Montenegrin culture, cuisine, and wine at the Embassy of Montenegro with welcome remarks by the Ambassador of Montenegro*. Come by yourself or with friends for a wonderful opportunity to discover Montenegro and the beauty of the Adriatic.

:: Authentic dinner buffet feast of Montenegrin Delicacies
:: Taste European wine served at the open bar
:: Meet other internationally-minded professionals
:: Learn about travel to Montenegro
:: Meet the embassy staff

* Please note that the Ambassador of Montenegro is expected to be present to welcome you to the embassy. Due to the nature of official diplomatic duties, the Ambassador's schedule is subject to change to without notice. In the event the Ambassador is called away due to diplomatic duties, the Deputy Chief of Mission or other high ranking official from the Embassy will welcome you to the embassy.

:: Enjoy a Dinner Buffet Feast of Traditional Montenegrin Delicacies (menu subject to change)

Sides:
Dry-cured ham (prosciutto) served with assorted cheese
Specialty of the Montenegrin village of Njegusi, region close to the Old Royal Capital of Cetinje

Mediterranean salad with fresh tomatoes, cucumbers, onions and peppers
As served in the coastal region of Montenegro

Roasted red peppers
Prepared in traditional style as enjoyed throughout the Montenegrin region

Proja - Corn bread made with eggs, cheese and kajmak
As enjoyed in the central and northern parts of Montenegro

Kajmak - Whole-milk cream spread served with priganice, type of fried donuts
A traditional product of Montenegrin villages

Entrees:
Kacamak – corn grits slowly cooked with cheese and potatoes
The most famous Montenegrin dish, typical of central and Northern parts of Montenegro

Lamb stew slowly cooked in milk
One of the oldest recipes in Montenegrin cuisine, typical of the central part of the country

Slow roasted sour cabbage with sausage
Typical of the northern parts of Montenegro

Cevapi and raznjici - mixed grilled meat
Widely popular Montenegrin delicacy

Fish fillet a la Bakalar
A coastal dish rich in olive oil and Mediterranean spices

Desserts:
Apple pie - Coastal recipe with chopped pecans, raisins and cinnamon
Mini pastries filled with plum jam
Assorted traditional cookies

The evening includes welcome remarks and an overview of Montenegro, Montenegrin culture, geography, and tourism. Feast on a buffet of traditional Montenegrin delicacies along with wine served at the open bar.

This is also a great opportunity to meet diplomatic personnel at the embassy as well as International Club of DC members in attendance. Space is limited. Please note that the event is presented for you to walk around the embassy, meet ICDC members, as well as embassy staff during the dinner reception, as you discover Montenegro. Kindly note that though there will be limited seating, the event is not presented as a seated function.