Email Scams and Wire Transfer Fraud in Real Life: Don't Become a Victim!
Description
Millions of dollars are lost annually through email compromise scams that are increasingly more difficult to spot and protect yourself against. While anyone can be a victim, the business and real estate communities are prime targets. Join FBI Supervisory Special Agent Patricia Weber for a free community event to learn how these scams work, hear about real life cases, and most importantly, how to protect yourself from falling victim.

Speaker Bio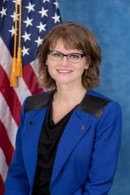 Supervisory Special Agent Patricia Weber joined the FBI in 1998 and was first assigned to the San Antonio Division where she worked drug enterprise and public corruption investigations. In 2003, SSA Weber transferred to the Minneapolis Division where she was assigned to the complex financial crimes (CFC) squad. She worked primarily investment and corporate fraud investigations. In December 2015, SSA Weber was appointed the Supervisor of the CFC program, including corporate and securities fraud, investment fraud, internet fraud, health care fraud, and bank fraud, among others. SSA Weber received her Bachelor's Degree from Bellevue University in Bellevue, NE. She also holds Master's Degrees from the University of South Dakota and St. Mary's University.
Brought to you By:
Lake Superior Area REALTORS, Inc.
Marshall School