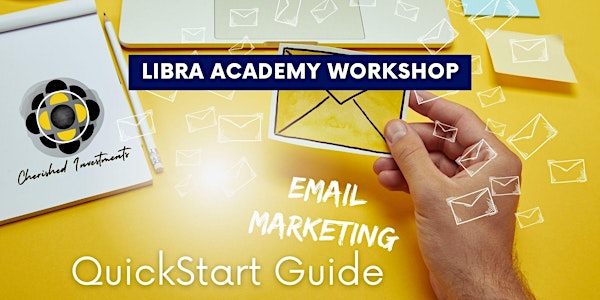 Email Marketing for Small Businesses
Would you like your business revenue to double in the next 30 days? Email marking can help you accomplish this goal.
About this event
To increase your monthly sales, you need to improve your follow-ups with leads. 60% of prospective customers need to be contacted 5 or more times before they are ready to make a buying decision. However, only 40% of us do that follow-up.
My name is LaShay LaRue, and I have helped over 1,500 entrepreneurs grow and thrive in their chosen industries over the last 10 years. I created this webinar because I have learned over the year that most small businesses fall into the 60% that do not follow up. Adding email marketing to your marketing mix can double the number of deals you close monthly.
I understand that as a small business owner, every dollar counts, and you need your budget to work hard for you. I will teach you how to use email marketing to nurture your leads and convert them into sales. I will help you create top-of-mind awareness with your customers and avoid letting qualified leads fall through the cracks.
Email marketing is cost-effective, easy to use, and boasts a high ROI, making it a great choice for small businesses looking to stretch their marketing dollars. Although email marketing can be a powerful tool for your business, it can be tricky to understand how to do it well.
This one-stop resource will lead you from fundamentals to building a strong email marketing campaign strategy that helps you drive lead traffic. You will learn how to gain more subscribers, profit more per subscriber, and start using split tests so you can optimize your marketing.
The #1 Online Marketing Strategy for Your Business
The main disadvantage of social media marketing is that your followers are not yours. If your Facebook Business page is unexpectedly closed down (which is not unusual), you will no longer have access to the followers you have painstakingly built over time.
Building an email list is crucial because it is an asset you own. Even if you switch email providers, you still own your contacts list. It is a list of valuable customers you can use to qualify leads, build stronger relationships, and make more sales.
Is email marketing dead?
Email is almost 40 times more effective than Facebook and Twitter combined in helping your business acquire new customers. Email Marketing is STILL alive and well—and it's not going anywhere anytime soon! In fact, Email Marketing is the single best way to market your brand or business, increase your revenue, and cash in on more conversions. That's right. It's better than ads, better than social media, and better than organic traffic.
Build a relationship with your audience.
If you want to keep customers coming back, you need ways to build credibility and strengthen your relationship with your audience. You can create an email marketing strategy that keeps subscribers engaged and builds trust.
Improve customer acquisition and boost sales.
Email marketing is more than sending a periodic e-newsletter. It's about personalized messaging that resonates. It's about reaching people at the right time. And it's about nurturing people over time to help them become who you want them to be, customers.
If you are not using email marketing, you are missing out on a strong tool that can help you grow your business. Email marketing is one of the most popular and effective ways to reach out to prospects and convert them into paying customers.
To get started, all you have to do is follow a simple 3 step process:
1. Register for the class
2. Add the class to your calendar as a reminder
3. Attend class ready to take notes
That is all there is to it. It's time to stop missing out on sales opportunities and start getting the most out of your marketing efforts.
Join me for this free webinar and learn how to explode your conversions!