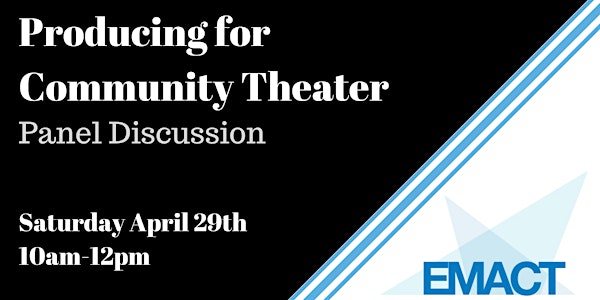 EMACT Panel Discussion - Producing for Community Theater
Join our expert panel for an information packed session on producing!
By Eastern Mass Association of Community Theatres
Date and time
Saturday, April 29 · 7 - 9am PDT
About this event
Join us for an exciting panel discussion on producing for community theater! This session promises to be an insightful and informative discussion on the inner workings of producing for the theater, from selecting a play to the final performance.
Our expert panelists (see bios below) will share their insights, experience, tips and tricks on what it takes to produce a successful show. The panel will cover topics such as play selection, putting together a production team, casting, marketing, and much more.
This is an excellent opportunity for anyone interested in theater production, whether you are an experienced producer or are about to be tapped to produce your first show. You will have the chance to learn from some of the best in our community.
Our Panelists:
Michelle Aguillon
Donnie Baillargeon
Celia Couture
Harriet Friedman
Rich Greaves, Moderator
Michelle Aguillon: Michelle has been a theater director, producer, designer, and actor in the Boston area for over 25 years. She is a member of the Asian American Playwright Collective of Boston, serves as the Chair of the Executive Board at StageSource, and is the Director of the Diversity, Equity, & Inclusion Task Force for the Eastern Massachusetts Association of Community Theaters (EMACT). Michelle is the Executive Director of Creative Arts, a music, theater, and arts school in Reading, MA.
Donnie Baillargeon: A graduate of Bridgewater University with a BA in Communications/Theater, Donnie spent many of his earlier decades as a performer on stages at Busch Gardens Williamsburg, The Century City Playhouse in LA, Spokane, WA, The King Richard's Faire and multiple groups in the Boston and metro-West area. With two partners, he co-authored a comedy, "Murdering the Mob," which ran in Boston for a year and a half in the late 80's. Having served as producer for multiple productions at Vokes Theater among other local groups, Donnie continues to satiate his theater passion by primarily working as a stage director. In the past 20 years he has staged productions for Hovey Players, Concord Players, Acme Theatre Productions, and his home base - Vokes Theatre in Wayland. Donnie discovered an inner calling as a set designer creating set designs for the stages of Hovey Players' and Vokes Players' productions. Donnie currently serves on the Board of Directors for Beatrice Herford's Vokes Theatre as Vice President and Membership Director for Eastern Massachusetts Association of Community Theatres (EMACT).
Celia Couture is an award-winning director with an MFA from Emerson College. Celia has represented EMACT directing three productions at the National AACT Festival, including Burlington Players' production of Radium Girls, which won the National Festival for Best Production. She has directed multiple shows which have earned DASH nominations and awards for Best Production, as well as the NETC Moss Hart Award and an IRNE award. She has directed for Vokes Players, Concord Players, Gloucester Stage Company, Wellesley Players, and many other local theatre groups. Celia was a founder and artistic director of the Woburn Repertory Theatre and serves as the Vice President of the Wellesley Players. Celia is currently the DASH Director of EMACT and has also served as the Vice President of Festivals, successfully running both the State and Regional Festival.
Harriet Friedman is a highly accomplished community theater director, producer and one of the founders of the Eastern Massachusetts Association of Community Theatres (EMACT). With her passion for community theater, she has produced well over 100 shows throughout her career. Harriet has also shared her wealth of knowledge and experience by conducting workshops at EMACT Festivals, inspiring many aspiring theater artists along the way. Her dedication to community theater and the performing arts has made a lasting impact, and she continues to inspire and motivate others through her passion and commitment to the art form.
Rich Greaves is a theater artist and technician working in technical theater (mostly lighting) for over 40 years. Most recently, Rich has been serving on the board of EMACT as its education director and is the Technical Director for Enter Stage Left Theater at the Hopkinton Center for the Arts. Rich also serves on the board of the Washington Street Players in Holliston and is the founder of the MetroWest Theater Artists Guild.
About the organizer
The mission of the Eastern Massachusetts Association of Community Theatres is to encourage and promote Community Theater in Eastern Massachusetts through educational programming, supportive services, and the recognition of excellence. EMACT is a member of the American Association of Community Theatres (AACT). Membership in EMACT is open to any community theatre group in eastern Massachusetts.