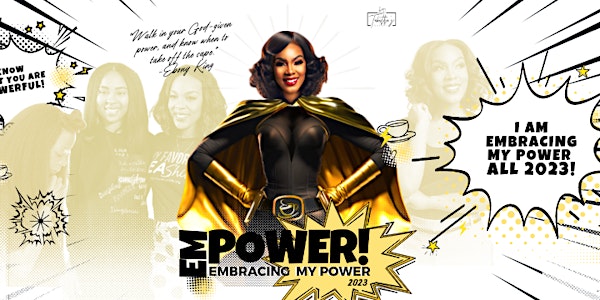 EM-POWER to Release + Worship
Welcome to our Embracing My Power Series also known as EM-POWER. We are kicking it off with EM-POWER to Release.
When and where
Location
Reserve 116 4150 Old Milton Parkway #Suite 116 Alpharetta, GA 30005
About this event
Welcome to Tabitha's TEA Party where the TEA stands for Teach, Empower, and Apply. Our mission is to empower women to Get Up, Stay Up, and Lead by Faith. We do this by creating Faith- based experiences that combine scripture with strategy to transform your life. We believe in creating exclusive experiences in an inclusive environment. This is not your regular TEA Party.
Our series this year is Embracing My Power AKA EM-POWER. We are unpacking what it means to walk powerfully in our gifts and to operate in our God-ignited power. We are kicking our first TEA Party of the year off with EM-POWER to Release! What's draining you of your power? What is your kryptonite? Listen, we all have something or someone in our life that it's time to release and that can only be confirmed in the presence of God. So we are creating a space where you can WORSHIP, GROW, and LET GO!!! It's going to be amazing.
Our foundational scripture for 2023 is Ephesians 3:20-21
20 Now to him who is able to do immeasurably more than all we ask or imagine, according to his power that is at work within us, 21 to him be glory in the church and in Christ Jesus throughout all generations, for ever and ever! Amen.
Attire: Empowerment T-shirts and casual bottoms. We want you to be comfortable and ready to flow in praise and worship.
Early registration will include our White EM-Power T-shirt. Shirts will be provided at the tea party.
If this is your first TEA Party here's what you can expect:
• Biblical Teaching • Empowering Conversations • Divine Connections • Food • Tea • A good time. • A vibe that can only be found at Tabitha's TEA Parties!
Refund Policy:
All funds received go back to community service initiatives, hosting additional tea parties, and supporting our speakers. With this is mind all sales are non-refundable and will be considered as a donation if you are unable to attend. Thank you!