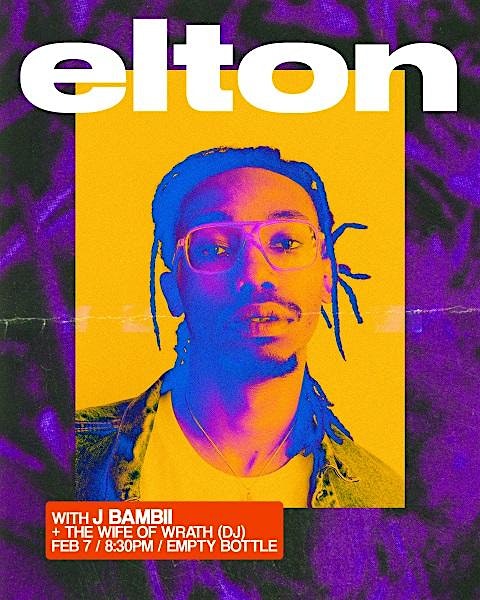 About this Event
$5 (advance), $8 // 21+
THE WIFE OF WRATH (DJ)
------------
The explosive and awe-inducing ELTON plays his Bottle debut show just a week after returning from supporting Noname on her national Room 25 tour. Surrounding himself with like-minded and talented rising locals like Phoelix, Rayvn Lenae, Akenya, Burns Twins, Luke Titus and many more has solidified this Fox Valley native's role in today's burgeoning hip-hop scene. Hot off his debut EP, Elevated, ELTON is on an interstellar trajectory towards universal domination. So if you want a taste of destined excellence, we recommend reserving your spot now.
J BAMBII from the southside teaches us fresh lessons of self-acceptance, community and what it means to be black in America. A self-described "spiritual boom bap" artist, J exposes her daily heartbreaks while simultaneously exhibiting how to seize the day with every calculated and compassionate bar. 
ITUNUOLUWA EBIJIMI (aka PETTY aka THE WIFE OF WRATH) is an interdisciplinary artist, performer, and shea butter entrepreneur based in Chicago. She is the current sole owner and operator of "Petty Butter," an all natural skincare line featuring shea butter mixes, blacksoaps, and more. EBIJIMI's art and business integrate mediums such as photography, fashion, and deejaying/performance with cultural histories of west-Africa/ the Afro-diaspora, holistic beauty practices, and decolonial theories. THE WIFE OF WRATH's DJ sets incorporate club music spanning the entirety of the African diaspora, from Jersey Club and Footwork, to Dembow and Gqom. She delivers dynamic global sounds guaranteed to get you dancing.