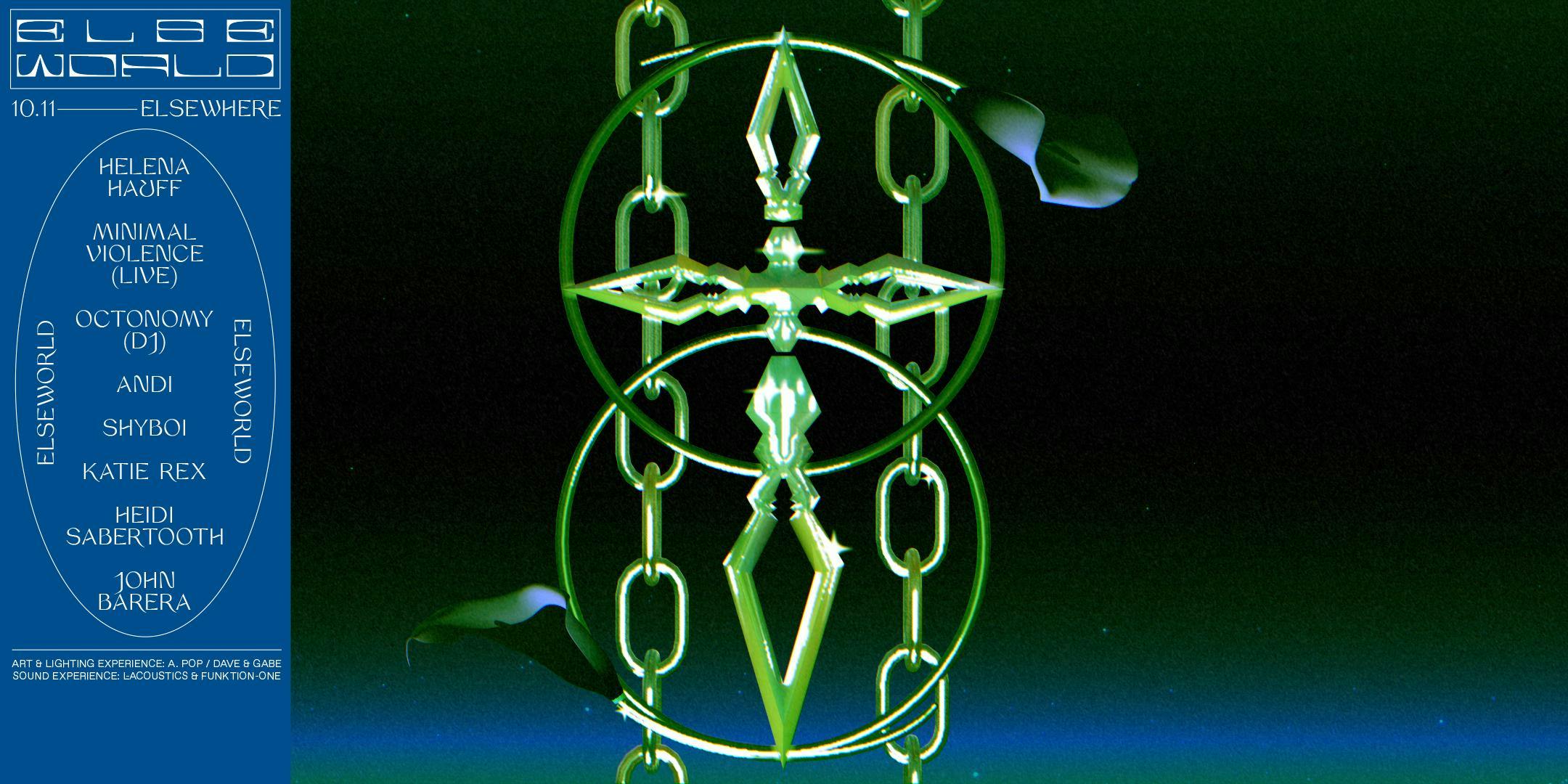 About this Event
Elsewhere Presents...
E L S E W O R L D
step into the brave new world of elsewhere's first signature monthly party series: ELSEWORLD, a vast psychedelic nightlife experience for the entire elsewhere community, celebrating progressive visual art & design and the best in underground music. 
we're fusing life-forces with immersive designers A. POP and DAVE & GABE for a special journey into new elseworlds, with three levels of dance floors to explore, an open-air club with a skyline at the top, and plenty of nooks & crannies to meet other travelers.
everyone is welcome in elseworld. come as you are. explore. get lost in the rhythm.
join us for lift off sept. 6th with the ladies of LCD soundsystem to ring in the dawn of a new odyssey for elsewhere
≋≋≋≋≋≋ LINEUP ≋≋≋≋≋≋
HALL
└ Helena Hauff
└ └ Minimal Violence (Live)
└└└ Octonomy (DJ Set)
└└└ Andi
ZONE ONE
└ Shyboi
└└ Katie Rex
└└└ Heidi Sabertooth
LOFT
└ John Barera
HOSTS
sideara
cheekymaa
tightcorsetloosemorals 
french.brain
ᚼᚼ ᴀʀᴛ & ʟɪɢʜᴛɪɴɢ ᴇxᴘᴇʀɪᴇɴᴄᴇ ʙʏ...
A. POP - bit.ly/apopdesign
DAVE & GABE - http://daveandgabe.care
ᛄᛄ sᴏᴜɴᴅ ᴇxᴘᴇʀɪᴇɴᴄᴇ ʙʏ...
L'ACOUSTICS
FUNKTION ONE
ᚸᚸ ᴅɪɢɪᴛᴀʟ ɪʟʟᴜsᴛʀᴀᴛɪᴏɴ ʙʏ...
NICOLE GINELLI - www.instagram.com/nicole.ginelli
ᛢᛢ ᴅᴇsɪɢɴ ᴅɪʀᴇᴄᴛɪᴏɴ ʙʏ...
EYEBODEGA - www.instagram.com/eyebodega
≋≋≋≋≋≋ GROUP DISCOUNT ≋≋≋≋≋≋
everyone is welcome in elseworld. to celebrate the launch of our new party series, and to make the party more affordable for all, we're offering discounted group tickets for just $10/ticket for crews of 3+.
≋≋≋≋≋≋ SAFER SPACE POLICY ≋≋≋≋≋≋
ELSEWHERE MAINTAINS A STRICT ZERO TOLERANCE POLICY FOR HARASSMENT
Elsewhere is intended to be a safe space to enjoy music, art, expression, and free play. Our staff are trained to remove individuals engaging in any form of sexual harassment, acts of aggression (including leering), racism, misogyny, transphobia, homophobia, religious bigotry, or hatred and discrimination of any kind.
If you see or experience any unwanted attention, contact, bullying, harassment, or behavior of any kind that makes you uncomfortable, please speak out and notify our staff immediately.
Please read our full policy at: https://bit.ly/2VxByad
≋¤≋¤≋
sign up for the listserv to keep up with our antics + show announcements:
sign up: http://bit.ly/2vGB0BS
subscribe to the cal: http://bit.ly/elsewhereevents