ELSA SINCLAIR — FREEDOM BASED TRAINING WORKSHOP
Description
Horse Crazy Market is proud to present:

Elsa Sinclair!
Internationally known Freedom Based Trainer,

appearing in the Midwest for the very first time!

Elsa Sinclair is a professional horse trainer and instructor who brings to the horse world a unique and powerful perspective! Elsa's enthusiasm for developing human — equine partnerships so that they fully enjoy the process of learning and growing in the same direction was birthed from a simple question:

What if horses were given a choice? Would they let us ride them?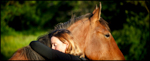 Freedom Based Training embraces the paradox of these two ideas - freedom and training. To do this we develop depth of relationship and width of skill in a balance, using passive leadership instead of dominant leadership. In this way, we train and develop horse and human to enjoy each other's company.
9:00 — 12:00 Hands on with Elsa
12:00 — 1:00 Lunch available to purchase or bring your own.
1:00 — 4:00 Hands on with Elsa
COST:
$150 — per participant, limited to 12 for the hands on portion of the workshop. Each participant works directly with Elsa and a group of horses which will be provided. Generally all participants work with all the horses. The workshop is appropriate for the total beginner as well as for an experienced horse person. No equipment is needed.
$50 — per auditor. Auditor's observe from outside the rails of the indoor arena. Limited seating is available but there is plenty of room to stand and observe.
$15 — Lunch
Taming Wild, the movie,

will be available to purchase on Saturday at Leatherdale, or come back on Sunday to

Horse Crazy Market

at the Minnesota State Fair Colesium where Elsa will be spending the afternoon answering questions.
Portion of Proceeds are going to our Wild Partners!