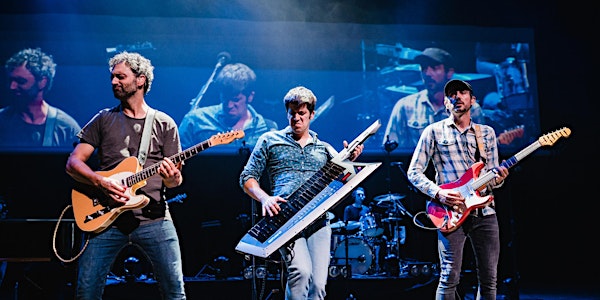 Els Amics de les Arts in Washington D.C. (North American Tour)
Location
Palisades Hub
5200 Cathedral Avenue Northwest
Washington, DC 20016
Join the Amics de les Arts in their North-American tour!
About this event
Els Amics de les Arts is one of the most renowned award-winning successful bands in Barcelona, and they have chosen New York to kick-off their first ever tour in North America. It will be a unique and memorable concert for the fans and those who will be discovering the magnetism of the band's live performance for the first time. They have prepared a special setlist for the occasion, which will include their greatest hits.
********** English follows Catalan **********
CATALÀ
Què?
El concert forma part del United States & Québec Tour 2022 i a Washington D.C. gaudirem amb la companyia de Dani Alegret, Joan Enric Barceló i Ferran Piqué.
Quan? On?
L'acte serà el dissabte 17 de setembre a les 7.30 PM al Palisades Hub (5200 Cathedral Avenue NW; Washington D.C., 20016). Us recomanem d'arribar 20 minuts abans per poder començar l'acte a l'hora. El concert serà a peu dret, però si algú té necessitats específiques, podem proporcionar cadires.
Quant costa?
El concert és gratuït, però encoratgem un donatiu de 30 dòlars per persona, ja que són el que fa possible que us puguem oferir una oportunitat tan única com aquesta.
Exclusiu per als MEMBRES DEL CASAL català de l'Àrea de Washington D.C.: experiència VIP amb els artistes, aviat en compartirem més detalls! Aprofiteu aquesta oportunitat per unir-vos al Casal i gaudir d'altres avantatges i activitats! 😉
On puc aparcar?
Podreu trobar aparcament gratuït al veïnat.
Ets de fora de la zona?
Escriu-nos a contacte@casalcatalawdc.com i intentarem trobar voluntaris a la zona que us puguin acollir la nit del concert. Tan sols cal que us assegureu que escriviu "CONCERT" a l'assumpte del missatge.
ENGLISH:
What?
The concert is part of their United States & Québec Tour 2022. In Washington D.C., we will enjoy the company of the lead artists, Dani Alegret, Joan Enric Barceló i Ferran Piqué.
What? When?
The concert will take place on Saturday, September 17th at 7.30 PM at the Palisades Hub (5200 Cathedral Avenue NW; Washington D.C., 20016). We advise you get there 20 minutes early to be able to let everyone in and start on time. The concert will be standing, but accommodations can be provided to those who need them.
How much is it?
The concert is for free, but we encourage a 30-dollar donation per person since it is donations like these that make it possible for us to bring such special events to your backyard.
Exclusive to the MEMBERS OF THE Catalan CASAL in the Area of Washington D.C.: VIP experience with the artists. Stay tuned! We will share more details soon. If you aren't a member yet, take this opportunity to become a member of the Casal and enjoy these privileges and many others! 😉
Where can I park?
You can find free parking in the neighborhood.
Are you from out of town?
We don't want anybody to miss out! Write to us at contacte@casalcatalawdc.com and we will try to find volunteers in the area that can host you for the night of the concert. Just make sure to add "CONCERT" to the subject line.