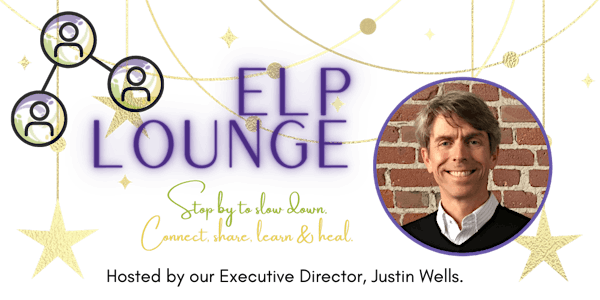 ELP Lounge - January 2023
Join us for these special open sessions. Stop by to slow down. Connect, share, learn & heal.
About this event
Join us every third Thursday in the ELP Lounge!
Thursday, January 19th, 2023
4:00-5:00pm PT (7:00-8:00pm ET)
Ring in the new year in the ELP Lounge! January's Lounge will be hosted by Executive Director, Justin Wells.
Join us in kicking off 2023 with all the possibilities as we navigate what it means to support, educate, and love all young people in this country. Educators are being asked to do more, learn more, work more than ever before… which makes it even more important to find moments to slow down, to connect with other humans, and to do some healing.
The ELP Lounge will be open every third Thursday of the month. We hope you will join us in the virtual lounge for some gently structured time with educators from across the country. There will be a topic/theme for each month that is suggested by you. The Lounge will offer time to share stories, thought partnership with peers if you want, or just the chance to throw up your hands and say, am I the only one experiencing this??? Plan to stop in and slow down to connect, share, learn, & heal. We can't wait to see you.
Due to the setup of this event, we ask that each attendee separately register and individually join us in the Zoom room. This event will not be recorded.
Please reach out to Courtney Katen (courtney@envisionlearning.org) with any questions.
* Zoom info will be sent via email to the registered participants the week of the event.