ELN project - free online English lessons 10 May - 30 Aug 2015

Sunday, 7 June 2015 from 08:00 to 22:00 (EEST)
Event Details
FAQs
What is EnglishLab.Net?
The ELN is an online language school headquartered in Tallinn, Estonia - you can learn more about the founder of the school on LinkedIn. Our e-school was founded in 2009, and ever since that time has specialized in helping people to study for higher level examinations in English, such as IELTS, higher level Cambridge Exams and TOEFLibT. We are a team of highly qualified enthusiastic teachers.
 Why are you offering FREE online lessons?
 Teachers just like any other professionals have to upgrade their skills, try out new methods and techniques, and we are no exception. That is reason one. When we give free classes, we usually experiment with new teaching ideas, materials and techniques. The second reason is that we also offer teacher training courses to tutors who wish to learn about online teaching, and these people need someone to give their lessons to in order to put all the theory into practice.
 Are ELN project lessons (= free online English lessons at EnglishLab.Net) any good? 
 We believe they are, but you had better see for yourself. Sign up for one or two, and check this out!  All the teachers, both our regular staff and our trainee teachers are great enthusiasts and do their best when giving ELN project classes. We hope that volunteers will enjoy them, and their English skills will improve as a result of taking our classes. Everyone is welcome, although we cannot guarantee a place to everyone, for ELN project is all about pair and small group classes, 2-4 people in a group. We do not give individual ELN project classes as a rule. 
Who can take part?
 Free online English lessons are given to adult learners of English whose level of the language ranges between elementary and advanced. The volunteer students are accepted from around the world on a pro-bono basis. The lessons are given to pairs and small groups of 3-4 students online using Skype (audio-chat) and the ELN Online Classrooms at www.study-english-online.net (more on this)
How does it work?
STEP 1 

your tutor

 calls you and your groupmates via Skype (audio only)

STEP 3 

your lesson begins
follow us on LinkedIn , on Facebook and/or on Twitter
Each volunteer is invited to acquire a free ticket that will entitle him/her to the right to attend a placement interview via Skype to negotiate the contents of his/her free classes, to determine his/her level of spoken English, to set the dates and clock times of his/her free ELN small group classes, and to learn about ways to enter and navigate our online classrooms. 
How many lessons can I attend?
Each ticket entitles the purchaser to one 1-hour e-lesson in a group of 2 to 4 students. 
What else will I have to do to take part?
Please note that invitations to attend placement interview will be sent by email and will request registration at www.study-english-online.net and doing the diagnostic grammar test at www.englishlab.net/moodle
 Where can I contact the organizer with any other questions I might have?
EnglishLab.Net  www.englishlab.net
DETAILS http://www.english-lab.net/about/contact
LinkedIn http://lnkd.in/7qbF25
Do you have questions about ELN project - free online English lessons 10 May - 30 Aug 2015?
Contact EnglishLab.Net
Organiser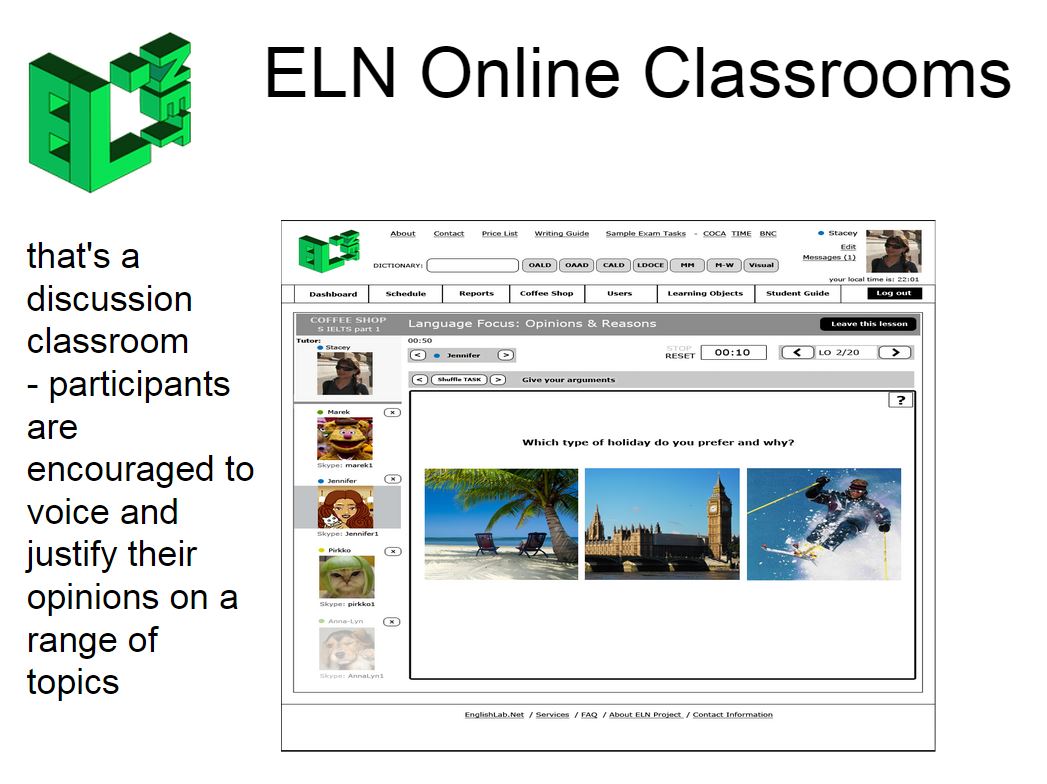 EnglishLab.Net ( Reg 11713192 KKMR / VAT EE101411556 ) is an online language school. It specializes in teaching higher level learners of English for examination purposes (IELTS 7777+, FCE, CAE, CPE, ICFE, TOEFliBT, etc), and uses Skype for voice along with its own learning platform with Online Classrooms @ http://www.study-english-online.net for that purpose. LinkedIn http://lnkd.in/7qbF25