Three authors reunite to talk about their new books and reminisce about the old days when they traveled the country together on book tour!
About this event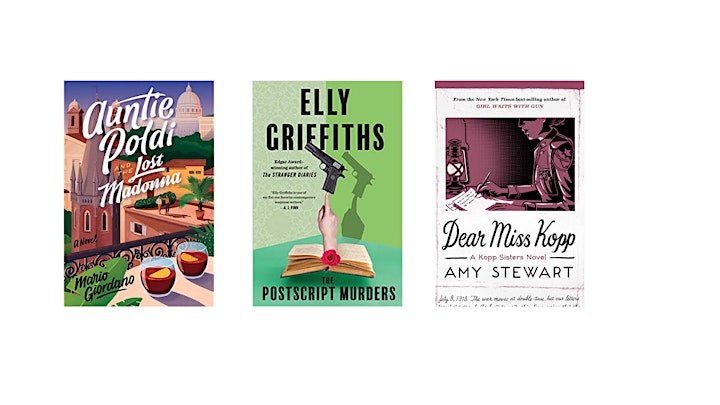 In 2018, Houghton Mifflin Harcourt arranged a blind date for three of its authors. Elly Griffiths would fly in from England, Mario Giordano would hop over from Germany, and Amy Stewart would arrive from California for a group book tour in Florida.
The three had never met, but they quickly became fast friends, and all of them look back on that week as one of the best book tour experiences they'd ever had.
Among the many things they had in common, besides a shared publisher, was the fact that all three write about interesting women protagonists. Join three old friends as they talk about their new books!
Elly Griffith's Ruth Galloway mysteries, about a British archaeologist, are hitting bestseller lists worldwide and have earned her a devoted following. Her standalone novel THE STRANGER DIARIES won the prestigious Edgar Award , and the much-anticipated follow-up, THE POSTSCRIPT MURDERS, has just been released.
Mario Giordano's Auntie Poldi series traces the adventures of a sexy, boozy, older woman as she has love affairs with Italian police officers and uncovers the occasional murder in Sicily. The novels are told through the eyes of her novelist nephew who may or may not bear any resemblance to Mario himself. The fourth installment, AUNTIE POLDI AND THE LOST MADONNA, will be released in May.
Amy Stewart's Kopp Sisters novels are based on the true story of one of America's first female deputy sheriffs. The sixth book in the series, DEAR MISS KOPP, was just released in January.
You can see lists of all of their books at Bookshop.org, where your purchases support independent bookstores.