Can't make it live? Register and get access to the full replay for one week! New York Adventure Club | www.AdventureClub.com
About this event
How did a tiny island off the coast of Manhattan become the busiest immigration station in the United States, where 20% of American citizens can trace their family roots to? This is the story of Ellis Island and how it defined what it means to be an American, the nation of immigrants.
Join New York Adventure Club as we explore the incredible story of Ellis Island — between 1892-1924, this 27-acre island in New York Harbor processed over 12 million immigrants from around the world seeking a new life in the United States of America.
Led by NYC Tour Guide Michael Morgenthal — whose great grandparents immigrated through Ellis Island from Ukraine in 1905 — our virtual experience surrounding Ellis Island and the immigration experience will include:
Immigration prior to the opening of Ellis Island, and why the Federal Government decided to open multiple immigration stations throughout the country
The harrowing journey of immigrants, from fleeing their homeland, to a barrage of medical/legal/financial examinations on Ellis Island, to stepping foot on to Manhattan island
The criteria used to admit entry to the United States, and what happened to those who were denied
Why Ellis Island was abandoned as an immigration point of entry in 1954, only 30 years after it became active
Ellis Island in modern times, from becoming our National Immigration Museum in 1990, to touring the island's abandoned hospital complex, to its relevance today when debating the issue of immigration
Afterward, we'll have a Q&A with Mike — any and all questions about Ellis Island are welcomed and encouraged!
Can't make it live? Don't worry, you'll have access to the full replay for one week!
See you there, virtually!
*Immediately upon registering, you will receive a separate, automated email containing the link to join this webinar
**For the best possible viewing experience, please ensure you're using the latest version of your internet browser — Google Chrome is the most compatible. Exact technical requirements and a webinar user guide will be shared in the automated confirmation email upon registration.
***A full replay of the experience will be available to all registered guests for up to a week
Testimonials
"Michael was extremely knowledgeable about the history of Ellis Island. His concise, descriptive presentation brought Ellis Island's distant past to life and made me appreciate even more my grandparents' difficult voyage to America. Thank you." -Adrienne
"It was a very captivating lecture. Well spoken and not boring in any way" -Regina
"Very clear timeline of topic. Interesting and informative. Great speaker!" -Wendy & Will
"Excellent presenter with photos to add to his knowledge. We have relatives that immigrated from Poland through Ellis Island. Our grandmother was alone and only 13!" -Robert
"I liked the personal family story and info. love this. makes it really connected. videos. info about how to investigate for yourself your own family info. Really enjoy Mike. he is so knowledgeable and so well prepared. connects well with the audience. love the personal side he brings into his discussions." -Noelle
"The historical sequences, coupled with historical context - related events of the times - was quite enjoyable." -Christopher
"Michael was informative, organized, and clear and the topic was very interesting." -Sharon
"Michael Morgenthal knew his info. Was organized, enthusiastic and informed" -Julie
"Instructor was extremely knowledgeable, insights interesting and accompanied by artifacts and photos." -Barbara
"The event covered the history of processing immigrants prior to the opening of Ellis Island, the details once the government took over as well as the restoration of the center. The videos and photos were in excellent condition and helped in imagining what these brave souls went through." -Roxanne
"Presenter was excellent - very organized, engaging conversational presentation, interesting content and images. I'm a native New Yorker and child of immigrants who came through Ellis Island and am embarrassed to say that I've never been there - this was a real treat especially during COVID. Thank you ..!!!!" -Joan
"He had an engaging voice. I never lost interest esp as he could call upon his personal family history." -Katherine
"I liked the stories that made the immigrants come alive. Seeing the copies of original documents and photographs. Excellent speaker." -Linda
"All of the information was extremely helpful. Michael M a good narrator." -Elaine
"The presenter did an EXCELLENT job!! I hope he presents more webinars!!" -Loretta
"Pace was good; great visuals, conversational presentation, resources provided. It was clear that Michael knows his stuff!" -Lorna
"A very engaging lecturer, with superb photos and videos." -Harold
"Michael presented a wealth of information in a streamlined and memorable way" -Mary Anne
"This was so informative and very well presented. Loved it!" -Lee
"Michael really knows the nitty gritty of what happened at Ellis Island, very informative and well organized" -Ann
"Great presentation, full of history and details the average person would never know. Well presented, kept you on the edge of your seat wondering what else was coming." -Sara
"Informative presentation by an engaging speaker. I loved the photographs and the content." -Cynthia
"He was very knowledgeable, answered questions, and spoke well." -Mary
"I loved the historic photos, group participation questions and presenters organized style." -Patricia
"Absolutely loved it. Compelling, moving, well paced, and never boring." -Liza
"The speaker was well-spoken and very knowledgeable, and the program was comprehensive." -Christine
"Speaker had great knowledge of his subject. Q&A is a really nice feature." -David
"I like the knowledge of the presenter - very good - small insights on immigration that were fascinating." -Thomas
"Informative about the building & facility but also about people's experience, based on individual stories. I learned so much!" -Janet
"Great information presented in an entertaining, professional, and interesting way." -Wayne
"Presenter was very knowledgeable and photos were interesting." -Lynda
"Knowledgable and highly engaging speaker offered abundant information with excellent visuals." -Melissa
Disclaimer
By attending a New York Adventure Club experience, you accept our terms of service.
Categories: Virtual, Landmarks
Organizer of 'Ellis Island: The Gateway to Freedom' Webinar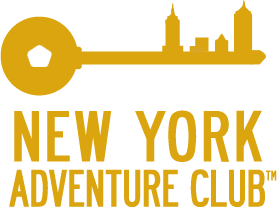 NEW YORK ADVENTURE CLUB
Unlock Your City
We give you insider access to the city's best-kept secrets. But we're so much more than a tour company.
WHO WE ARE

We are a community-driven club that curates the most unique experiences in town, with a focus on history and storytelling. We show you a city you never knew existed, and offer a community you can't live without.
You won't find our special-access tours and exclusive events anywhere else. Think after-hours tours of New York City's most celebrated spaces, themed parties in unexpected locations, and weekend excursions to incredible destinations. All of our events end with social hangouts so you can meet people who love exploring as much as you do.
THE 'CLUB' IN NEW YORK ADVENTURE CLUB

Our current community is more than 23,000 members strong and includes everyone from recent NYC transplants to lifelong residents. Whatever borough you're from (or city or country, for that matter), we'll make it easy for you to take full advantage of the unique places and great people this city has to offer.  
WHERE WE GO
To ensure a one-of-a-kind experience each and every time, we handpick events and outings specifically for the New York Adventure Club community. Recent events include:
* An after-hours tour of New York City Hall
* Special access into some of New York's most coveted private social clubs, including the Explorers Club and National Arts Club
* Petting baby kangaroos, holding sloths, and feeding leopards at Staten Island Zoo

* An NYPD Precinct tour, including a meet-and-greet with detectives and Emergency Service Unit crew members
* A tour of the Polish Consulate led by the Consul General and Vice Consul General of Poland

* A special-access tour of Brookhaven National Laboratory and its Relativistic Heavy Ion Collider (RHIC)
* A Halloween party in a historic gothic crypt, complete with a five-piece brass band
Subscribe with our newsletter to get the inside scoop on the city's most interesting events: http://eepurl.com/1cnVH
Unlock Your City with New York Adventure Club