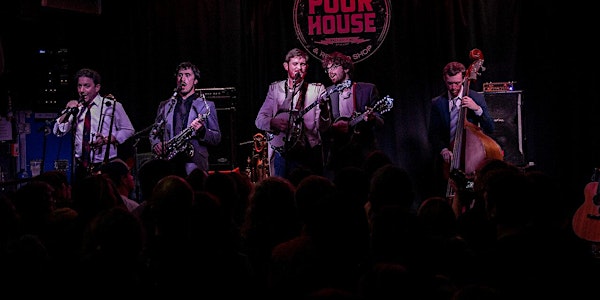 Ellis Dyson & The Shambles w/ Dreamroot
The Pour House Music Hall & Record Shop
Location
The Pour House Music Hall & Record Shop
224 S Blount St
Raleigh, NC 27601
Foot stompin' party music of a bygone era!
About this event
DOORS OPEN: 7pm
SHOW TIME: 8pm
ELLIS DYSON & THE SHAMBLES EXPERTLY BLENDS OLD-TIME INFLUENCES RANGING FROM EARLY NEW ORLEANS JAZZ TO PIEDMONT MURDER BALLADS. THE RESULT: FOOT-STOMPIN' AND ECCENTRIC ORIGINAL SONGS THAT BRING PARTY MUSIC OF DEPARTED ERAS TO CROWDS BOTH YOUNG AND OLD. THE SHAMBLES HAVE MADE WAVES WITH THEIR THEATRICAL LIVE SHOWS AND DAZZLING MUSICIANSHIP. THE ORIGINAL COMPOSITIONS EVOKE A BYGONE ERA WHILE CONTRIBUTING TO THE VAST TRADITION OF STORYTELLING THROUGH SONGWRITING. THE GROUP RELEASED THEIR 3RD FULL-LENGTH ALBUM "GREETINGS FROM SHAMBYLVANIA" IN APRIL 2019. THE ALBUM, DELIBERATELY WRITTEN AS A FULL GROUP, IS A SERIES OF WHIMSICAL VIGNETTES FROM THE FICTIONAL TOWN OF SHAMBYLVANIA.
ELLIS DYSON & THE SHAMBLES HAVE PERFORMED HUNDREDS OF SHOWS THROUGHOUT THE EAST COAST AND MIDWEST AND HAVE SHARED A BILL WITH NATIONAL ACTS SUCH AS LAKE STREET DIVE, REBIRTH BRASS BAND, POKEY LAFARGE, AND MIPSO, TO NAME A FEW. THE BAND CONSISTS OF ELLIS DYSON (BANJO, VOCALS), ELI WITTMANN (ACOUSTIC GUITAR), KENNY PHELPS-MCKEOWN (UPRIGHT BASS), DANNY ABRAMS (SOPRANO/ALTO/BARITONE SAXOPHONES, CLARINET, VOCALS), AND DANNY GREWEN (TROMBONE, VOCALS). THEY CAME TOGETHER THROUGH A SERIES OF FORTUITOUS MEETINGS IN CHAPEL HILL, N.C. BEGINNING BACK IN 2013 AS A SAXOPHONE AND BANJO DUO, ELLIS DYSON & THE SHAMBLES HAS GROWN INTO A FREIGHT TRAIN STRING BAND WITH A FLASHY HORN SECTION.
Dreamroot is a band/musical collective from Durham NC. The performance style combines pre-written and improvised sections, creating what Indy Week calls "One of the distinctive strains of the Durham jazz scene, melding R&B forms with modern jazz solos that all fit nicely into the length of a longish pop song." Dreamroot released their debut album Phases in May of 2020, hoping to put out positive energy during a dark time. The album Phases was collectively composed and arranged by the members of Dreamroot.
Dreamroot has performed at venues and festivals across the east coast, with appearances on TV such as PBS. DreamRoot consists of bassist Ittai Korman, drummer Theous Jones, saxophonist and poet Serena Wiley, keyboardist and producer Joe MacPhail, and GRAMMY nominated trumpeter Lynn Grissett.