About this Event
This is a seated show with general admission, first-come-first-served seating. The Cedar is happy to reserve seats for patrons who require special seating accommodations. To request seating or other access accommodations, please go to our Access page.
General Admission tickets are available online, by phone, Electric Fetus, and at The Cedar during shows.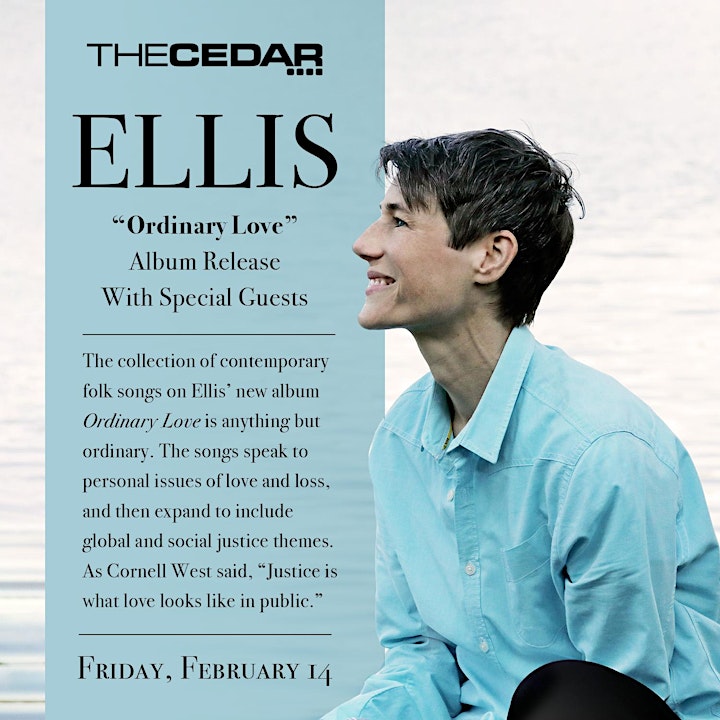 "Ellis is basically the nicest person on Earth, and you can hear that in her music...full of the solid songwriting and precise but warm arrangements." — Jay Gabler, 89.3 The Current
"If you've seen her perform live, you already know that Ellis is totally engaging. She exhibits a true sense of joy when she sings." — Mike Pengra, Radio Heartland
ELLIS
A gifted songwriter and performer, Ellis is known for her stirring lyrics, open- hearted performances and contagious laughter. She got her start at coffee shops and now tours the folk festival circuit with ten albums to her credit. She has been a four-time guest on A Prairie Home Companion, and Ellis has won more than a dozen songwriting and live performance awards.
The collection of songs on her new album Ordinary Love is anything but ordinary. The songs speak to personal issues of love and loss, and then expands to include global and social justice themes. As Cornell West said, "Justice is what love looks like in public." She worked with social justice artist Ricardo Levins Morales who created a complex cover that tells more than a dozen mini- stories. Even if you don't have a record player, you may want to pick up a vinyl copy to hang on your wall. Ellis recorded her tenth full-length album locally at Wild Sound Studios, Ellis worked with Steve Kaul and a range of local performers to complete the album's contemporary folk sound.
About The OK Factor
Playful and unexpected, new-classical crossover duo The OK Factor writes and performs folk-inspired music influenced by multiple genres, with an artistry that reveals their classical training. Cellist Olivia Diercks and violinist Karla Colahan find great joy in defying expectations and delivering an experience outside of what audiences anticipate from a cello and violin combo. Organic and genuine, their original compositions feel both comfortingly familiar and uniquely fresh, and have been described as "genre-bending" (Julie Amacher, MPR) and "pure magic" (Wausau Pilot & Review). The ease with which they write and perform and their passion for educational outreach has caught the attention of the Minnesota music community in which they live and work, bringing them success on stages such as The Cedar Cultural Center, as frequent featured artists with Minnesota Public Radio, and as finalists for the McKnight Fellowships for Musicians in 2018. Olivia and Karla invite audiences to explore music and cultivate a curiosity about its role in their lives.
The OK Factor performing "Imaginary Friend" courtesy of The OK Factor's YouTube channel.