About this Event
This is a seated show with general admission, first-come-first-served seating. The Cedar is happy to reserve seats for patrons who require special seating accommodations. To request seating or other access accommodations, please go to our Access page.
General Admission tickets are available online, by phone, Electric Fetus, and at The Cedar during shows.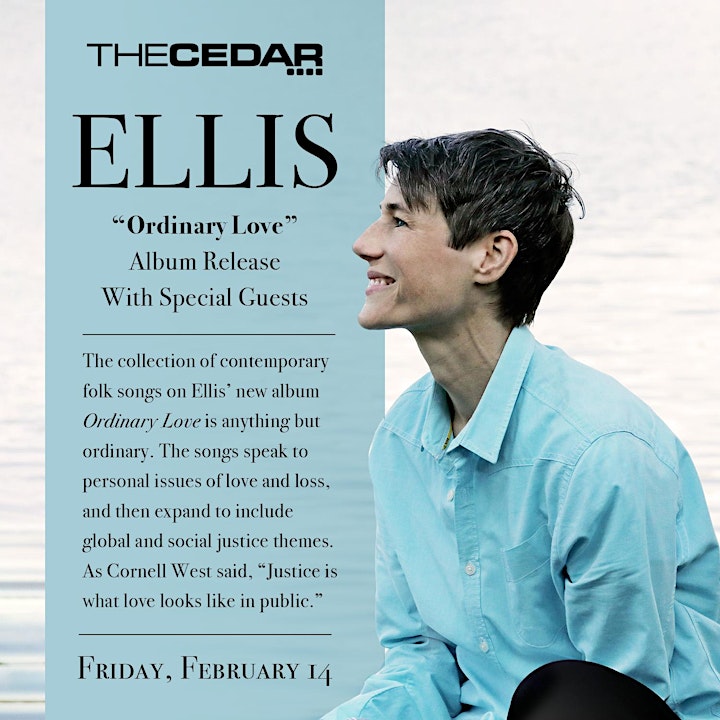 "Ellis is basically the nicest person on Earth, and you can hear that in her music...full of the solid songwriting and precise but warm arrangements." — Jay Gabler, 89.3 The Current
"If you've seen her perform live, you already know that Ellis is totally engaging. She exhibits a true sense of joy when she sings." — Mike Pengra, Radio Heartland
ELLIS
A gifted songwriter and performer, Ellis is known for her stirring lyrics, open- hearted performances and contagious laughter. She got her start at coffee shops and now tours the folk festival circuit with ten albums to her credit. She has been a four-time guest on A Prairie Home Companion, and Ellis has won more than a dozen songwriting and live performance awards.
The collection of songs on her new album Ordinary Love is anything but ordinary. The songs speak to personal issues of love and loss, and then expands to include global and social justice themes. As Cornell West said, "Justice is what love looks like in public." She worked with social justice artist Ricardo Levins Morales who created a complex cover that tells more than a dozen mini- stories. Even if you don't have a record player, you may want to pick up a vinyl copy to hang on your wall. Ellis recorded her tenth full-length album locally at Wild Sound Studios, Ellis worked with Steve Kaul and a range of local performers to complete the album's contemporary folk sound.