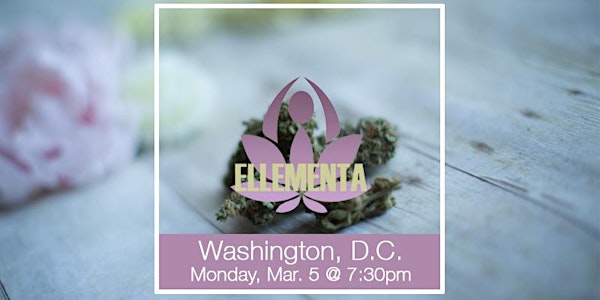 Ellementa Washington DC: Self Care and Cannabis
When and where
Location
The Quaker House Living Room 2111 Florida Ave NW Washington, DC 20008
Refund Policy
Refunds up to 1 day before event
Description
THIS MONTH'S PROGRAM: Self Care and Cannabis
Join us for the launch of Ellementa DC. We will be answering questions about holistic lifestyles and self-care and questions about herbs as well as cannabis, CBD, cannabinoids and terpenes. We'll be meeting at The Friends Meeting of Washington - Quaker House.
Ellementa meets monthly to bring women together to learn about cannabis for health, wellness, self-care and caregiving. This is a non-consumption, educational event for women/female-identified only. We create welcoming spaces where women can come together to speak openly about cannabis wellness.
SPEAKING….
Tattiana Aqeel
Tattiana Aqeel works in the DC Medical Marijuana Program as a garden planner and plant caretaker at a small cannabis cultivation firm. She has a decade of experience using herbal remedies, lifestyle, and nutrition to maintain healthy balance, and she is committed to cultivating therapeutic sensory experiences for people seeking mind-body wellness. Other works include sustainable agriculture and waste systems, making herbal extracts and infusions, mixed traditional herbalism, and propagating holistic health food systems for people marginalized by racism and capitalism. Her background is in the performing arts and she continues to make art that affects social change. She has extensive acting training and musical practice and also uses dance and embodied breathing techniques to release tension and heal trauma.
Kathryn Rust
Since 2004, Kathryn Rust has dedicated herself personally and professionally to the medical cannabis industry, working as both as a Patient Care Specialist and a Cultivation Consultant in dispensaries and cultivation centers in southern California. Ms. Rust graduated from San Diego State University with a BA in Biology. She then went on to graduate from Mueller Holistic College as a certified Holistic Health Practitioner. Her desire to be a part of the emerging industry in D.C., and deep passion for the cannabis plant led her to move here from southern California in 2013. Since her arrival, Ms. Rust has served as a leader and pillar of progress in the Washington, D.C. based medical marijuana program, assisting with the opening and operations of both Metropolitan Wellness Center, a licensed dispensary, and District Growers, a licensed cultivation center. Currently serving as Manager of District Growers, Kathryn specializes in Thigmomorphogenesis techniques and application methodology.
Theresa Clark
Theresa (Reese) Clark is the Founder and CEO of the Ecwiti Group and Empress Herbal Products. She is also the CBD Botanical advisor and contributing author for Sensi magazine. The Ecwiti Group's mission is to eliminate socioeconomic and health disparities by delivering culturally competent, linguisti- cally appropriate and evidence-based interventions to ultimately empower individuals to be active members of their so- cioeconomic and health decision-making process. The goal of the Empress Herbal Products is to make your skin healthy, smooth and soft.
Prior to Ms. Clark taking on an entrepreneurship role, she was an adjunct professor at Long Island University. Before Long Island University, Reese served as a public health program manager with the Office of Minority Health and Refugee Health Program in the Pennsylvania Department of Health, Office of Health Equity (OHE). During her tenure with the OHE, she did many things to bring awareness to and eliminate health disparities among Pennsylvanian minority populations. She also worked to secure quality health assessments for newly arriving Pennsylvanian refugees. Prior to Reese joining the OHE, she was the senior program analyst and lead evaluator with the Division of Cancer Control and Prevention in the Pennsylvania Department of Health. Preceding Reese's role within the Pennsylvania Department of Health, she spent many years coordinating pharmaceutical clinical research in oncology, infectious disease, dermatology and women's health. Reese received her Bachelor's degree in Biomedical Science from Drexel University and a Master's degree in Public Health with a focus in Health Planning from A.T. Still University.
HOSTING….
The evening's discussion will be led by, Ellementa Organizer Loretta Hord

Loretta is an artist, innovator, and paradigm changer focused on interspecies collaboration with plants (cannabis included). I have an adventurous background in biodynamic cannabis farming, environmental education, cannabis consulting,reiki healing, and a decent amount of circus thrown in. With this experience, she works to create realistic pathways for plant based industries and its consumers to manifest deeper connections with their products. Creating Cannatunes using soundscapes, musical profiles, and installations, allows her to translate plant vigor and brand story through multi media experiences. Ultimately, she really loves being an imaginative conduit between growers, brands, healers, and the people who love what they have to offer!


ABOUT ELLEMENTA GATHERINGS:
Ellementa Gatherings are non-consumption events. Ellementa does not condone consumption of cannabis on the premises of Gatherings. If consumption does take place at the event or any product is obtained at the event that is consumed after, attendees consume at their own risk and fully indemnify Ellementa, Inc. and its stakeholders from any responsibility. Everyone attending this event or other Ellementa events confirm they are 21 years of age or over and fully responsible for their own actions.