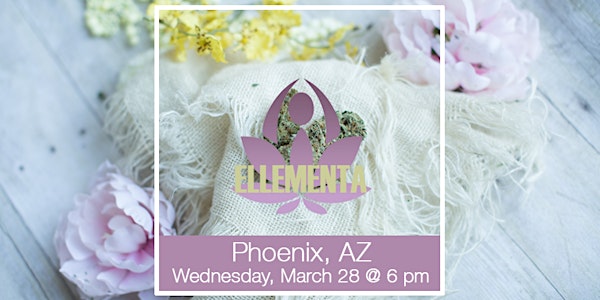 Ellementa Phoenix: CBD and Cannabinoids for Pain and Sleep
When and where
Location
The Newton/Changing Hands Bookstore 300 West Camelback Road Phoenix, AZ 85013
Refund Policy
Refunds up to 1 day before event
Description
Women are using CBD and Cannabinoids for Pain and Sleep. Find out how they use it and why it works.
Join us for the launch of Ellementa Phoenix!
Ellementa meets monthly to bring women together to learn about cannabis for health, wellness, self-care and caregiving. This is a non-consumption, educational event for exclusively for WOMEN/FEMALE-IDENTIFIED. We create welcoming spaces where women can come together to speak openly about cannabis wellness.
SPECIAL GUESTS…
Lilach Power
Lilach Mazor Power is co-founder and managing director of The Giving Tree Wellness Center, an Arizona licensed medical cannabis dispensary. The Giving Tree has two retail locations and 15,000 square feet of cultivation and extraction. The former Israeli soldier earned her bachelor's degree in business and marketing from the New England College branch in Tel Aviv before coming to the U.S. and opening The Giving Tree in 2013. Since then, The Giving Tree has continued to grow with plans to open dispensaries in Puerto Rico and Maryland in 2018. Her latest project is Kindred, a newly launched cannabis brand which aims to bring people together through cannabis while evolving the image of the cannabis user.
Veronica Blanco
Veronica Martinez-Blanco is the dispensary manager at The Giving Tree Wellness Center in Phoenix. A long life advocate for minority rights, educating lower income families about college and the benefits of higher education, Veronica was even awarded the MLK Leadership Award as a student at The University of Arizona. Veronica is passionate about joining the fight to educate people about the benefits of cannabis; and to help to legalize this medicine in hopes that people will shift their paradigm about something that has been criminalized, misunderstood, and discredited for years.
"More and more folks are turning towards cannabis as their medicine. People are tired of the negative side effects they are getting from their medications prescribed by their doctors and they are taking charge of their health. If that is not revolutionary, I don't know what is, and I want to be a part of that revolution."
Dr. Elaine Burns
Dr. Elaine Burns is the founder and medical director of Southwest Medical Marijuana Evaluation, serving the patients of Arizona since 2011. Under her leadership Southwest Medical Marijuana Evaluation has developed comprehensive cannabinoid education materials for patients to ensure a safe and effective medical treatment option. In addition, in 2012, Dr. Burns was the first in the state of Arizona to pass the American Academy of Cannabinoid Medicine's (AACM) physician certification test qualifying her as an expert in the clinical applications of cannabis medicine. The AACM provides the GOLD standard for medical cannabis recommendations and approval.
SPONSORING…
Undoo – A supplement that eases over consumption of THC.
VaporNation is the largest wholesale distributor and online retail store for cannabis vaporizers in the world.
DrBurns' ReLeaf, LLC – Our mission is to ensure medical Cannabis patients have access to consistently high quality therapeutic Cannabis products rooted in science and not folklore. Our proprietary formulas result in safe, effective, and economical treatment options for patients by combining whole cannabis plant extracts with other superior botanicals.
HOSTS…
Nancy A. Shenker
A former C-level executive, Nancy A. Shenker founded her own consulting practice in 2003. She is also the publisher of sheBOOM.com and a contributor to Inc.com and HuffPost. A self-proclaimed "digital nomad" and native New Yorker, she relocated to Arizona at the age of 62 to "re-boot" her life. She has written for cannabis media and profiled cannabis companies.
Betsy Sherman
Betsy Sherman has spent decades in public relations, involved in all aspects of the industry, working in entertainment, politics and the nonprofit arena, both in senior management corporate positions and as an independent consultant. She was Nora Ephron's publicist on almost all of her films, and has worked with other distinguished directors including Mike Nichols, Paul Mazursky, Forrest Whitaker, Leslie Linka Glatter, Andrew Bergman and Tony Bill. She was an executive producer and publicist of the recently released and critically acclaimed documentary I Am Jane Doe. Betsy's experience and contacts provide her with invaluable insight and singular access.


ABOUT ELLEMENTA GATHERINGS:
Ellementa Gatherings are non-consumption events. Ellementa does not condone consumption of cannabis on the premises of Gatherings. If consumption does take place at the event or any product is obtained at the event that is consumed after, attendees consume at their own risk and fully indemnify Ellementa, Inc. and its stakeholders from any responsibility. Everyone attending this event or other Ellementa events confirm they are 21 years of age or over and fully responsible for their own actions.