Description
THIS MONTH, LET'S TALK ABOUT: Changing your Health with Food and Cannabis
As women, we are the driving force for what our families eat, what medications to use, our doctors' visits and so much more!
We are being given "pills for our ills" and over prescribed medications both in dosage and quantity. Has your doctor talked to you about what you are eating or even better what you are NOT eating? Has he/she discussed the benefits of meditation or yoga?
Just taking a pill or pills may not be enough and the same is true with Cannabis. There are many areas to look at that affect our health and wellness for the positive that the Western medical community rarely discusses. Food, exercise, meditation, laughter, your career, your satisfaction with your relationships, these all have a major impact on your health and well-being.
Cannabis has a role in these areas and may assist many women in finding stress relief (can induce laughter if stress is lessened), pain relief, a tool with meditation, help soreness after a workout.
Come learn some techniques to help facilitate better health and wellness and how incorporating Cannabis with these new tools may make these more fun to implement into your daily routine!
************
Ellementa meets monthly to bring women together to learn about cannabis for health, wellness, self-care and caregiving. This is a non-consumption, educational event for women/female-identified only. We create welcoming spaces where women can come together to speak openly about cannabis wellness.
HOSTING…Karin Clarke, Ellementa Los Angeles Gathering Leader
Karin Clarke is a Cannabis educator, advocate and microdoser! As a certified Integrative Health and Cannabis Coach, her passion is to help women learn the benefits of Cannabis with and without getting high. Karin also teaches Food Safety and Dispensary training classes to the California Cannabis market. She is a avid skier, cyclist and hiker. To stay in shape for her favorite activities she runs and dabbles in Yoga. Karin loves to spend her time with her family and close friends.
OUR VENUE…
Dr. Norms – Chocolate Chip Therapy
Our Gathering will be held at Dr. Norms, a family-owned edibles maker in Los Angeles, CA. KNOW YOUR DOSE is one of their mantras.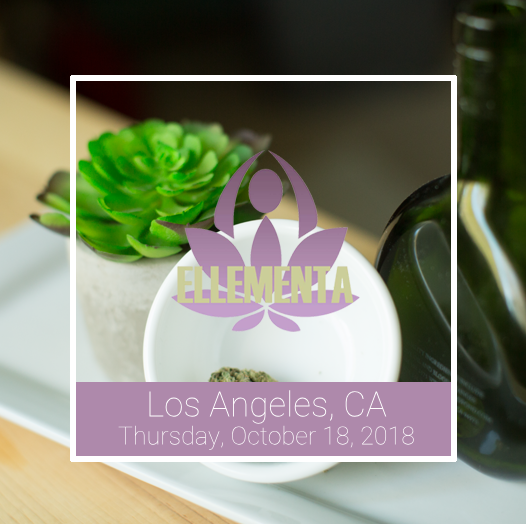 ABOUT ELLEMENTA GATHERINGS:
Ellementa Gatherings are non-consumption events. Ellementa does not condone consumption of cannabis on the premises of Gatherings. If consumption does take place at the event or any product is obtained at the event that is consumed after, attendees consume at their own risk and fully indemnify Ellementa, Inc. and its stakeholders from any responsibility. Everyone attending this event or other Ellementa events confirm they are 21 years of age or over and fully responsible for their own actions.