Description
This Month's Topic: Cannabis & CBD: Nourishing Women's Wellness
If you understand the Endocannabinoid System (ECS), you understand the nourishing aspects of medicinal plants and herbs.
How can women nourish their bodies through herbs and infused food and drink?
How do these infused products work, and how can you Do It Yourself (DIY)?
Let's discuss the DIY process, what you need, measurements, steps and more.
We look forward to seeing you and exploring the nourishing side of herbs.
******************
Ellementa meets monthly to bring women together to learn about cannabis for health, wellness, self-care and caregiving. This is a non-consumption, educational event for women/female-identified only. We create welcoming spaces where women can come together to speak openly about cannabis wellness.
Guest Experts…

Kim Dunshie Herning
Kim cooks and makes medicine with cannabis and belongs to the group Interior Medicine Women who get together in each others homes to learn from each other with demonstrations on making different products. She also worked for Frozen Budz as a baker for a month before AMCO shut them down.
Marilyn Berglin
Marilyn retired after teaching for 27 yrs. at Fairbanks Youth Facility. She is a peony farmer and has also co-taught an Olli class – Demystifying Cannabis where she shared her knowledge on cooking with cannabis.
HOSTING…Nancy Elliot, Ellementa Fairbanks Gathering Leader
Nancy Elliott is a mother and a cannabis advocate. Nancy has a passion for educating more people about the health benefits of cannabis and is committed to spreading the word about the healing power of cannabis. Nancy has a B.A. in Psychology and has been researching cannabis for the last year.
VENUE…
VENUE was designed to be a completely flexible + modern space. VENUE is a blank canvas, ready to create your perfect social event.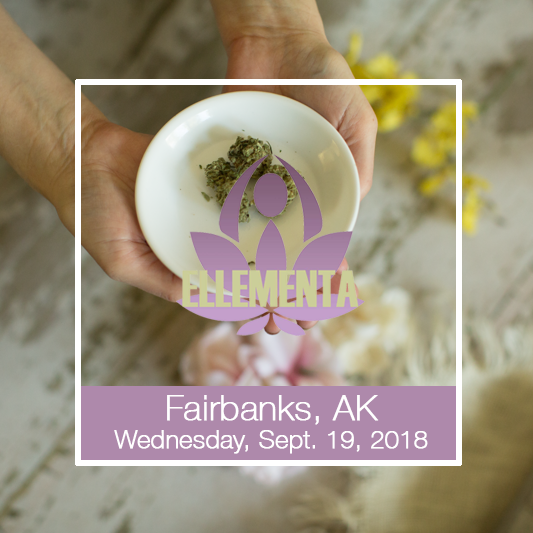 ABOUT ELLEMENTA GATHERINGS:
Ellementa Gatherings are non-consumption events. Ellementa does not condone consumption of cannabis on the premises of Gatherings. If consumption does take place at the event or any product is obtained at the event that is consumed after, attendees consume at their own risk and fully indemnify Ellementa, Inc. and its stakeholders from any responsibility. Everyone attending this event or other Ellementa events confirm they are 21 years of age or over and fully responsible for their own actions.