Elle G @ Mama Papa Lithuania - Limited Seating

Sunday, October 12, 2014 from 6:00 PM to 9:00 PM (PDT)
Event Details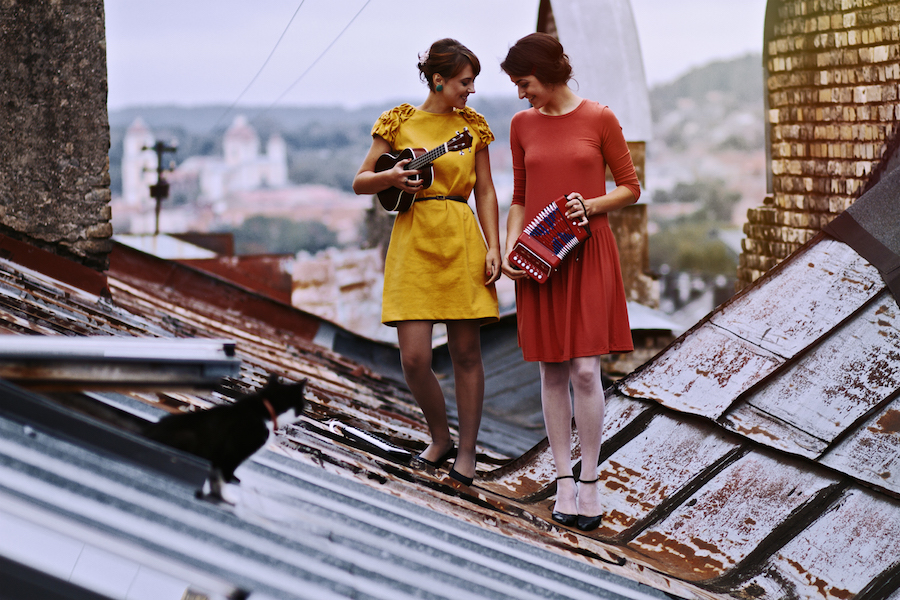 Įsitaisykite minkštame fotelyje, klausykitės jūros ošimo ir žuvėdrų klyksmų. Atostogaukite. Elle G muzika - šilta kaip Havajai, kur šokiai basomis ir maudynės saulėje gali tęstis visus metus. Įkvėptos kelionių po Lietuvą, pasaulį ir praeities dešimtmečius, merginos į lagaminą krauna šviesius, subtilius, žaismingus muzikos garsus. Dar čia telpa pirmasis Giedrės ir Elenos albumas "Never ending story" - jų kelionių garso takelis, pasaulį išvydęs po dviejų metų bendro grojimo kartu.
Kiekviena Elle G sukurta ar perdainuota daina – nauja kelionė, kurios palydovai keičiasi nuolatos: muzikinės dėžutės, kazoo, metalofonas, ukulele, melodika, barškučiai, gitalele, Coca-Cola, taurės, šakutės, šypsenos, žvilgsniai, klausytojai, šokėjai, svajotojai…
Žvilgsniai, klausytojai, šokėjai, svajotojai… ateikite pasiklausyti merginų lietuviškame restoranėlyje, Mama Papa Lithuania. Vaikai įleidžiami nemokamai. 
Elena Augustinaitė - ukulele, banjolele, vocal, smile

Giedrė Nalivaikaitė - vocal, kazoo, melodica, glockenspiel, shakers, eyes
Grupės įrašus galima rasti čia
https://www.facebook.com/ellegmusic | http://elleg.bandcamp.com/releases
Elle G - two young ladies from Vilnius, Lithuania, playing soft and swinging songs of 20s-70s, as well as writing their own music. English, french & lithuanian melodies, comming from vinyl era, revive owing to the chemistry of fun - loving duo. As a small band Elle G uses only few instruments - ukulele, their voices, melodica, kazoo and some shakers and rattles. However, they are able to create performance for both ears and eyes.
Elena and Giedrė have already shared the warmth and softness of their cashmere like songs in Lithuania and Latvia. Last chilly autumn, the ladies spent two months delighting Berlin's listeners while their springtime was dedicated for touring in the USA. Now, Elle G is coming to California!
When & Where

Mama Papa Lithuania
1241 Park St
Alameda, CA 94501


Sunday, October 12, 2014 from 6:00 PM to 9:00 PM (PDT)
Add to my calendar
Organizer
Connecting Bay Area's Lithuanians