Description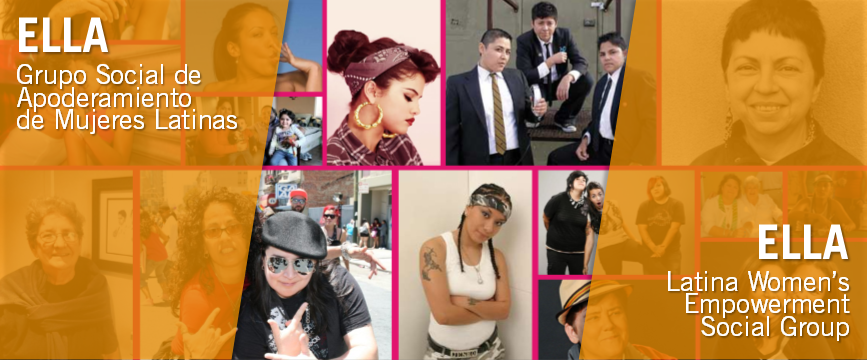 FECHAS Y HORARIO Entre Semana-Fecha para Determinar
LOCAL Boyle Heights
MENTORES/FACILITADORES Varias
PARTICIPACION SRC/se ruega confirmación requirido
Somos lesbianas, somos gay, somos bi y somos trans.
Somos feministas, somos machas, somos tortillera y somos fems.
Somos madres, somos hermanas, somos hijas, y somos amigas.
Somos amantes, somos compañeras, somos aliadas, somos "queers".
Las mujeres de la comunidad LGBTQ de hoy son una rica y diversa parte de lo que nos hace increible. Pero, ningún sub-grupo dentro nuestra comnidad ha tenido el poder y pasión que las Latinas LGBTQ. Ella es un experimento social de crecimiento y discubrimiento de las Voces Latinas LGBTQ de hoy.
Ella comienza como un grupo de red de contactos diseñados para "queer" Latinas para ser el centro de encuentro, conexión y sueño. Cuando se forme un núcleo sólido, el grupo empleará el poder de sus participantes para diseñar y trazar el futuro del grupo. De todas maneras, este grupo escoje evolucionar, será determinado por las participantes quien serán apoderadas para soñar y construir sus propíos futuros y visualizar para la siguiente generación de mujeres Latinas "queer".
Cada sesión de grupo será facilitado por voluntarias entrenadas quien comparten la vision de participantes y están preparadas para hacer de su parte llevando este nuevo y grupo visionario en una dirección positiva y de apoderamiento.
DAYS & TIMES Weeknights TBA
LOCATION Boyle Height
MENTORS/FACILITATORS Various
FORMAT Social Networking Group
PARTICIPATION RSVP Required
We are lesbian, we are gay, we are bi and we are trans.
We are feminist, we are butch, we are dykes and we are fems.
We are mothers, we are sisters, we are daughters, we are friends.
We are lovers, we are peers, we are allies, we are queers.
The women of today's LGBTQ community are a rich and amazingly diverse part of what makes us great. But, no sub-group within our community has the power and passion as LGBTQ Latinas. Ella is a social experiment in growth and discovery of today's LGBTQ Latina Voice.
Ella will begin as a social networking group designed to become a hub for Latina queer women to gather, connect and dream. Once a solid core has been formed, the group will harness the power of its participants in order to design and chart this groups future. However, this group chooses to evolve, that will be determined by the participants who will be empowered to dream and build their own future and vision for the next generation of Latina queer women.
Each group session will be facilitated by trained volunteers who share the participants vision and are prepared to do their part in driving this new and visionary group in a positive and empowering direction.