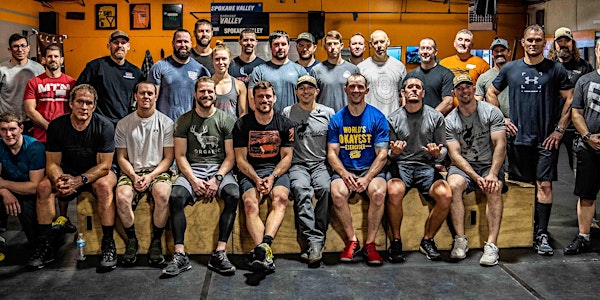 ElkShape Camp
Regardless of your fitness level, this weekend is designed to make you better at nutrition, fitness, elk calling, backpacking, and shooting.
When and where
Location
Spokane Valley Archery 3809 S Linke Rd Spokane Valley, WA 99016
About this event
ElkShape Camp is for anyone wanting to become a better version of themselves.
Regardless of your fitness level, this weekend is designed to improve your nutrition, fitness, elk calling, backpacking, finances and shooting. This is the most thorough camp when it comes to adopting the ElkShape lifestyle. We are partnering with Spokane Valley Archery and Train To Hunt to create a Life Changing weekend. We will shorten the learning curve when it comes to elk hunting.
PLEASE NOTE: No REFUNDS or CANCELLATIONS and Travel (Airfare/Lodging) & Food Expenses Not Included.
We will be teaching you how to prepare for elk season by dialing in your nutrition and biometrics. We want to teach you how to train efficiently, prevent injury and improve mobility. We cover how to train in your garage gym, how to program workouts, and how to create more discipline in your life.
We will be going over in small groups instruction on how to elk call using a diaphragm reed, bugle tube, scenarios and answering your questions on tactics. We are bringing Dirk Durham aka The Bugler to instruct elk calling all weekend long.
We will be doing backpack dump and showing you backcountry gear for elk hunting, how to prepare your own backcountry healthy foods, and answering any of your questions that concern the backcountry.
We are bringing in a hunting Financial Coach to meet with each small group and go over best practices when it comes to living life to the fullest and how to budget for the future.
Kenton Clairmont, founder of Train To Hunt will be putting participants through a private Train To Hunt Course and instructing them on how to elevate their archery practice throughout the offseason.
Josh Jones of Spokane Valley Archery will be teaching participants how to tune their own bow, coaching proper shot execution with video analysis, instructing on 3rd axis adjustment and answering your technical archery questions.
Participants have the opportunity to add the custom bowstrings & bow tune prior to the event at a special price. Once registered, athletes will receive an email with instructions on how to send their bow rig to Spokane Valley Archery ahead of time to get the strings built on site and tuned, ready to rock for the camp.