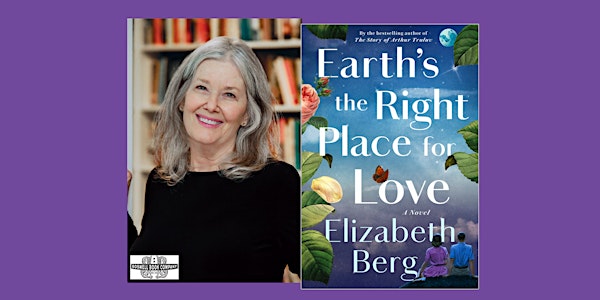 Elizabeth Berg, author of EARTH'S THE RIGHT PLACE FOR LOVE
Elizabeth Berg, author of EARTH'S THE RIGHT PLACE FOR LOVE - an in-person Boswell event
When and where
Location
Boswell Book Company 2559 North Downer Avenue Milwaukee, WI 53211
About this event
Boswell Book Company hosts an evening with Elizabeth Berg, author of Earth's the Right Place for Love.
Nola McCollum is the most desirable girl in Arthur's class, and he is thrilled when they become friends. But Arthur wants far more than friendship. Unfortunately, Nola has a crush on the wrong Moses - Arthur's older brother, Frank, who is busy pursuing his own love interest and avoiding the boys' father, a war veteran with a drinking problem and a penchant for starting fights. When a sudden tragedy rocks the family's world, Arthur struggles to come to terms with his grief. In the end, it is nature that helps him to understand how to go on, beyond loss, and create a life of forgiveness and empathy. But what can he do about Nola, who seems confused about what she wants in life, and only half aware of the one who loves her most? This beautiful new novel tells the story of how Arthur Moses, a shy young man, becomes the wise and compassionate person readers loved in The Story of Arthur Truluv.
From Claire Lombardo, author of The Most Fun We Ever Had: "This is a warm, generous, and utterly satisfying novel, and its characters are vibrantly, terrifically human. I read it raptly, rooting for them all from the first pages."
Elizabeth Berg is the author of many bestselling novels, including The Story of Arthur Truluv, Night of Miracles, Open House, and more. Berg's work has been published in thirty-one countries, and three of her novels have been turned into television movies. She is the founder of Writing Matters, a quality reading series dedicated to serving author, audience, and community.
Click here to order your copy of Earth's the Right Place for Love. Signed copies and personalization available on pre-orders. Please note that signed copies will not be shipped until after the event.