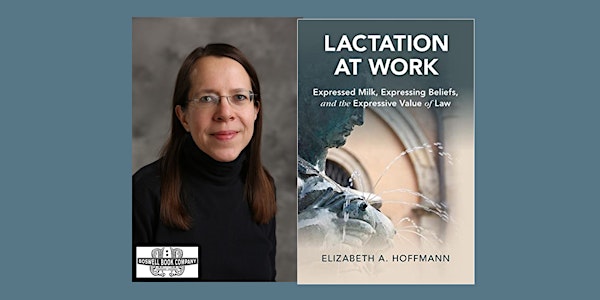 Elizabeth A Hoffmann, author of LACTATION AT WORK - a Boswell event
Elizabeth A Hoffmann, author of LACTATION AT WORK - an in-person Boswell event
Date and time
Starts on Thursday, March 2 · 6:30pm CST
Location
Boswell Book Company 2559 North Downer Avenue Milwaukee, WI 53211
About this event
Boswell Book Company presents an evening with Elizabeth A Hoffmann, author of Lactation at Work: Expressed Milk, Expressing Beliefs, and the Expressive Value of Law. Please note that masks will be required for this event.
In recent decades, as women entered the US workforce in increasing numbers, they faced the conundrum of how to maintain breastfeeding and hold down full-time jobs. In 2010, the Lactation at Work Law (an amendment to the US Fair Labor Standards Act) mandated accommodations for lactating women. This book examines the federal law and its state-level equivalent in Indiana, drawing on two waves of interviews with human resource personnel, supervising managers, and lactating workers. In many ways, this simple law - requiring break time and privacy for pumping - is a success story.
Through advocacy by allies, education of managers, and employee initiative, many organizations have created compliant accommodations. Hoffmann's work shows legal scholars how a successful civil rights law creates effective change, helps labor activists and management personnel understand how to approach new accommodations, and enables workers to understand the possibilities for amelioration of workplace problems through internal negotiations and legal reforms.
Elizabeth A Hoffmann studies how people's legal consciousness and organizational location shape their experience of the law in the workplace. Her research has been supported by the National Science Foundation and has won awards from the Labor and Employment Research Association, the Upjohn Institute for Employment Research, and the American Bar Foundation.
Click here to order your copy of Lactation at Work: Expressed Milk, Expressing Beliefs, and the Expressive Value of Law from Boswell. Signed copies and personalization available on pre-orders. Please note that signed copies will not be shipped until after the event.