Description
SAVE THE DATE!!! DETAILS EVOLVING DAILY! Keep checking back.
or follow @ElixirSF on Twitter and Instagram & @elixirsaloon on Facebook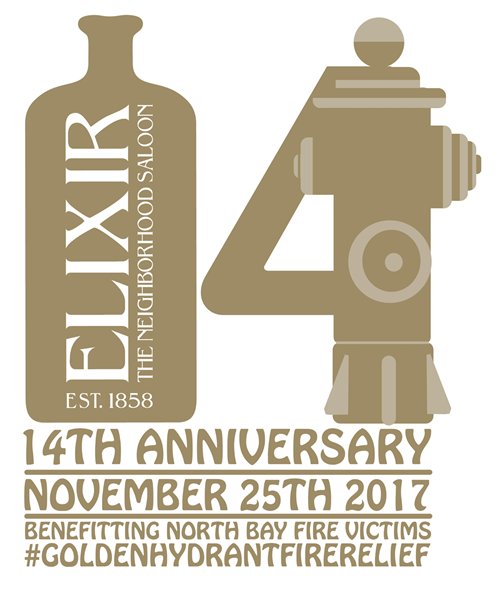 We're celebrating our 14th year running this 159 year old saloon! and we're doing it with charity...
The Golden Hydrant saved much of our neighborhood in 1906 and a couple of years ago, because of the ubiquitious annual California wildfires, we dedicated a cocktail tap handle to its memory in order to continually raise funds for various fire charities. (YOUR bar can get in on that action, too. Just check out the Facebook page: https://www.facebook.com/TheGoldenHydrant/) Now is a very important time for that effort.
THIS EVENT WILL SUPPORT https://www.support707.org and others TBD!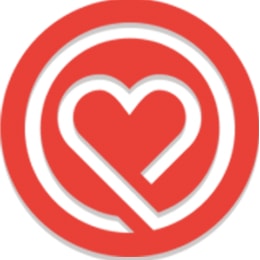 We have RAFFLE PRIZES being donated still and we'll update the list before the party. WE ARE NO LONGER DOING A SILENT AUCTION. Tickets will be $5 each or 5 for $20, available at the door and throughout the party. Raffles will start at 3pm and go every 30 minutes with the BIG Items to be raffled at 5:30pm and 6pm. I'll announce those later on the Elixir page! Some current items:
Nikka Whisky guided tasting of the full line for up to 12 people - $1375 value
Charbay Distillery Tour for up to 10 people, with tasting of 4 unique whiskey barrels and a souvenir Charbay whisky glass, hosted by 13th generation Master Distiller Marko Karakasevic $100 value

El

ixir To Go Cocktail Class for up to 15 people - $1900

Tour of the Standard Deviant Brewery for four people - $200 value

Sake Tasting and Education for 4 People from SakeDrinker.com - $250 value

Butchertown/Absinthe Sazerac pack with 5L cocktail barrel - $200 value
Lingerie gift box from TheEnclosed.com
M, L and XL Sormtech breakers from Luxardo Bitter Bianco
1 Visconti Leather Bag courtesy of Red Breast Irish Whiskey - $132 value
Carved Accessories Men's Watch courtesy of Red Breast WIrish Whiskey - $50 value
a luxurious blanket from King's Ginger
Lot's of t-shirts
various Branded Flasks
Elixir 14th Anniversary t-shirts
AND LOTS MORE, like...
Commorative T-shirts with custom design by New Orleans hometown cocktail hero, DANNY VALDEZ!! (not going to be there? buy one now, below!)
For everyone that signs up for a www.Hooch.co account HOOCH will donate $10!!!
GOLDEN HYDRANT Pins (below) available with a $15 donation (day of event only) http://www.psapress.com/product/the-golden-fire-hydrant-molded-pin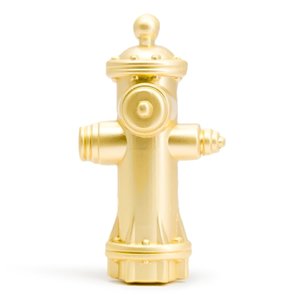 SPECIAL MENU FEATURING DONATIONS FROM:
BEER: Bavik, Pilsner Urquel, Standard Deviant, Erdinger and Old Speckled Hen
MIXERS: Q Drinks, Fresh Victor
SPIRITS: Anchor Disitlling, Diageo Reserve Brands, Bacardi, Edrington
SCREAMING WHISK(E)Y DEALS
BUY T-SHIRTS, right here and now!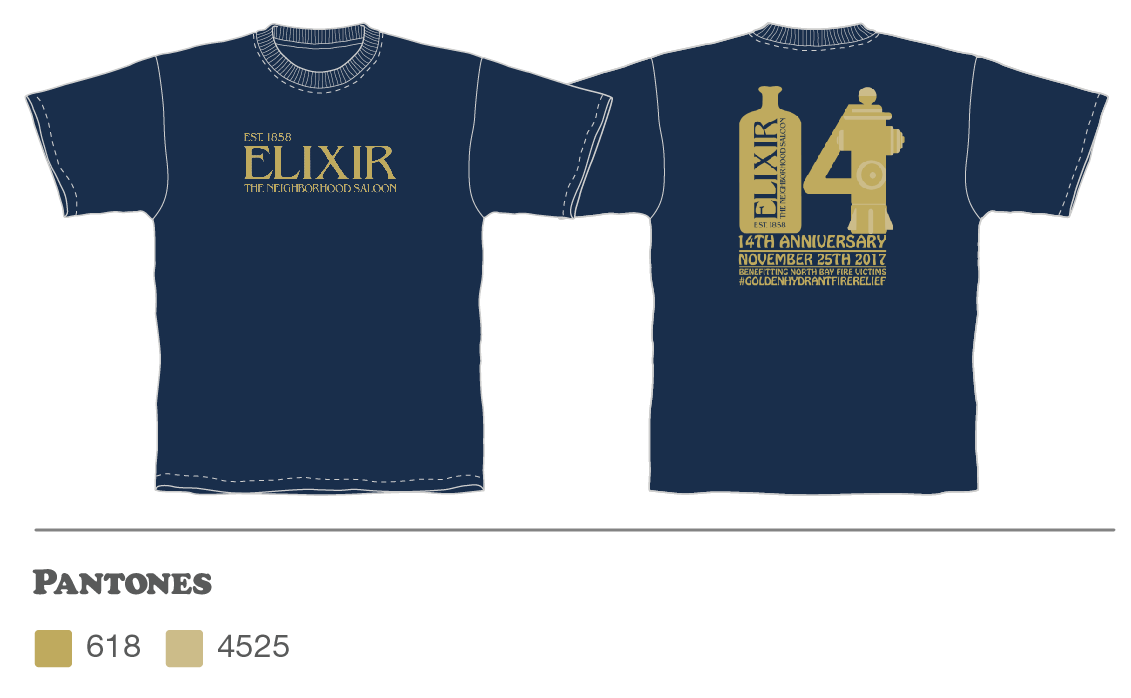 And of course, there will be FOOD! We've got TACOS from 2pm to 6pm!!
And the drink specials...(these are just the specials; we are still donating 100% of whatever you order)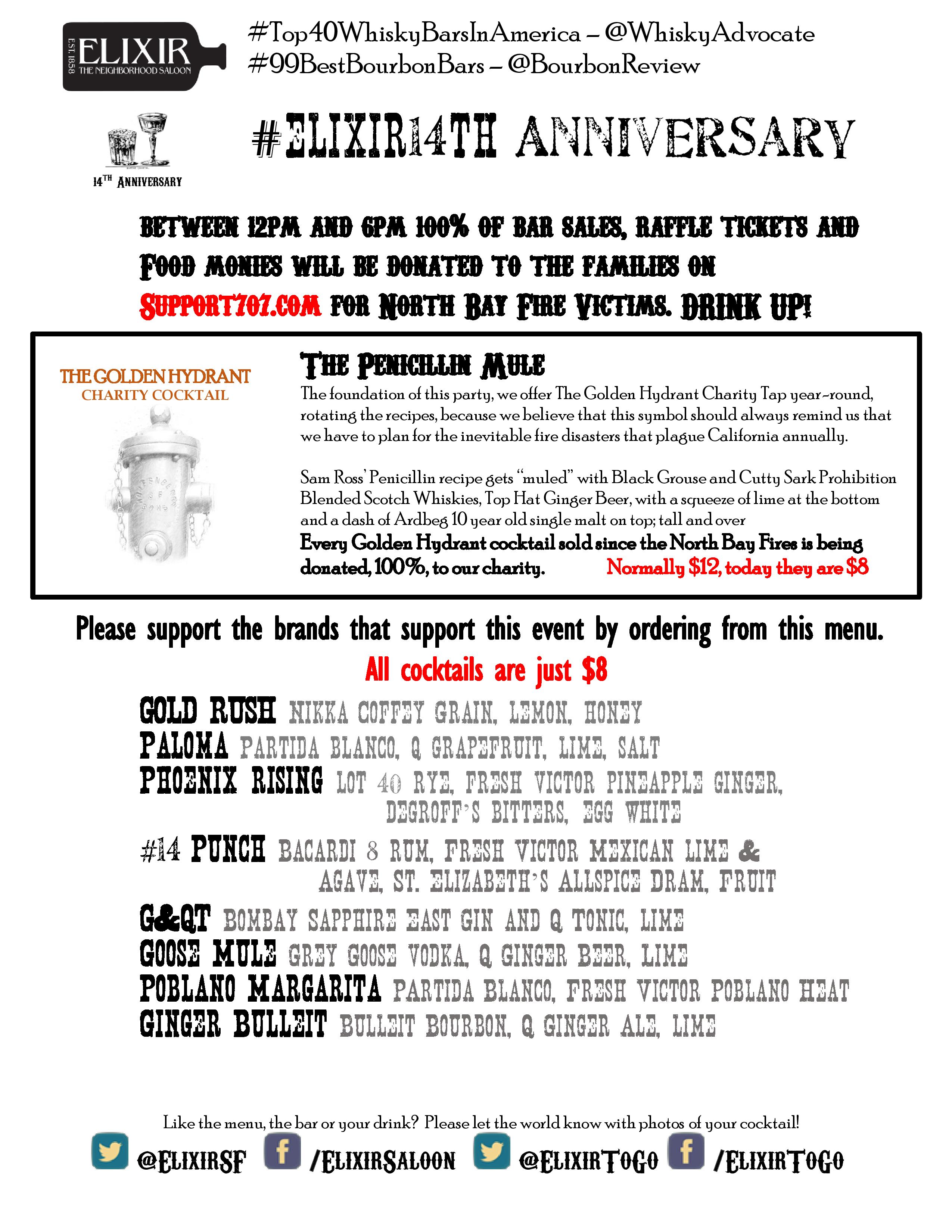 Please donate at least $5 to this effort by "buying a ticket" here and now. (It's another way to donate, but is not actually a ticket. NO TICKET REQUIRED.)
...and of course, football games on the screens and dancing in the streets!!!