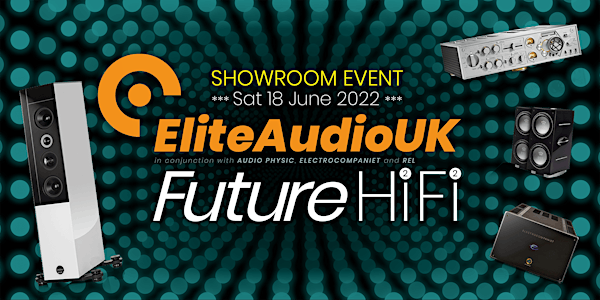 EliteAudioUK's 'FUTURE HIFI' Event
EliteAudioUK bring you their new Showroom Event—'FUTURE HIFI'—hear some high end audio products for the first time in the UK!
When and where
Location
Elite AudioUK Unit 10 Comielaw Farm Anstruther KY10 2RE United Kingdom
About this event
Future HiFi is EliteAudioUK's new Live Showroom Event on Sat 18 Jun 2022.
Be the very first in the UK to hear the new Audio Physic CARDEAS Loudspeakers with Electrocompaniet's 'new NEMO', the AW800M monoblocks… Wow…
Plus you can see and hear, in-the-flesh HiFi Rose's new, raved-about RA180 Integrated Amplifier with Audio Physic's new SPARK standmount loudspeakers that will blow you away.
Both set-ups will be enhanced with REL subwoofers—the 212/SX and the T/9x will be used.
We will have very special guests, THOMAS SAHEICHA from Audio Physic (Brilon, Germany) and LASSE DANIELSEN from Electrocompaniet (Tau,Norway) in the Showroom and doing Q&A sessions with MARK CARGILL from EliteAudioUK through the day.
Come and enjoy some great music through some great set-ups in our 2 listening spaces, feed yourself free with the legendarily good Wildfire Pizzas plus complimentary tea and coffee, etc. There will also be prize draws and special event-only offers and much more.
Book your FREE tickets by your expected arrival time—either between 10–11.30am; 11.30am–1pm or 1pm–2.30pm. Expect to stay up to 2 hours to catch all the demonstrations, Q&A sessions and prize draws, etc.
___________________________________________________
Don't forget: The East Neuk of Fife is a beautiful place to spend a few days—with amazing beaches and small harbour towns dotted around the coastline, plus many historic sites and superb local produce outlets. We heartily recommend you come and stay in the area, to do your mind and body a favour! We are only an hour away from Edinburgh Airport, 40 mins from Dundee, and 20 mins from our nearest (Cupar) Railway station.
___________________________________________________
Line-up 1:
• Electrocompaniet AW800M monoblocks x2
• Octave HP700SE pre-amplifier
• Electrcompaniet ECP2 MKII Phono Stage
• Audio Physic CARDEAS 4-way loudspeakers
• REL Acoustics 212/SX active subwoofers X2
• Antipodes Audio OLADRA music server & reclocker
• Electrocompaniet ECM1MkV reference CD player
• Aqua La Scala Optologic II DAC
• SOtM sNH-10G network switch
• Origin Live RESOLUTION Mk4 turntable with Origin Live ILLUSTRIOUS Mk4 tonearm
• Hana ML MC cartridge
• Cable loom from HiDiamond
•Puritan PSM156 mains purifier
Line-up 2:
• HiFi Rose RA180 integrated amp
• Audio Physic SPARK 3-way standmount speakers
• REL Acoustics T/7x active subwoofers X2
• HiFi Rose RA150B network streamer
• SOtM sNH-10G network switch
• Cable loom from LessLoss
•Puritan PSM156 mains purifier