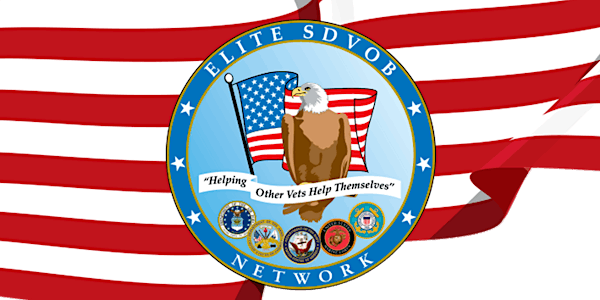 Elite SDVOB Network Event (ZOOM LINK BELOW) - AT&T / STATE OF IL HIGHER ED
Featuring John Donato, Chief Procurement Officer - IL Higher Education, and Joan-Carles Brugué, Sr Manager, AT&T Global Supplier Diversity
When and where
Location
ZOOM LINK https://us02web.zoom.us/j/85244759031 ZOOM LINK Chicago, IL 60601
About this event
ZOOM LINK INFO (MEETING STARTS AT 2:00 CST)
AT&T's Joan-Carles Brugué and John Donato, CPO for IL Higher Education / Opportunities for Veteran and Diverse Businesses
ZOOM LINK TO BE PROVIDED TO REGISTERED ATTENDEES PRIOR TO THE EVENT
Elite SDVOB Network's Illinois chapter is thrilled to host our next event on Wednesday, September 22nd from 2:00 p.m. to 4:00 p.m. This is now a virtual event, and participation is FREE.
We are exited to feature special guest speakers John Donato, CPO for IL Higher Education, and Joan-Carles Brugué, AT&T Senior Manager for Global Supplier Diversity. Information and networking will focus on opportunities for Veteran Owned and other diverse businesses.
The meeting will focus on opportunities for Veteran Owned and other diverse businesses within AT&T and Illinois Higher Education, with practical tips on doing business with these large government and commercial organizations. Guest speakers and our host, Michelle Kantor, will also provide updates on Veteran- and diverse business-focused programs, and legal developments that affect diverse businesses.
Our first honored guest is John Donato*, Chief Procurement Officer - Higher Education for the State of Illinois. John will lead a presentation on How to Do Business with the Higher Education Portfolio. The CPO's Office of Higher Education will be presenting on how to do business with the higher education portfolio. They will also touch on the state's BEP and VET programs. Finally, they'll provide a list of resources if help is needed. As many of you know, John was offer an outstanding opportunity for small business growth, and we look forward to hearing more!
Our second honored Guest Speaker is Joan-Carles Brugué*, Sr. Manager with Global Supplier Diversity at AT&T. Joan will discuss opportunities for Veteran-owned and other small and diverse businesses at AT&T, a Billion Dollar Roundtable member globally recognized as a leader in supplier diversity. He will offer advice on how businesses can best position themselves to work with AT&T and its Tier One suppliers, and best practices for small and diverse businesses to align with the needs of large Fortune 100 organizations like AT&T. His presentation is packed with information and questions are encouraged.
Member Capabilities Presentations - Highlight your company's capabilities
Our honored guests will join other business experts, along with your peers, in providing feedback on capabilities presentations delivered by meeting participants. Those of you who have attended recent meetings know what a worthwhile experience this was for our presenters, and we have four slots open for capabilities presentations at our October meeting. To join the list of companies delivering presentations, and to get a copy of a template and sample presentation you can use to build your own, send an email to Elite's Illinois chapter president, John Scifers, at john@scifers.net.
The meeting will also offer new members the opportunity to learn more about opportunities available through Elite SDVOB network. Members who need to pay their dues can bring a check payable to "Elite SDVOB Network." To obtain a membership application, send an email to John Scifers at john@scifers.net. Regular membership dues are only $60 per year
We have limited space available, so please register here for FREE to obtain a "ticket" and reserve your seat.
Following the meeting, we will have an informal networking session.
BIOGRAPHIES OF SPECIAL GUEST SPEAKERS
*Biography of John Donato, Chief Procurement Officer - Higher Education for the State of Illinois
As Chief Procurement Officer for Higher Education, John Donato works with the State's public universities to meet their procurement needs free of undue influence through independent authority, oversight and approval. The CPO-HE further works with the universities to continually improve procurement policies and to establish best practices that recognize the specific needs of the universities in relation to their role and importance to the State of Illinois.
John's work in this role follows more than 9 years with the Illinois State Toll Highway Authority, where he served as Chief of Procurement and played a pivotal role in the Tollway's leading all State agencies in Veteran Owned Business engagement. He has also served as Procurement Compliance Monitor with the Executive Ethics Commission, served as Deputy Director for State of Illinois Central Management Services, and was the State Purchasing Officer for the Illinois Environmental Protection Agency. He is a Certified Public Procurement Officer and holds a degree in Operations Management from Northern Illinois University
**Biography of Joan-Carles Brugué, AT&T Senior Manager for Global Supplier Diversity, DETAILS COMING SOON
***Biography of Michelle Kantor
Michelle Kantor is a Partner in McDonald Hopkins LLC and leads the Federal and Local Government Contracting & Procurement practice group for the firm. Michelle has more than 30 years experience practicing in government contracting, diversity certifications, procurement law, corporate law and government contracting disputes. On August 1, 2017 Michelle was named by Crain's Business Chicago as Top Most Influential Women Lawyers in Chicago. In August 2018 she was again named by Crain's Business in Chicago's Notable Women Lawyers 2018.
Michelle represents prime contractors, subcontractors, suppliers, professional and other service providers, in matters including, SBA 8(a), WOSB, SDVOSB, HUBZone, WBE/MBE/DBE and other certification submissions and appeals, government regulatory compliance, small business programs, size protests, bid protests, Size and NAICS code protests, contract and payment disputes, change order disputes and REAs, regulatory violations, response to government investigations and audits, proposed suspensions and debarment actions, and other related disputes. In addition, Michelle reviews and negotiates government contracts and other commercial contracts. She also acts as general counsel to companies regarding corporate matters, mergers and acquisitions, succession and equity infusion planning and other legal needs. She also prepares federal Novation agreements for asset sales and guides her clients in transitioning ownership.
Michelle prepares Joint Venture and Teaming Agreements, asset purchase agreements, professional service agreements, construction and design professional agreements and other commercial and government project agreements. Michelle assists clients in small business certifications and appeals, SBA Mentor-Protégé submissions and supplier diversity programs. Michelle also assists clients in FAR interpretation and compliance; and training in FAR and Ethics and Codes of Conduct.
Michelle serves as General Counsel to the Federation of Women Contractors and serves on the Chicago Women's Business Development Center (WBDC) Advisory Committee. Michelle is also a member of Women Impacting Public Policy WIPP as well as member of the Court of Federal Claims Bar Association. She is also a Life Time Member of the Society of American Military Engineers (SAME) Michelle has also served as Deputy Director for the City of Chicago, DCAP and Deputy Commissioner of the Department of Buildings and served as Internal Counsel for three years.
Michelle has received the Lifetime Advocate Award from the Federation of Women Contractors for her work in promoting, counseling and advocating for women, minority, and veteran owned small business firms. Michelle is a frequent speaker at seminars, conventions, webinars & trade associations nationwide.
------------------------------------