Description
The holiday season is upon us, and Elite Fitness and Figure need your help providing Gift Boxes to Jessie's Place (https://jimmiehalemission.com/ministries-more/jessies-place/), a safe haven for homeless and hurting women and children seeking shelter while preparing to reach self-sufficiency.
The event will take place on Saturday, December 16, 2017 from 6:00pm to 8:00pm at 1st and 23rd Lounge (2300 1st Ave N, Birmingham, AL 35203). The goal for the event is to present Jessie's Place with 50 "A Home for the Holidays" Gift Boxes that includes the attached essential items.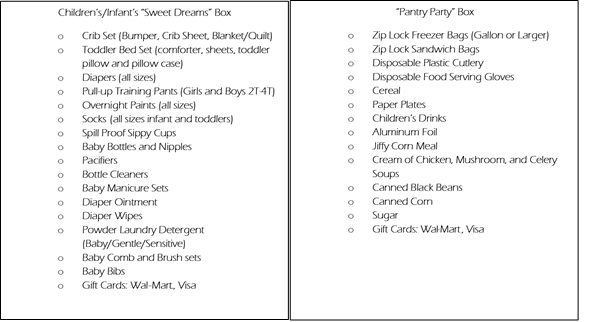 Please feel free to purchase and bring any of these items to the event or you can order them on Amazon through our gift registry by going to https://www.amazon.com/.
On the Amazon website search under "Account and Lists" select "Friends & Family Gifting". Next select "Find Friends" and enter the email address of fostemu@yahoo.com to locate A Home for the Holidays Gift Boxes gift registry. The event is open to the public, so please spread the word.
Light refreshments will be served.
We hope you can join us as we celebrate the holiday season and give back to a great cause!!!
Please contact contact Val C 'Brian (205.914.4944) or Muriel Foster (334.663.6510) with any questions.