*Celebrate LOVE with Elissa* | Valentine's Theme Party with superstar Elissa
About this event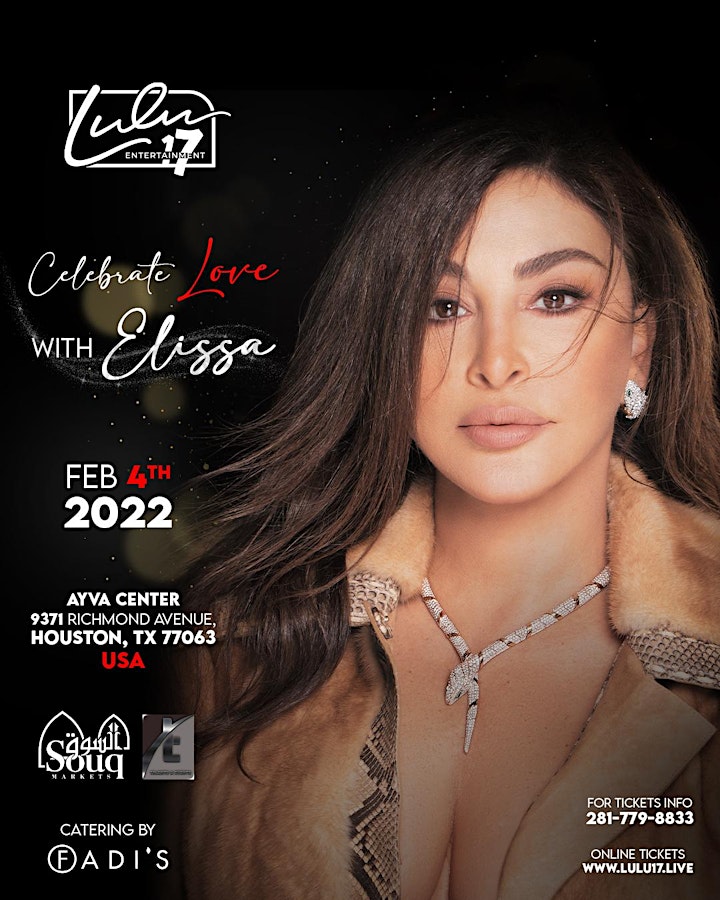 Valentine's Theme Party with superstar Elissa
*Celebrate LOVE with Elissa* | Powered By Lulu17 Entertainment
Sponsors: Souq International Markets | Catering by Fadi's Mediterranean Cuisine
Hookah Available for order upon arrival to venue *Not included with ticket purchase*
You Must be 18 or Older to Enter *No babysitting/child care will be provided at venue*
For additional questions you can call Lulu17 Phone Customer Support at 281-779-8833
-PROMOTIONS-
Take advantage by booking early. For this event and future events we will incentivize our loyal customers who take action early.
" 20earlybird " EARLY BIRD Pricing - Valid From Jan 1, 2022 12:00am to Jan16 11:30pm.
" 10earlybird " LATE BLOOMER Pricing - Valid from Jan 17 12:00am to Jan 23 11:30pm.
Absolutely no discounts the last two weeks before party.
Since these codes are posted publicly, if you book without using the code, there is no way we can add it later or credit you the amount. It's your responsibility to read details and take advantage of publicly available offers. Please refrain from asking for discounts on last minute reservations, our customer service representatives will politely tell you to refer back to these rules.
-ACCOMMODATIONS-
Option #1) HYATT REGENCY Galleria: Value / Luxury
We have an excellent group rate with the Hyatt Regency Houston Galleria located at 2626 Sage Road, Houston, TX 77056. Reservations can be made directly with the hotel online by clicking HERE or by calling at (832) 803-1234 or (888) 591-1234. If booking over phone, ask for the "Lulu17 Entertainment" negotiated group rates.
-UBER/TAXI-
Lulu17 has created a customer voucher for anyone deciding to travel by Uber/Taxi where we will cover 5% of travel up to $10 on each ride.
Uber Voucher: https://r.uber.com/rGNHWCanWTB
-LINKS-