Event Information
Location
The Ardmore Music Hall
23 East Lancaster Ave
Ardmore, PA 19003
About this Event
Elise Testone's All-Star Amy Winehouse Birthday Tribute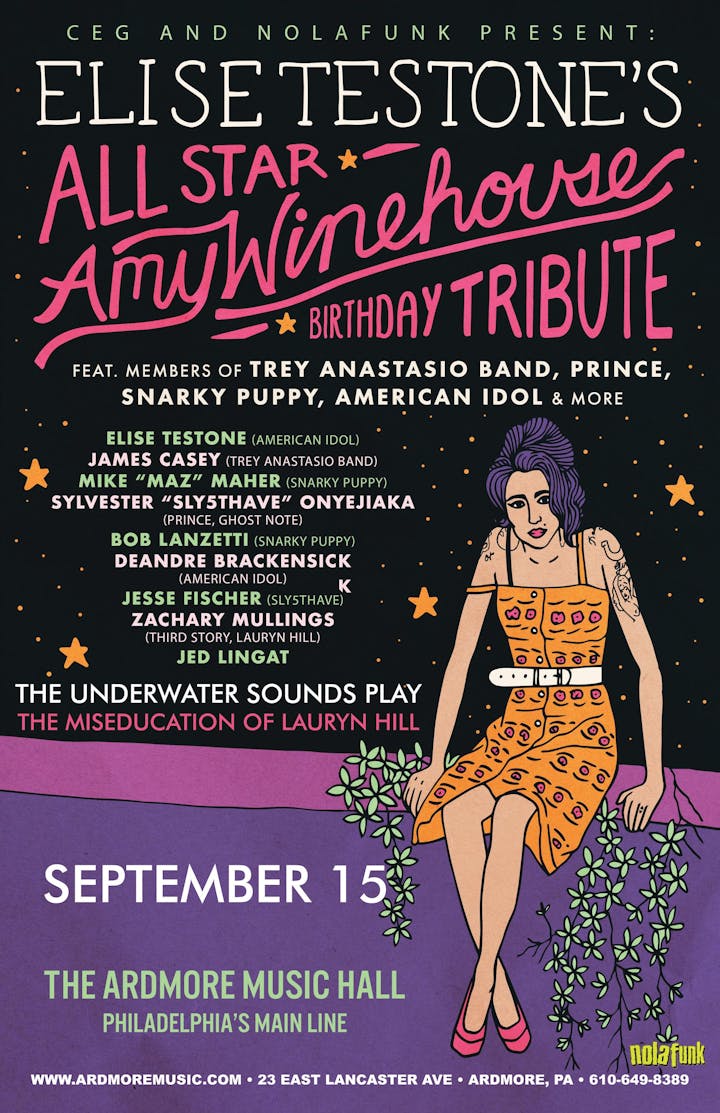 ELISE TESTONE'S ALL-STAR AMY WINEHOUSE BIRTHDAY TRIBUTE
James Casey (Trey Anastasio Band)
Mike 'Maz' Maher & Bob Lanzetti (Snarky Puppy)
Sylvester 'Sly5thAve' Onyejiaka (Prince, Ghost-Note)
Deandre Brackensick (American Idol)
Jesse Fischer (Sly5thAve)
Jed Lingat
Zachary Mullings (Lauryn Hill)
Elise Testone
The Underwater Sounds perform The Miseducation of Lauryn Hill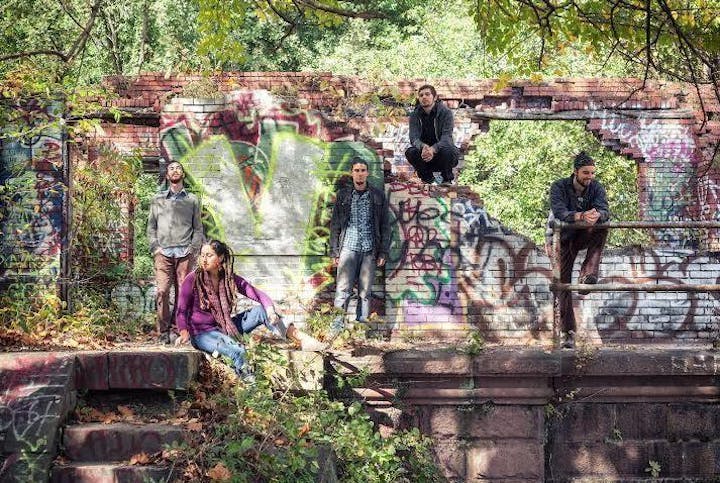 THE UNDERWATER SOUNDS PLAY THE MISEDUCATION OF LAURYN HILL:
The energy - and history - of reggae, funk, and jazz inspire THE UNDERWATER SOUNDS to create a listening experience that alternates between moments of psychedelic improvisation and deep groove. Formed in Philadelphia in 2009 and fronted by singer-songwriter Sonni Shine, this 5-piece takes an unconventional approach while incorporating captivating female vocals and conscious lyrics.
THE UNDERWATER SOUNDS play regularly in their home city of Philadelphia, PA at venues such as The Blockley, World Café Live, the TLA, North Star Bar and Underground Arts. Since 2010, the band has helped to produce the music festival May Flora Fest, and has toured throughout the East Coast, remaining completely DIY in their efforts. In 2014 they released their 3rd studio album, which continues to develop their signature sound: rhythms influenced by reggae and world music, topped with soulful vocal melodies.
With performances that are always fresh and ambitious, THE UNDERWATER SOUNDS strive to keep their crowd moving and surprise them regularly with a variety of styles and unexpected covers. It's a genuine message of love that has propelled them to share the stage as direct support with the likes of Groundation, John Brown's Body, Snarky Puppy, Giant Panda Guerilla Dub Squad, Orgone, Pimps of Joytime, The Slackers, Dumpstaphunk, Dopapod, The Heavy Pets, Zach Deputy, and many more. While keeping their feet grounded in the roots of reggae music, THE UNDERWATER SOUNDS consistently deliver authentic and unique performances.
Date and Time
Location
The Ardmore Music Hall
23 East Lancaster Ave
Ardmore, PA 19003
Refund Policy