Refund policy
Contact the organizer to request a refund.
Eventbrite's fee is nonrefundable.
Read on for important registration and book order details!
About this event
Celebrate the release of Rachel to the Rescue with author Elinor Lipman, in conversation with Stacy Schiff--editor of her first two books!
Books purchased on this page will include a signed, personalized bookplate.
How to Register
Register on this page to receive a Zoom link
Register free, pay what you like, or buy the book to enter the event
If you don't receive a confirmation email after registering, contact us right away
Get Your Books
Books are held for pickup or shipped after ticket sales have closed.
STORE PICKUP- Pick up your book in person at Brookline Booksmith (Click here for directions). You will receive an email alert when your book is ready.
SHIPPING - Have your book shipped via USPS priority mail. Shipping is only available in the United States.
If you have trouble checking out, check the Eventbrite FAQ located here.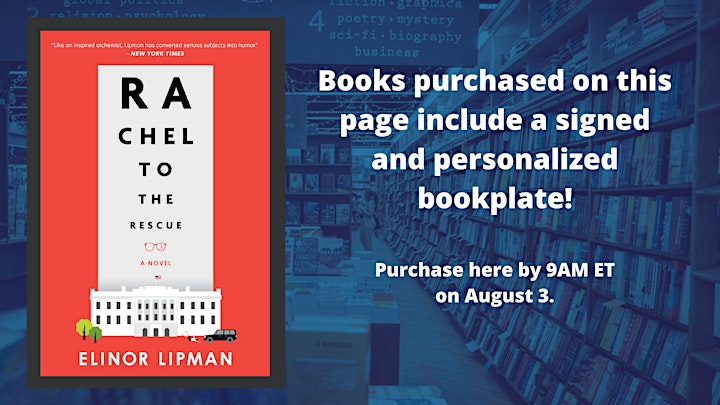 Rachel to the Rescue
"An entertaining romp of a political satire...absolutely delicious." --New York Times
"If laughter is the best medicine...Rachel to the Rescue is a healing prescription following four years of the Trump presidency." --Shelf Awareness
Rachel Klein is sacked from her job at the White House after she sends an email criticizing Donald Trump.
As she is escorted off the premises she is hit by a speeding car, driven by what the press will discreetly call "a personal friend of the President."
Does that explain the flowers, the get-well wishes at a press briefing, the hush money offered by a lawyer at her hospital bedside? Rachel's recovery is soothed by comically doting parents, matchmaking room-mates, a new job as aide to a journalist whose books aim to defame the President, and unexpected love at the local wine store. But secrets leak, and Rachel's new-found happiness has to make room for more than a little chaos. Will she bring down the President? Or will he manage to do that all by himself? Rachel to the Rescue is a mischievous political satire, with a delightful cast of characters, from one of America's funniest novelists.
Elinor Lipman was born in Massachusetts and is the author of more than a dozen novels. Her first one, Then She Found Me, was published in 1990 and was adapted into a film starring Helen Hunt, Bette Midler, and Colin Firth. She won the New England Book Award in 2001, and her novel My Latest Grievance won the Paterson Fiction Prize. She lives in Manhattan, as well as in upstate New York.
Moderator Stacy Schiff is the author, most recently, of Cleopatra and The Witches: Salem, 1692, both #1 bestsellers. Writing in The Wall Street Journal, Brad Gooch has called her "perhaps the most seductive writer of nonfiction prose in America in our time." A former Guggenheim Fellow, she was awarded a Pulitzer Prize for her Vera (Mrs. Vladimir Nabokov).
About Brookline Booksmith
We are one of New England's premier independent bookstores, family-owned and locally run since 1961. We offer an extensive selection of new, used, and bargain books; unique, beautiful gifts; award-winning events series; and specialty foods. Every day, we strive to foster community through the written word, represent a diverse range of voices and histories, and inspire conversations that enrich our lives. Find more at brooklinebooksmith.com!
Barring technical difficulty, auto-transcription is enabled on all Brookline Booksmith Zoom Webinar events.