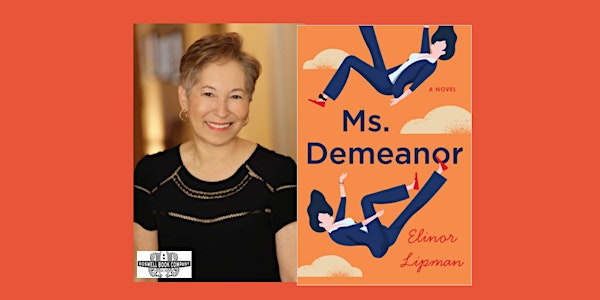 Elinor Lipman, author of MS. DEMEANOR - an in-person Boswell event
Elinor Lipman, author of MS. DEMEANOR - an in-person Boswell event
When and where
Location
Boswell Book Company 2559 North Downer Avenue Milwaukee, WI 53211
About this event
Boswell Book Company presents an evening with Elinor Lipman, author of Ms. Demeanor, a delicious and witty story about love under house arrest. In conversation with Daniel Goldin of Boswell Book Company and former Schwartz bookseller Nancy Quinn.
Jane Morgan is a valued member of her law firm - or was, until a prudish neighbor, binoculars poised, observes her having sex on the roof of her NYC apartment building. Police are summoned, and a punishing judge sentences her to six months of home confinement. With Jane now jobless and rootless, trapped at home, life looks bleak. Yes, her twin sister provides support and advice, but mostly of the unwelcome kind. When a doorman lets slip that Jane isn't the only resident wearing an ankle monitor, she strikes up a friendship with fellow white-collar felon Perry Salisbury. As she tries to adapt to life within her apartment walls, she discovers she hasn't heard the end of that tattletale neighbor - whose past isn't as decorous as her 9-1-1 snitching would suggest. Why are police knocking on Jane's door again? Can her house arrest have a silver lining? Can two wrongs make a right?
From Richard Russo: "Ms. Demeanor is a complete and utter delight. Of course it is. What Elinor Lipman novel isn't?" Daniel agrees: "I laughed out loud while I was reading Ms. Demeanor and sighed when it was over."
Elinor Lipman is the award-winning author of sixteen books of fiction and nonfiction, including I Can't Complain: (All Too) Personal Essays, On Turpentine Lane, and Rachel to the Rescue. Her first novel, Then She Found Me, became a 2008 feature film, directed by and starring Helen Hunt, with Bette Midler, Colin Firth, and Matthew Broderick.
Click here to order your copy of Ms. Demeanor from Boswell. Signed copies and personalization available on pre-orders. Please note that signed copies will not be shipped until after the event.