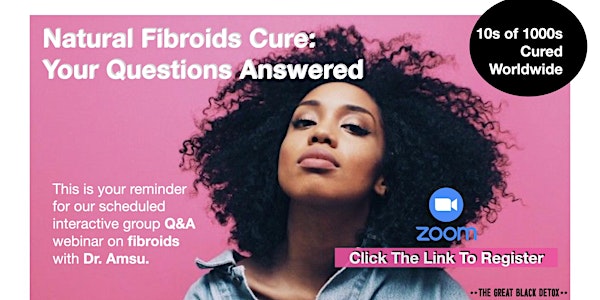 Eliminate Fibroids Naturally - Your Questions Answered.
Free Q&A session with Dr. Amsu on fibroids and women's health.
About this event
The Great Black Detox's fibroid Q&A is a unique platform that allows public members to join in discussions around the health conditions that plague Black people and people of color. The clinics offer the attendees an audience with Dr. Amsu, a world leader in the field of endocrinology, and Mr. Breaks of The Great Black Detox.
Dr. Amsu pulls no punches as he expresses his disdain toward the establishment and its agents that continue to fail the health of blacks and manufacture the hazards that increase the risk of chronic inflammatory diseases. He has spent the last 25 years in endocrinology and metabolism. He has identified the root cause of the massive disparity in healthcare, treatment, and health outcomes between whites and people of color.
"There are tens of thousands of conclusive peer-reviewed white papers supporting his findings that Blacks have genetically derived metabolic differences to whites. Yet, health institutions, the food industry, and pharmaceutical companies intentionally ignore them and 'crack on' promoting and executing the same old rhetoric and practices, leaving black people in the worst health condition in our history. They have deliberately prescribed the same medications of which only 2% are tested on the black biology, and as a result, we're sicker than everyone else."
Together with host Mr. Breaks and a bevy of guest MDs, Nurses, nutritionists, nutrient therapists, health advocates, and the occasional surprise guests, the clinic is informative and entertaining. It has become an essential component of the healing journeys of thousands.
Listen, learn, join the discussion, ask questions, and be inspired.