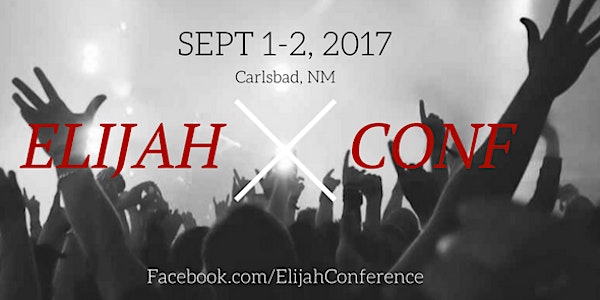 Elijah Conference
When and where
Location
Carlsbad First Assembly 1502 W. Mermod St. Carlsbad, NM 88220
Description
The heartbeat of Elijah Conference
To speak hope, life, and purpose into this generation. To inspire a passion to live ready and live loud for the Lord. To raise up an army of Revivalists filled with the fire of the Spirit, who will be challenged to live their lives in light of eternity.
This is a FREE event, but you must still register to attend.

TARGET AUDIENCE FOR ELIJAH CONFERENCE: 12-24 yrs old (ALL AGES WELCOME)
---
Guest Artists & Speakers
MARI HELART
Mari is the Youth Worship Pastor of Young Saints at Bethel Church in Redding, CA.

RORY HELART
Rory is the Associate Youth Pastor of Young Saints at Bethel Church in Redding, CA.

DR. JOE VANKOEVERING
Pastor Joe is the Lead Pastor of Gateway Christian Center in St. Pete, FL and is the President of Gods News Behind the News and host of the International Prophecy Conference (IPC).

JIM KAMINSKI
Jim is the Youth Pastor of Now Nation Youth at Carlsbad First Assembly in Carlsbad, NM.
---
Conference Schedule
Friday, September 1
3p-6p Registration / Check-in
We will have a table set up where people can fill out cards with questions. This table will be up Friday night and throughout the day on Saturday. During Session 5 our panel will discuss and answer their questions.
6p Doors Open
7p Opening Night – Mari Helart (leading worship) and Rory Helart (speaking)
Saturday, September 2
8a Doors Open
8:30a-9:30a Session 1 – Rory Helart
9:30a-9:45a Break
9:45am-10:35a Session 2 – Joe VanKoevering
10:35a-10:50a Break
10:50a-11:50a Session 3 (Breakout Sessions)
Youth Pastors / Leaders – Rory Helart
Timeline of Future End Time Events – Joe VanKoevering
Using IT (Information Technology) to Spread the Gospel - Michael Prindle (Wycliffe Bible Translators)
Restoring the Truth of Americas Founding and Godly Heritage – Jim Kaminski
NOTE: It is possible we may add additional breakout sessions.
12n-1:30p Lunch (Gym open / Prep for Talent Show)
We will be grilling and serving lunch on campus (menu and cost TBA).

The patio located between the Gym and Fellowship Hall will have (round) tables and chairs set up and music playing for those who would like to purchase lunch from us and eat on campus. The purchase of lunch helps cover the cost of the Conference. Other areas will be open to eat at on campus as well.
1:30p-2:20p Session 4 – Jim Kaminski
2:20p-2:35p Break
2:35p-3:35pm Session 5 (Q & A Panel)
PANEL: Rory Helart, Jim Kaminski, Joe VanKoevering, one other TBA
3:35p-3:50p Break
3:50p-5:15p You Got Talent (spoof on Americas Got Talent)
One entry from each group attending the Conference will perform (ages 11-24). Depending on time and slots more than one may be able to perform from each group.

Group Leader at check-in registers students for Talent Show.
"YOU GOT TALENT" CATEGORIES TO CHOOSE FROM:
(5 minutes per performance and must be Christian material)
Unconventional Percussion
Stand Up Comedy
Instrument Solo / Ensemble (Percussion, Bass, Guitar, Piano, Brass, String, Woodwind)
Drama / Skit / Human Video
Worship Dance / Step Troupe
Rap / Vocal Solo / Vocal Ensemble
Christian Band / Worship Band (original material / covers)
Poetry Reading
Choir
5:15p Dinner
6p Doors Open
7pm Closing Night - Mari Helart (leading worship) and Joe VanKoevering (speaking)
---
Frequently Asked Questions (FAQ's)
If you have a question about Elijah Conference, please look below for answers. If you are still not able to find the answer(s) you need, please feel free to email or call Carlsbad First Assembly (CFA) for more help:
Facebook.com/ElijahConference
NowNationYouth.com/ElijahConference
ElijahConferenceInfo@gmail.com
CFA PHONE: 575.885.4389
Ticketing Questions:
1. Do I have to have a ticket in order to attend?
Yes. Due to limited space, we have a 400 guest capacity. A ticket guarantees your seat in the conference hall and will give you priority over guests without tickets.
2. Why do I need a ticket if Elijah Conference is a free event?
We ask that you register to guarantee that you have a seat in the conference center and to help us best prepare for your arrival. The more accurate our count is, the better we can accommodate you.
3. Do I need to print my tickets? Why?
Yes. At check-in, there will be a line for attendees with printed tickets and attendees without printed tickets. By printing your tickets, you will save a significant amount of time in the registration lines. If you cannot print your tickets, you can also download them to your smartphone via your confirmation email. If neither of these options are possible, we can still check you in without your ticket.
4. Is it okay if the name on my ticket does not match the name of the attendee?
Yes. If you are registering a group and you do not have the name of each attendee, you can hold the extra ticket(s) in your name. Please be sure that you cancel any extra tickets that you have, however, as Elijah Conference approaches.
5. What services are my tickets valid for?
Your online registration submission reserves tickets for the entire conference. This includes all day sessions on Saturday. There is no way to register for individual services. By submitting your registration, you are able to attend the entire event.
6. How can I cancel my ticket(s)?
You can cancel your tickets by clicking "Log In" under the "Your Account" section at the bottom of your confirmation email. Follow your order (in blue) for Elijah Conference and cancel your tickets on the next page under "Cancel Order."
---
Childcare Questions:
1. Will there be childcare or nursery provided?
Yes. There will be nursery provided, for the entire Conference (including Day Sessions on Saturday), for children 1 to 5 years old. Due to limited space in the nursery, please arrive early to check your child in before each service. Nursery care will be given on a first come, first serve basis.

We will have Kids Church and childcare for children grades 1st-5th as well during the entire Conference.
2. Do I need a ticket for my child?
Any student(s) 11 and up that will be attending the Conference will need to be registered. If you have a young infant and prefer to keep him/her on your lap, they will not need a ticket.
---
Registration/ Check-in Questions:
1. What time will registration be open at the conference?
Registration will be 3p-6p on Friday, September 1st of Elijah Conference. The earlier the better for check-in is recommended, as it will give you a chance to avoid large crowds and long lines.

2. Does each person need to check-in individually?
No. If you have a group to check-in, please send ONE representative from your group to the check-in counter. This will help to avoid confusion and crowding. Your representative can receive all the information for your entire group.
---
Service Questions:
1. Will the services be live-streamed?
No. Elijah Conference will not be live-streamed.
2. Can I purchase the services?
Yes. Services will be available for purchase after the conference. TBA
---
Reminder:
Only 400 seat are available. Don't miss out on this incredible Conference and what God will do! Register today!!