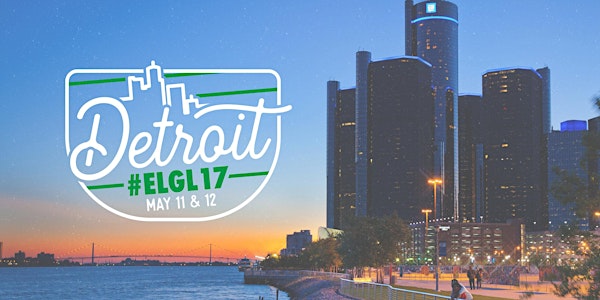 When and where
Location
Aloft Detroit at The David Whitney 1 Park Avenue Detroit, MI 48226
Refund Policy
Contact the organizer to request a refund.
Description
Wednesday, May 10 - Ghost Bar Happy Hour
Start time: 6:00 p.m.
Location: Ghost Bar at the Whitney
Meals: Social Hour Included
Pre-registraton is required for this event: https://elgl17ghostbar.eventbrite.com
Thursday, May 11
Start time: 1:00 p.m.
Location: Downtown Detroit - Aloft David Whitney Hotel
Meals: Dinner and Social Hour Included
Day 1 Schedule:
Tour #1: Downtown and Beyond Tour - The themes that are shaping Detroit right now are community, collaboration and opportunity and on this tour, you'll see how those themes are woven throughout the city. The route includes an overview of the people, places, and neighborhoods that make up Detroit's core including Downtown, East Riverfront, Midtown, New Center and Eastern Market. You'll also see distressed neighborhoods surrounding the core that are developing unique solutions to the challenges they face. Whether you've been in Detroit a day or a lifetime this tour will give you a better understanding of Detroit's past, present and future.
Tour #2: Detroit Innovation Tour - On this tour, we will take you inside Detroit's most innovative projects where you'll have the opportunity to meet the people reinventing Detroit. By day's end, you'll have an insider's perspective of where Detroit has come from and more importantly, where it is going. During this tour, we visit three of our community partners who are movers and shakers here in the city, hear their story, and tour their space.
Tour #3: Neighborhood Revitalization Tour - Although Greater Downtown is the most talked about area of Detroit, there's a lot happening throughout the city. On this tour you'll get an overview of the Detroit's beautiful Northwest side. Largely residential, this route will also reveal newly revived retail thoroughfares, gorgeous city parks, and historic educational institutions that remain anchors in the community. You'll see new development, middle class enclaves, small businesses and innovative solutions citizens are using to combat blight and other issues they face. After this tour you'll have a better understanding of the past, present and future of Northwest Side.
Dinner + Social Hour: Starts at 7:00 p.m. in downtown Detroit
---
Friday, May 12
Start time: 8:00 a.m.
Location: Downtown Detroit - Aloft David Whitney Hotel
Meals: Breakfast, Lunch, and Social Hour Included
Day 2 Schedule:
Keynote Speakers:
Other Learning Opportunities:
Concurrent Sessions + Speakers:
UNC MPA Research to Kick Start the Diversity Dashboard Project - Rosemary Stump, Sarah Dickson, Toney Thompson, and Libby Seguin, first year MPA students.
Eastern Market & Healthy Food In Detroit: A Public-Private Partnership - Jela Ellefson, Eastern Market Community Development Director
Balancing Act: How Detroit & Other Communities Balance Walking and Biking Initiatives with Other City Priorities - Todd Scott, Exec. Dir. of Detroit Greenways Coalition & Mariela Alfonzo, State of Place CEO
Guerilla Government: What Can We Learn From Citizen-Initiated Service Provision? - Hamtramck Guerilla Road Crew, Dorais Velodrome, The Detroit Bus Company
Beyond the Chatter: Creating Messages That Rise Above the Noise - John Lisle, Director of External Affairs for DC Water, Aly Van Dyke, Jennifer Davies, City of Las Vegas, NV
Coast to Coast: The Reality of Life at the Top - Lee Feldman, City of Fort Lauderdale, FL and Rick Cole, City of Santa Monica, CA
Hosted Social Hour: Starts at 5:00, featuring local government activity costing "Price is Right"