Description
Omni Ballroom
5366 S. BANNOCK ST.
LITTLETON, CO 80120
---
CARPOOL IF YOU CAN
YOGA MAT RENTALS $5 (Bring your own if you want!)
IT'S HOODIE SEASON
---
LESSON SCHEDULE:
9:00AM - 10:00AM

10:30AM - 11:30PM

12:00pm - 1:00pm
*WE WILL PUBLISH NEW LESSON TIMES ONCE THE PREVIOUS LESSON HAS REACHED OUR CAPACITY REQUIREMENTS. Thank you for understanding.
---
GOOD VIBES ONLY AND BRING LOVE!
Rocky Mountain Goat Yoga has partnered with our good friends at Omni Ballroom for the 2019 spring season! That's right! Stay out of the heat and come snuggle some baby goats on a Sunday morning at a super cool dance center in Littleton, CO. This venue is a beauiful and comfortable space and perfect for heated, indoor goat yoga!!
Tickets will sellout fast!
---
ABOUT ELF YOGA
Get ready for an entire month of yule tied shenanigans from the herd! This week Santas little helpers are going to help us with our asana positioning in our first Elf Yoga! Cute green hats, little curly boots and of course, jingling little bells.
***SHOW UP IN AN ELF COSTUME, GET A COMPLIMENTARY YOGA MAT RENTAL***
---
ABOUT OMNI BALLROOM:
The Omni Ballroom, formerly known as the Overstreet Dance Center is Denver's largest dedicated dance studio which serves independent dance professionals in their efforts to provide lessons to their students. Omni Ballroom serves the diverse dance communities such as:
Social – dances such as Lindy Hop and the many swing dances

Ballroom – dances in the American and International styles

Club – dances such as Hustle and Salsa

Fitness – exercise classes using dance and music

APPARENTLY GOAT YOGA!! (GOATS LOVE TO DANCE)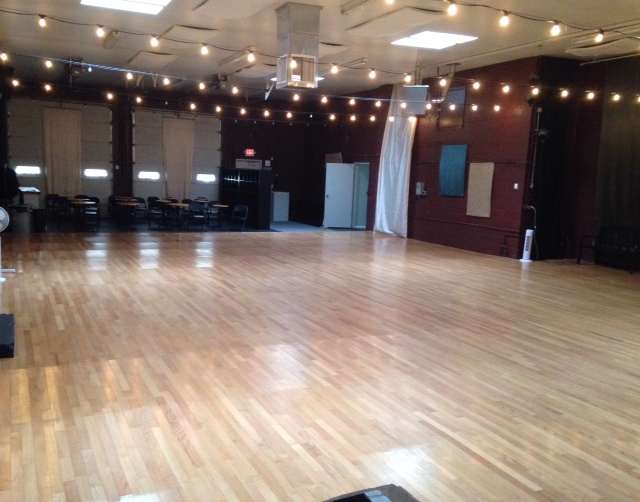 ---
ABOUT RMGY
We hope you're ready for fun!! You've heard about us, read about us and probably seen us on the local news. Rocky Mountain Goat Yoga is sweeping the Rockies with the best Goat Yoga events in Colorado! This family friendly & super fun activity has been sweeping the nation. Our guests have told us over and over again that this is one the most exciting and fun activities they have ever done!
Our events proceed with a 45 minute goat yoga lesson and end with a 15min decompression for our guests & goats. The guests can pet the goats, hold the goats and just spend time loving the gift of these cute and innocent animals. This is also a great time for guests to capture their moments on camera. The guests want their friends to see there interaction on social media. This a great time to capture the moment!
Much Love and Baby Goats!
~Rocky Mountain Goat Yoga
---
WHAT TO BRING
Closed Water Bottle or Flask
Sunscreen for Outdoor Events
Comfortable Athletic Wear (You may get dirty)
Camera
Hair Tie (Goats Like Hair)
Smiles & Friends!
Closed Back Shirts Recommended! (Hooves May Scratch)
---
REFUNDS, DISCLOSURES, TRANSFER AND RESCHEDULE POLICIES:
Refunds will be honored more than 7 days prior to the event.
Guests can reschedule their lesson time once.
$5 Lesson Transfer Fee
If guests no show to their scheduled or rescheduled lesson time without notifying RMGY, the guest forfeits their ticket and no refund or reschedule will be offered.
Lessons may be cancelled due to capacity requirements. If lessons are cancelled, RMGY will transfer tickets to a future lesson of guests choice.
If lessons cancelled due to weather, RMGY will transfer tickets to a future lesson of the guests choice.
We are unable to refund partial orders for discount codes that were not applied during the original time of purchase.
We are unable to apply discount codes after tickets have been purchased at full price.
Event ticket pricing varies between events and locations.
Transferring Guests must pay the difference in price in addition to lesson transfer fees.
Discount Codes are limited to 5 uses per order.
Discount Codes may be restricted to specific locations.
Discount Codes do not apply to gift certificates unless stated otherwise.
Ticket Pricing may fluctuate. No refunds will be offered for a decrease in ticket cost.
Organizer of Elf Yoga - December 7th (Omni Ballroom)
ABOUT RMGY
Rocky Mountain Goat Yoga has been cultivating smiles and happiness with Colorado goat herds since May 2017! Established and founded by entrepreneur Jim Naron, he has been working endlessly to create Colorado's goat yoga culture with a team of dedicated staff.
Since our beginning RMGY has worked with several goat herds, rescues, ranches and farms. Not only do we strive to provide the best goat yoga events in Colorado but we also work hard to provide other unique services like Baby Goat Grams.
We pride ourselves on our sanitation controls and our safety policies that create a safe and sanitary event, every time! If you have attended our lessons, you will notice how well our farmhands are trained and how alert they need to be to make your experience perfect!
All of our goats are also trained! We work with the herds from around 3 weeks old when we start bottle feeding them. It isn't uncommon for a doe to reject one of her kids and we are happy to be their surrogates. The farmers we work with do most of the upbringing but the tricks and stunts are the result of RMGY training. These goats are truly goat yoga pros!
When humans interact with animals in this way, their brain releases a chemical called Oxytocin and reduces the production of the hormone called Cortisol. Cortisol is the stress hormone that we all produce from hard and long hours at work. Staying up late on that homework assignment or any other life related issue.
From a biological stand point, we are literally relieving stress in humans with goats.
We enjoy cultivating smiles and happiness in Colorado! We are honored that Colorado has given us a huge warm welcome and we are excited to create the goat yoga culture in this beautiful state!
Come join us at a lesson or watch one of our silly highlight videos. Either way, we hope you enjoy spreading the gift of kindness just like we do.
Much Love and Baby Goats!
~Rocky Mountain Goat Yoga