About this Event
Join us for the opening of "Elevator Pitch"!
A collaboration between renowned artists New Orleans Airlift, Christine Sun Kim, and Rick Snow, "Elevator Pitch" will join the beloved Music Box Village's campus in New Orleans, as an interactive sound structure that explores how music can be created and experienced by Deaf and hearing communities together. Presented with support from the Smithsonian Asian Pacific American Center.
"Elevator Pitch" is inspired by Kim's childhood memories of crowding elevators with her Deaf friends , and shouting so loudly that they could feel the vibrations of each others' voices. Meanwhile, elevators are often to hearing people as the sites of " awkward silence," thus the concept of this installation challenges when and where various people have a voice. Born deaf herself, Kim approaches "Elevator Pitch" by investigating how Deaf communities of New Orleans experience a city so deeply defined by music, and by highlighting how Deaf people are vital to this culture of sound.
The piece is developed in collaboration with local composer and educator Rick Snow, whose work involves instruments, lighting, media, and sculpture to create immersive experiences; and New Orleans Airlift, the art collective and architectural team behind the Music Box Village. Airlift has stewarded an environment of creative collaboration, with the goal of widening access to sound and music to communities locally, nationally, and globally.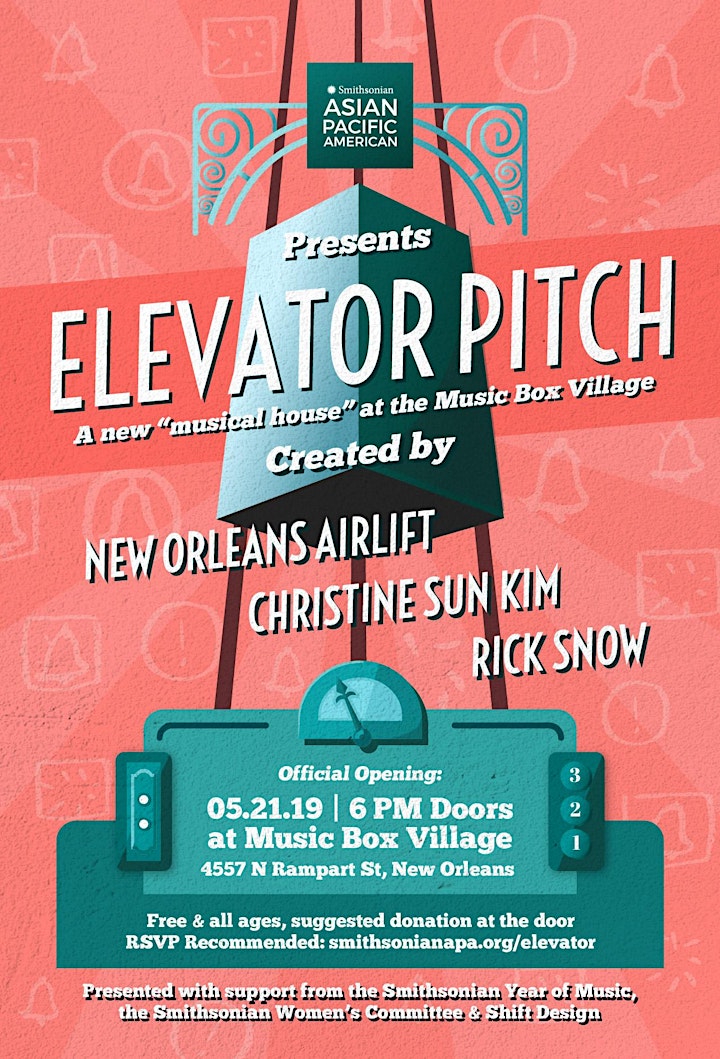 About the artists:
New Orleans Airlift is an acclaimed artist-driven organization that inspires wonder and connects communities through the creation of experimental public artworks. They are widely known for their works of musical architecture, borne out of the region's rich musical landscape.
Christine Sun Kim is a celebrated artist whose multidisciplinary approach includes illustrations, musical notations, and movement that often pays regard to American Sign Language (ASL) to demonstrate various methods of deepening our appreciation of our aural environments.
Rick Snow is a New Orleans-based composer and educator, whose work involves sculptural and interactive sound objects that combine live instruments, interactive video, and lighting with sculptural elements.
Elevator Pitch will officially open on May 21, 2019 and remain as a permanent fixture at the Music Box Village.