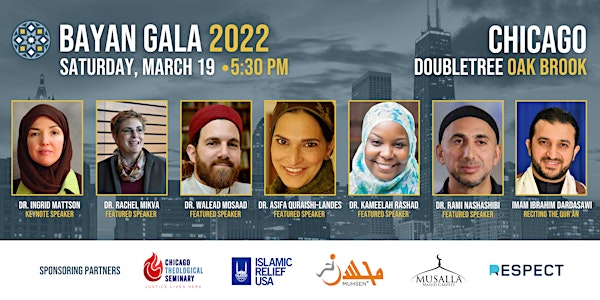 Elevating Communities | Bayan 2022 Chicago Gala
Bayan's first will showcase the powerful effect of Bayan's students/alumni as Muslim American leaders and scholars elevating communities.
When and where
Location
DoubleTree by Hilton Hotel Chicago - Oak Brook 1909 Spring Road Oak Brook, IL 60523
Refund Policy
Contact the organizer to request a refund.
Eventbrite's fee is nonrefundable.
About this event
Host Committee Members:
Dilnaz and Qaiser Waraich
Syed Atif Rizwan, Ph.D.
Assistant Professor of Islamic and Interreligious Studies
Director, The Catholic-Muslim Studies Program
Catholic Theological Union
Keynote Speaker: Dr. Ingrid Mattson
Featured Speakers:
Dr. Asifa Quraishi-Landes
Dr. Kameelah Rashad
Dr. Walead Mosaad
Rabbi Dr. Rachel Mikva
Dr. Rami Nashashibi
Munir Shaikh (Bayan Vice President of Operations and Academic Affairs)
Abdullah al Mamun (Bayan Senior Director of Advancement)
Qur'an Recited By:
Moderators:
Fouad Elgohari (Bayan Educational Outreach Director)
And more
Panelists TBA
General Program:
Appetizers, Silent Auction, and Meet and Greet Students, Alumni, Board Members, and Faculty
Maghrib Prayer
Program Begins
Dinner and Program Continuation
To become a sponsor of this gala, please go to www.bayanonline.org/sponsor2022.
For more information, please contact Gala Chair and Bayan Director of Development, Basmah Salam at bsalam@bayanonline.org or 714-862-2926 ext. 6.
Bayan's Message on COVID-19 and the Gala:
Bayan prioritizes the health and safety of all its attendees and will be monitoring the COVID-19 spread in the Chicagoland area ahead of the gala. In the event Bayan decides to cancel the event, all tickets, tables, and sponsorships will be refunded to attendees and sponsors.
For precaution at the event, Bayan strongly encourages all attendees to be fully vaccinated and wearing a mask when not eating or drinking.
About Bayan and the Gala
Bayan (www.bayanonline.org) is a non-sectarian Islamic institution of higher education that offers accredited graduate degrees in Islamic Studies and Islamic Chaplaincy. Its mission is to offer a world class education that produces dynamic leaders and scholars grounded in the Islamic tradition.
Since opening in 2011, 52 students have graduated from Bayan and with an expected enrollment that exceeds 100 students in 2022 for the first time ever. Bayan's focus is to develop the next generation of Muslim American leaders who will serve as chaplains, imams, educators, and community leaders who make an impact in their communities. Bayan also prepares its graduates to help instill a commitment to Islam among our youth.
On Saturday, March 19, Bayan will hold its first Gala in Chicago as Bayan's premier event for showcasing faculty, students, and alumni, as well as the powerful impact they are having on American Muslim communities in Chicagoland and throughout the country. There is no better way to show the power of Bayan's mission than by honoring them.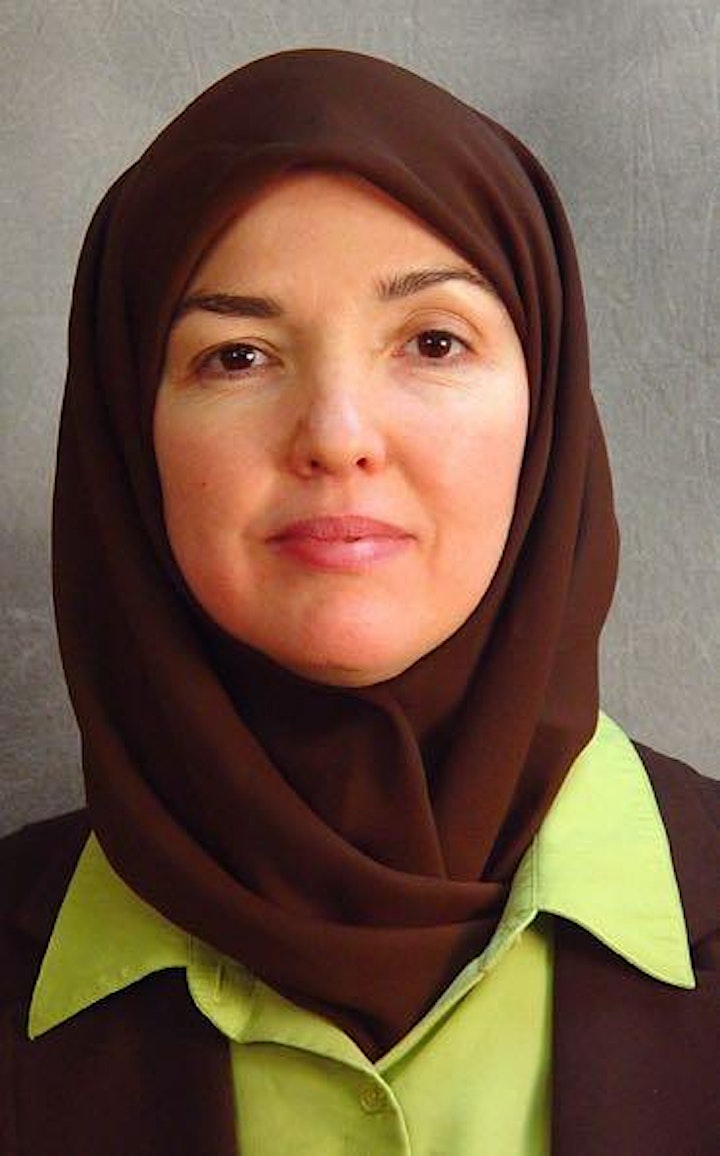 Dr. Ingrid Mattson is the London and Windsor Community Chair in Islamic Studies at Huron University College at the University of Western Ontario, Canada.
Dr. Mattson was educated in Canada and the United States, earning a PhD from the University of Chicago in 1999. From 1998 to 2012 she was Professor of Islamic Studies at Hartford Seminary in CT where she developed and directed the first accredited graduate program for Muslim chaplains in America, and served as Director of the Macdonald Center for the Study of Islam and Christian-Muslim Relations.
From 2001-2010 Dr. Mattson served as vice-president, then as president of the Islamic Society of North America (USA), the first woman to serve in either position. Her writings, both academic and public, focus primarily Qur'an interpretation, Islamic theological ethics and interfaith relations. Her book, The Story of the Qur'an, is an academic best-seller and was chosen by the US National Endowment for the Humanities for inclusion in its "Bridging Cultures" program.
Dr. Mattson is a Senior Fellow of the Royal Aal al-Bayt Institute for Islamic Thought in Amman, Jordan. From 2009-2010, Dr. Mattson was a member of the Interfaith Taskforce of the White House Office of Faith-Based and Neighborhood Partnerships; in 2008 she was on the Council of Global Leaders of the C-100 of the World Economic Forum; from 2007-2008, she was a member of the Leadership Group of the U.S.-Muslim Engagement Project (USME).
Dr. Mattson is the recipient of numerous awards as well as honorary doctorates from Trinity College, Hartford, and the Chicago Theological Seminary. She is frequently consulted by the media and has served as an expert witness. Mattson is a former president of the Islamic Society of North America (ISNA). She served as a Professor of Islamic Studies and Christian-Muslim Relations from 1998–2012 at Hartford Seminary in Connecticut. During that period, she founded the first accredited graduate program for Muslim chaplains in America.