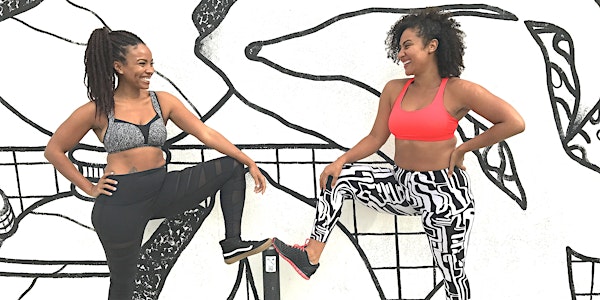 Elevated Movement: A Yoga & Dance Workshop with Chelsea & Tatiana
When and where
Location
Crenshaw Yoga & Dance 5426 Crenshaw Blvd. Los Angeles, CA 90043
Description
DESCRIPTION
Come experience this dynamic duo as they team up for a second time to provide a rare and unique experience - exploring the practices of Yoga and Afro- Hip Hop Dance accompanied by LIVE DRUMMING!

Chelsea and Tatiana have experience within their fields of embodied pratices in ways that make both parts of this workshop accessible to all ages, sizes, genders, and experience levels.
In other words, no prior experience is required. This workshop keeps the beginner in mind.
During this workshop we will:
Practice yoga in a way that will make us feel grounded and open.
Experience the uplifiting benefits of dance and live drumming.
Learn how movement can be used as a self care practice.
Connect with a loving and supportive community who will elevate our movement workshop experience.
Have a lot of fun!
All bodies and various levels of movement experience are welcome to attend this Yoga & Afro-Hip Hop Dance Workshop!
Meet the Instructors:
Chelsea Jackson Roberts is a yoga teacher, educator, and founder of Chelsea Loves Yoga, an online yoga community she establised in 2011. Chelsea is dedicated to making yoga accessible to all communities, body types, and experiential background and currently faciliates, "How to Ignite Your Yoga Practice" workshops and retreats across the country. Her dedication to yoga has been recognized by musician and actor Janelle Monáe, Black Girl In Om, and NYLON Magazine. Chelsea is also the creator and director of Yoga, Literature, and Art Camp for Teen Girls at Spelman College Museum of Fine Art. Learn more by visiting: www.chelsealovesyoga.com
Tatiana Zamir is a choreographer, dance instructor, performing artist and holistic healer. Tatiana earned her BFA at UCLA in the World Arts & Cultures Department with an emphasis on dance. She continued her studies in holistic body therapy at the Institute of Psycho-Structural Balancing, also in California, where she honed her skills in the healing arts and integrative approaches to wellness. A unique, movement therapy-based practice for healing and upliftment evolved naturally. Groups and individuals in the US, Southeast Asia and Southern Africa have benefitted from Tatiana's Radiant Healing Breakthrough Workshops -- which teach use of the body as a vehicle in overcoming challenges and achieving one's highest destiny. From these workshops to her inclusive Afro Hip-Hop dance classes and performance art pieces Tatiana proves herself to be a compassionate, outside-the-box creator of dynamic, expansive, empowering and joyful experiences that catalyze transformation. To learn more or engage with Tatiana and her community: www.TatianaZamir.com IG: @TatianaZamir
What to bring:
- yoga mat
- face towel
- tennis shoes
- water bottle
- cash for hearty vegan snacks after we've moved!
---
FAQs
What are my parking options getting to the event?
There are two parking structures on Crenshaw & 54th and a third structure on 54th and 11th street for our event.
Can I pay at the door?
Beacause this event is expected to sell out, reservations are required. You may email us 24 hours before event to see if there are any openings.
Are refunds issued?
All sales are final. No refunds or transfers will be issued.
I am a beginner to one or both of the practices we will be doing on Sunday. Is this workshop for me?
Yes! This workshop is for all levels!