Description
---
Elevated Mornings is an educational event provided by The Think Shop and Red Hot Promotions. It is designed to build industry knowledge and connect small to medium sized businesses, entrepreneurs, and creative individuals within our community.
Elevated Mornings uses a combination of productive networking strategies paired with relevant speakers and topics to create a unique experience. Each meeting will feature a unique speaker discussing a wide range of topics such as: their business strategies, successes and struggles, and how marketing and design can elevate a business as a whole.
Come enjoy sample bites and complimentary coffee provided by The Farmstand Market & Cafe, while making valuable connections and taking steps towards elevating your business, brand, and ideas!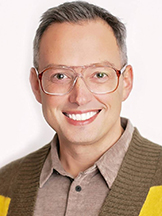 Our next speaker will be:
Michael Monks
Michael brings a broad range of experience as the new host of Cincinnati Edition on WVXU-FM, Cincinnati Public Radio's weekday news and information talk show. In addition to hosting, he is also the publisher/editor/chief reporter for Northern Kentucky's River City News website who spends his weeknights covering city government or school board meetings.
---


Stick around after the presentation for a promotional product giveaway personalized just for you!
---
For more information please email us at design@thinkshopcreative.com