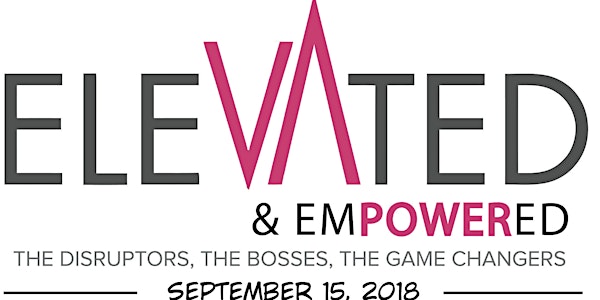 Elevated & Empowered Women's Small Business Conference
When and where
Location
Creekside Conference & Event Center 101 Mill Street #300 Gahanna, OH 43230
Refund Policy
Refunds up to 30 days before event
Description
Are you ready to take your business to the next level?
Elevate your thinking and empower your mind to be the next fierce female who is changing the game for her industry and business.
Elevated & Empowered (E2) is Central Ohio's small business conference preparing women of diverse backgrounds to be the baddest CEOs with confidence and class. Hosted by INCREASE Community Development Corporation (INCREASE CDC) and the Women's Center for Economic Opportunity (WCEO), this one-day event features 3 Masterclass Workshops led by successful, experienced business owners and instructors, a straight-talk panel discussion on being a boss lady, a pitch competition. takeaways and more.
Your conference fee includes:
* The E2 Masterclass Conference Workbook: A sturdy 3-ring binder you'll keep that includes lessons and worksheets from the 3 Masterclass workshops plus business contacts, resources and more
* Continental Breakfast
* Lunch
* A chance to win a one-year membership to WELD and the Women's Business Center at ECDI
* A chance to win up to $1000 through the E2 Pitch Competition (http://www.increasecdc.org/e2pitchapp)
* Purposeful networking and mentoring
Who should attend:
* Women who are serious about growing their incomes
* Women who have been in business from 1 - 5 years full time
* Women who started their businesses with their own money and wanting to attract more outside funding
* Women working their businesses part time, who have side-hustles, who are freelancing
Morning Plenary
Boss Lady Table Talk Session: Passion, Profit & Pain
Listen in on a frank, candid and open conversation from a panel of successful business women who have experienced the pleasure, profit and yes, the pain of owning their own businesses. At the Table, it's always a no-holding back discussion that elevates and empowers you to take your business and your life to the next level. The Boss Lady Table Talk features diverse women who have combined business experience of over 50 years- they won't hold back on what it takes to earn an independent income
Moderated by Deonna Barnett, Executive Director INCREASE CDC
Masterclass Workshop I
Power Up Your Business: Finding the Best Funding, Employees & Customers
You'll Learn:
Tips on Contracting with Local, State and Federal Government
Why and How to become Certified
How to position Yourself to Access Business Grants & Loans
How to Hire Right the First Time
You've heard of "using other people's money" but don't know how to get some of it for yourself? Do you think "I can do it all myself, I can't afford to hire anybody" or maybe you believe "every customer is a good customer, no matter what". This fast-paced masterclass helps you navigate some of the ins and out of contracting with a special emphasis on government contracting (billions are available), the advantages of certification, tips on accessing business grants and loans, multiple ways to increase your capacity by building a smart, reliable team of employees to free you up to do more of what you're passionate about (after all that's why you started your business!) and how to identify good customers and those you may have to cut loose. And you'll learn about Central Ohio's new HIRE 1 initiative and the benefits and rewards of becoming a member

Masterclass Workshop II
Elevate Your Social Capital: Building Relationships That Empower You and Your Business
Let's go beyond the business card exchange, ok? Beyond LinkedIn and Facebook friending. In today's digital age, building authentic, strong, sustainable relationships can be elusive. And maybe going to one more networking event…well, you just can't or it's become a chore. We get it. This workshop brings you new perspective and new ways of deeply connecting with the right people, mentors and customers to grow your skills as a business woman and your bottom line too.
Masterclass Workshop III
Amplify Your Digital Intelligence: Creating A Smart Business in Our Smart City
If you are still using your smartphone just for calls, texting and posting or your computer merely for email, creating reports and spreadsheets- you have unlimited capacity at your fingertips and this workshop will be a real eye-opener. From the newest apps to software-as-a-service and blockchain to podcasting, the goal of this workshop is to take your digital intelligence and your income higher by making your business smarter.
The E2 Pitch Competition
Bring your inner shark because this time you get to decide! The E2 Pitch Competition is an interactive attendee experience throughout the conference. Six women will compete for the pitch prize. The audience will select 2 finalists who will then compete before the pitch competition panel to determine the prize winner of up to $1000!
Register now for this event and bring a friend. Sponsorship, Vendor and Partner opportunities are available. For more information contact INCREASE CDCat 614-383-7750 or email info@increasecdc.org.
Special thanks to our Sponsors & Supporters:
Tatum Landscaping & Lawncare
Women for Economic & Leadership Development (WELD)
Afrocentric Personal Development Shop (APDS)
ECDI - Women's Business Center
Utban Entrepreneur Radio
Catalyst Consulting
Unstoppable Community
For more information about this event, visit http://www.increasecdc.org/e2conference.