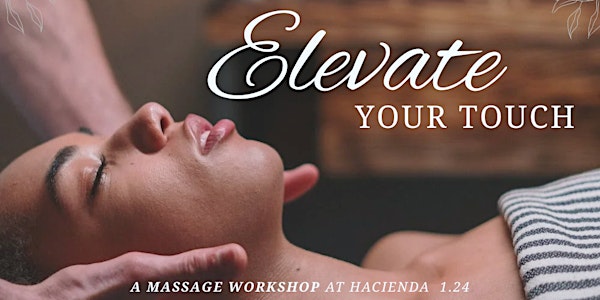 Elevate Your Touch
A massage class at Hacienda!
When and where
Location
Hacienda Villa: Address to be confirmed via email. Broadway Brooklyn, NY 11206
Refund Policy
Refunds up to 1 day before event
Eventbrite's fee is nonrefundable.
About this event
This workshop is an introduction to little-known principles that can elevate any touch, from the simplest caress to the most advanced therapeutic massage.
Take your physical contact to the next level by learning concepts and techniques that create a gentle, intimate, and soothing experience for both the receiver and the giver, while also providing effective pain relief.
Class format:
An introduction to the benefits of therapeutic touch and common misconceptions surrounding massage.
Guided exploration of touch principles and techniques as applied to the most common problem areas, such as the shoulders/neck, chest, low back, butt, and forearms.
Open exploration time to experiment, practice, and ask questions!
Attire and expectations:
This is not an erotic or play event.
Bring a yoga mat or something soft to lay on. Participants are also encouraged to bring a small blanket or large towel to lay on for comfortability.
Participants are free to wear as much or as little clothing as they would like, provided genitals are covered. There will be massage oil used; plan accordingly for your experience and comfort (consider oil stains).
Techniques for working through clothing and/or blankets will also be presented. Please bring a small blanket (preferred) or a large towel.
Please plan to attend with a partner to practice on.
Host Bio
Haven Goodfellow is a professional LMT and CPT with over 25 years of body work, medical, and movement training. He specializes in deeply relaxing therapeutic body work that combines massage, movement and breath reprogramming, and education. He has also worked as a professional experiential educator since 2009. In this capacity he has taught outdoor education and skills, physical education, martial arts, fitness, dance, leadership development/teambuilding, and educational theory. He has been the operations manager and head trainer/facilitator for multiple education and adventure companies and has developed and delivered programs throughout the United States, Ireland, Malaysia, and Singapore. His educational approach is playful and fun with a heavy emphasis on facilitated exploration and discovery rather than didactic content delivery. His programs are an intentionally safe space for people to show up as their most authentic selves and are LGBTQIA+/Queer/Kink/Alternative Lifestyle friendly.
Health & Safety
We ask if you're feeling unwell at all, or test positive for COVID before an event, that you do not attend. You can request a refund (up to 8 hrs before the event).
Before attending social gatherings check yourself for symptoms of monkeypox which include fever, swollen lymph nodes, muscle aches, rash, and skin lesions.
Connect with People Before
We are excited to be collaborating with a new sex-positive dating and event app for this event. Bloom Community helps people meet around events, and is built for people looking for connection who share our community values: consent, communication, and respect. Want to see who's going, match, chat, and meet the community? Check out the event on the Bloom Community app:

This event is hosted by Hacienda, a sex positive community based in Brooklyn, NY. During the pandemic, we're hosting virtual events like this one nearly every week. Follow us on Instagram, like us on Facebook, or visit our website and sign up for our newsletter to hear first about all our sex positive events!