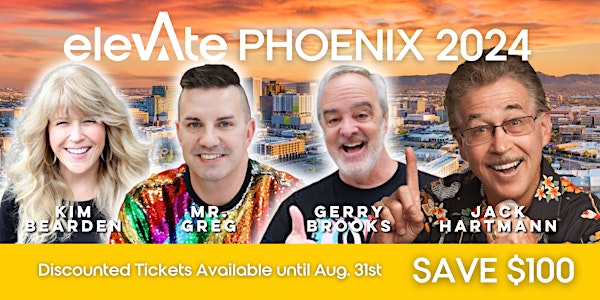 ELEVATE Your Classroom - Phoenix 2024
In-Person Professional Development Educator Conference for Early Childhood and Elementary Educators.
By Elevate Your Classroom, LLC
Location
Sheraton Phoenix Downtown 340 N 3rd St Phoenix, AZ 85004
About this event
In-Person Early-Education Conference.
The ELEVATE! conference is a 3-day conference just for early education teachers, PreK - 2nd grade. This conference is founded on research with the core objective of supporting educators who work selflessly in the classroom each day, giving their all. The ELEVATE team consists of highly experienced and award-winning educators who are currently teaching in the classroom or actively serving in schools.
ELEVATE is here to support YOU. Our conferences will provide you with the absolute best professional development sessions offered for Pre-k to 2nd grade educators. Every ELEVATE conference will include multiple sessions on all core academic strands (including reading, writing, math, science, & social studies), as well as administrative, SEL, school culture, classroom management, and culturally responsive teaching workshops.
Day 1 July 11th: Begins with Registration & Swag pickup from 4-6 pm, then a Hilarious and Inspirational Keynote from YouTube Sensation Gerry Brooks from 6 - 7 pm, followed by an hour Meet & Greet!
Day 2 July 12th: will begin with a morning dance party with Jack Harmann followed by Breakout sessions. Approximately 8 am - 5 pm
Day 3 July 13th: will be a full day as well! A keynote by Kim Bearden followed by breakout sessions, and a then closing Keynote from Mr. Greg from The Kindergarten Smorgasboard - Approximately 8 am - 4 pm
Your Ticket Includes:
T-shirt & Lanyard
Free Binder
Swag Bag (zippable that you'll use for years to come!)
Downloadable Content
Over 20 PD Sessions to choose from to build your own experience
Keynotes by Gerry Brooks, Kim Bearden, & Mr. Greg
Concert by Jack Hartmann
Get Your Discounted Room Reservation
Be sure to reserve your room right away at the special discounted rate using the following link. This rate is available only to Elevate! Phoenix attendees and has limited availability. CLICK HERE