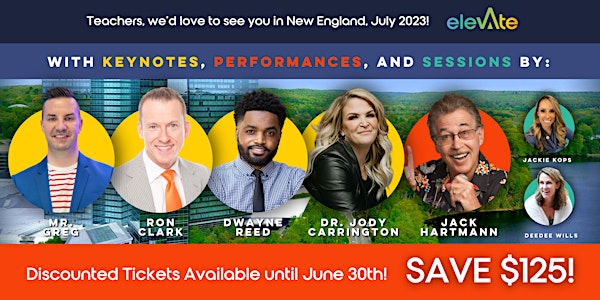 ELEVATE Your Classroom - New England 2023
In-Person Professional Development Educator Conference for Early Childhood and Elementary Educators.
When and where
Location
Mohegan Sun Casino, CT 1 Mohegan Sun Blvd Montville, CT 06382
About this event
In-Person Early-Education Conference.
Hey Teachers! Take advantage of our discounted pricing before it goes up! You can save $125 now for a limited time!! Ticket price will change June 30th.
The ELEVATE! conference is a 3-day conference just for early education teachers, PreK - 2nd grade. This conference was designed with the core objective of supporting educators who work selflessly in the classroom each day, giving their all. The ELEVATE team consists of highly experienced and award-winning educators who are currently teaching in the classroom or actively serving in schools.
ELEVATE is here to support YOU. Our conferences will provide you with the absolute best professional development sessions offered for Pre-k to 2nd grade educators. Every ELEVATE conference will include multiple sessions on all core academic strands (including reading, writing, math, science, & social studies), as well as administrative, SEL, school culture, classroom management, and culturally responsive teaching workshops.
Day 1 July 31st: Begins with Registration & Swag pickup from 4-6 pm, then an Inspirational Keynote from Dwayne Reed from 6 - 7 pm, followed by an hour Meet & Greet!
Day 2 August 1st: will be a full day of amazing content! A morning Keynote by the renowned best-selling author Dr. Jody Carrington, an afternoon DANCE PARTY with Jack Hartmann, and Breakout Sessions - Approximately 8 am - 5 pm.
Day 3 August 2nd: will be a full day as well! Spend A Morning with Ron Clark! (Keynote, 1 Hour Q&A, and Book Signing, then Breakout sessions, and a closing Keynote from Mr. Greg from The Kindergarten Smorgasboard - Approximately 8 am - 4 pm.
Download the Brochure - Click Here
Your Ticket Includes:
T-shirt
Free Binder (think Trapper Keeper - that you'll use for years to come)
Teacher Bag (zippable that you'll use for years to come!)
Downloadable Content
30 PD Sessions to choose from and build your own experience
Keynotes by Mr. Greg, Ron Clark, Dr. Jody Carrington & Dwayne Reed
Booksigning with Ron Clark
1 Hr Q&A with Ron Clark
Dance Party with Jack Hartmann!
Get Your Discounted Room Reservation: CLICK HERE