ELEVATE YOUR BUSINESS! - With Industry Expert Caroline Newman

Saturday, May 13, 2017 from 9:30 AM to 5:00 PM (BST)
Event Details
Meet Your ELEVATE™ Mentor
Join Caroline Newman for an exciting day of strategies, BREAKTHROUGHS, tools, entertainment and fun.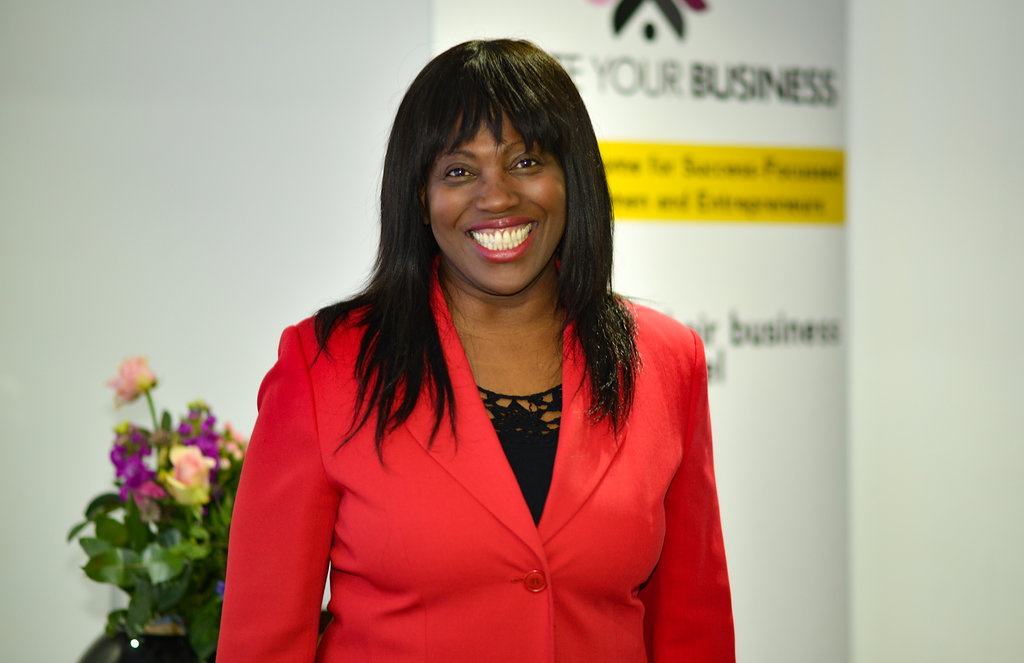 Why Should I Attend the 'Elevate Your Business' Seminar?
Are you an inspired, success-focused business woman?
Are you looking for meaningful growth in your life and business? 
Are you stuck between where you are and where you want to be?
Are you ready to elevate your business to new heights and have all the love and abundance that you deserve?  
Do you want to be able to share your frustrations and successes with like-minded women and get real time solutions?
Do you want business mentors to help you to create, strategise and grow with grace and ease?
Is this you?
On the one hand, you are off the starting blocks. You've overcome the initial steep climb. However, ahead of you is the summit and the climb looks equally as hard if not harder.
✓ You want to go on and reach the top but you know you cannot do it alone. 
✓You want the resources, know-how and support to take your business to the next level but not sure of the next steps
✓You want more time to relax and enjoy the company of good friends and loved ones. 
Running a business is often compared to climbing a mountain. However, you don't have to do things the hard way. The best route up a mountain is the one already trod. 
Taking a business to the next level can be as easy as a walk in the park if you have the right MINDSET, equipment and the right team. 
Most of us want to have more time to do the things we need to do.  As mothers, partners, business owners, entrepreneurs, carers and homemakers we are inundated with roles and tasks.  Our "to do" list seems to keep growing every day
➡    Are you fed up of doing it alone and long for the support of like-minded sisters who understand your journey and can offer you the benefit of their wisdom and experience?
➡    Do you long to be able to leverage your time by outsourcing but have been put off by the challenge of finding the right people?
➡    Did you go into business hoping to give back, but are frustrated that all your time is spent working in your business rather than on it or  using it to bring about change in your community?
➡    Do you simply want more time to do what you love, less stress and the ability to earn more money?
➡    Do you dream of taking your business from a five to a six or 7 figure income but don't know where to start and who to work with?
Then this event is just what you have been looking for!  
Presented by ELEVATE™,  Caroline Newman brings the power of the Sistermind™ to female entrepreneurs, to give you exactly what you want:
✓     More time
✓     More money
✓     More focus
✓     Less stress
✓     And a business that you love.
Discover the power of the Sistermind™ - our inspired take on masterminding that utilises and celebrates the feminine energy, encouraging co-operation & collaboration, not separation& competition. 
Learn how to do wise joint ventures. 
Connect with the secret of how to build your business in a soulful way and still make money
Learn how to energise yourself so you have more drive, more focus and get more done WITH EASE AND FLOW
Embrace behaviours that help you to reclaim and leverage your time and resources so you are 100% more productive and half as busy 
Caroline Newman
---
Caroline Newman (AKA The Business Advocate) is a successful lawyer and business owner.  She qualified as a solicitor in a top city law firm.  She has since started, grown and successfully merged her legal practice.  For the past ten years, she has been a consultant, business and personal development coach mentor, adviser and trainer in the corporate, legal and entrepreneur sectors offering Professional and Personal Development assistance to business owners, leaders, judges, QCs, barristers, solicitors and law students.  She trained as an actor and TV presenter and regularly works in this capacity.
She is highly skilled at delivering business solutions and mindset management programmes that really work. She is a certified Thinking into Results Consultant with the Proctor Gallagher Institute.
Caroline is also the author of the Legal Gold trilogy and creator of Raise the Bar™, Fast Track to Silk™, LawLeader™, Ninja Tactics to get your First Job in Law™, Practical Diversity™ and GrowLaw™ coaching and group training programmes.  
Caroline is the creator of Sisterminding™ an inspired, creative and fresh take on the mastermind concept.  She is a sought after professional speaker at conferences and seminars and runs monthly group coaching for lawyer and non-lawyer clients.
Caroline uses her legal skills as a corporate company and employment lawyer to help her clients. She is passionate about building a thriving community of inspired business owners who are awakening to the gift and power that they have to cause change in the world by doing what they love.  Caroline is the founder of Sisterminding™ members club where women business owners come together to support each other, share ideas and progress their business so that they make an impact, make money and make the world a better place.
She helps her clients and members get over any confusion or overwhelm and to find clarity and direction on their business vision.  She offers coaching services that will give them the tools, resources, transformation and inspiration to take action right away to develop a love-based business that supports their lifestyle and celebrates their life purpose, while they do their valuable work.
She is also the founder of The Confidence Factor™ held yearly in the spring, bringing together expert speakers to share with women how to become more confident in all areas of their lives.
Caroline was a successful corporate attorney earning in the upper six figures, handled billions of dollars in mergers and acquisitions, was an adviser to boards and executives of fortune 500 firm.
After attending training courses with Andy Harrington, Tony Robbins and Bob Proctor her entire life changed when she realized she was not fulfilling her life's purpose
Caroline closed her law firm and founded The Lawdacity Institute to help good lawyers become great. She has since rebranded as The Business Advocate - helping Women Business Owners to have the success they want in their businesses.

She is the founder of the African Women Lawyers Association a social enterprise which provides mentoring, networking opportunities and training to women solicitors, chair and member of various Law Society committees. She is very active in the creative team at her local church.  She makes sure she takes time for self-care and her own personal and professional development.
As well as being an expert in business planning, training and development, Caroline is also a certified coach, NLP Master Trainer, an accomplished author, speaker and presenter. Caroline regularly hosts networking events on behalf of the Law Society and the Bar Council.Caroline Newman is on a mission to help women entrepreneurs to build stronger more productive businesses that they love and delivers them the most valuable asset: freedom
 We have all overcome challenges and achieved amazing success against the odds. We know that sometimes that glass ceiling can feel like concrete!!  We encourage you to take inspired action in line with your values, whatever your background.
 There is a certain kind of woman entrepreneur needed today to promote entrepreneurship in a heart centred way. If that woman is you this event will inspire, motivate and empower you.
 You have invested in your business; you know you are capable of more, now it's time to invest in you. Caroline Newman will enable you to grow in authentic confidence & step into your power, so you can be resilient to any of life's challenges and achieve your greatest potential. 
So if you REALLY want: 
✓     More time
✓     More money
✓     More focus
✓     Less stress
And a business that you love
 ...then you can't afford not to attend this seminar
 By the end of the day you'll have discovered:
How to overcome your fear of failure, improve your life, and achieve your dreams.

How to delete "Imposter Syndrome" from your mind FOREVER  
How to re-engage with your passion for your business to get more CLARITY, more INSPIRATION and re-discover your LOVE for your business to give you more sales, more profit and more time.

Where and how you can generate an endless flow of 'hot', qualified sales leads (without spending a fortune!)

The exact strategies you can implement to turn those leads into buyers (and lifetime customers!)
How to be your most productive

How to save 4 to 5 hours EVERY day

Five essential habits to keep you productive and get 30% more done each week

How busy women entrepreneurs and leaders stay focused even through all the distractions of their day

The right way to use your "to-do" list to accelerate your goals
The 5 ways that successful people save time and leverage their energy to do more with less time... and maximise profits and how YOU can do the same!

How to structure your business to deliver MAXIMUM VALUE to your clients 
---
Kerry O'Dowd
---
Kerry O'Dowd is a Vocal Coach, Singer, Trainer and Speaker.
Starting her performance training at the age of 8 she went on to study full time at 'The Sylvia Young Theatre School'. Her voice has allowed her to perform at 'The Royal Albert Hall', 'Buckingham Palace', 'The Palace Theatre', 'Abbey Road Studios' and many more wonderful Theatres and venues across the UK.
Touring the world on cruise ships as the Leading lady and more recently touring the UK with Gareth Gates, she faced her fears this year and made her first appearance on 'The Voice UK'.
 As a vocal coach for speakers, business owners, children, adults and the elderly, Kerry helps people to find their voice, their confidence so they can make a bigger impact in many aspects of their lives.
 The voice is something we tend to take advantage of; we use it every single day but don't stop to consider the consequences of losing it. Kerry takes you through every step of how to embody your confidence, find your power and harness your strength by using your core and breath. You will understand how your lifestyle affects your voice and then enjoy the benefits when you see even small changes creating the influence and impact you always wanted.
 It is now your time to be seen and be heard!
 FAQs 
When and Where is the Event being held?
This event will be held on Saturday 13th May 2017. The timings are 9.00am until 6:00pm at Grand Connaught Rooms, London.
Is my registration/ticket transferrable?
Yes, you may pass your ticket on to whoever you wish. 
Do I have to bring my printed ticket to the event?
You will be required to show either a paper or an electronic copy of your ticket in order to be admitted to the event. 
I can't make this date.  Will there be another Elevate Your Business Seminar?
This is a one off, one of a kind Seminar.  There will not be another!! 
How much does it cost?
 Your investment is £27.00 
 Ok, this all sounds great, but what results will I get?
Regardless of whether you're a seasoned professional at running your business, have just a little bit of experience, or are thinking of starting a business, or just want to come and hang out and be inspired by some great women and have fun - at the Elevate Your Business Event you will get everything that you need.  We guarantee that you will leave the event with everything that you came for. 
What makes Caroline Newman a great mentor? Read What Some of Her Clients Have to Say...
"Fabulous event. Interactive, fun, informative. Great speakers."—–N.N.D. (Producer/Presenter of "The Workplace" on Resonance 104.4 FM)
"For anyone thinking of, or who has already started a business – this event is for you!So much wonderful and helpful content and 'action' provoking thoughts to keep you 'accountable' and driven on your 'business' path.
The speakers were so inspiring and moving, there was so much in the day that I will recall when moving forward. Thanks to all the awesome ladies and the 'elevate' event.—-Jo Courtney"
"Am so glad I connected with Caroline. This was such a fabulous training by women for the women, should say powerful women, in business. Really cleared up a few doubts in my life & business. Thanks ladies, hope to connect with most of you soon!" —-Empress
"The event was very lovely. I learned to continue strive and better myself in business and personal life. I leave this event feeling stronger, more focused and more driven." —-Camille Constantine
"I was thrilled to be in this environment today. It was so supportive, well organised and intentional. The resources and information shared were suitable for a wide range of entrepeneurs at different stages of their journey. Thank you Caroline for your stellar vision. Women of colour need this, especially because we have the creativity and grit to go from A-Z but we don't always know how to remain F.O.C.U.S.S.E.D. Bravo and greatest fortune to you and your fabulous team of presenters and volunteers. The future awaits your next event. Sign up folks, get to it and shine!" —-Dr Sharon Wray
"Today's event was both inspirational and motivational. Roz's Passion in sharing her life stories and her journey was both moving and compelling. I was totally gripped throughout. Caroline inspired me to re-evaluate my whole business strategy in 15 mins! Her presentation was both informative and real, delivered in a warm and wonderful way. So much clarity in such a short time. I just cannot get enough of her. Wow…wow…wow. You just cannot put a value on what I learned today." —-Sheila Khelani
"I felt very supported as a business leader by the Elevate experience. I came with
confidence but left with so much more. I felt inspired by the stories, advice and
strategies, from the tales of becoming a make-up artist, to voice warm ups, it was fun and so helpful. Thank you all for such a dynamic and refreshhing experience." —-Kate Parsley
"I didn't know what to expect but was great to have inspring/knowledgeable women take the lead. Women can engage with other like-minded women in a way that they feel secure to express themselves. The environment and setting allowed growth." —-Wendy
"Elevate Your Business workshop was a very inspirational day. Three fabulous speakers that shared very motivational stories about their journeys in becoming the people they wanted to be and achieving the lives they want to live. A day full of encouragement and opportunities to reflect on where your business is – whatever stage – idea, start-up, and thinking about what you want to do to elevate it."—-Cherie Cowan-Smith
"I've been to many events but there's no other event that has such amazing collective energy in the room. I was inspired and empowered to elevate my business and take it to the next level."—Christina Leag
"Our lives are epic adventures with the potential for lasting impact and it's our outlook that determines our success." - Caroline Newman
"The decisions you make today affect your life forever." Caroline Newman
What will I come away with from the event?
Spend just one day with your ELEVATE Mentors and...
Caroline will help you to design a business that's guaranteed to make you tens of thousands pounds or save you thousands

You'll discover exactly how to create a new business

Caroline will give you the system they've used to save time and money and reduce stress

Plus... Caroline will show you how she grew her own business  - and how you can do the same!

Before you Leave you will get A FREE copy of E.LE.V.A.T.E Your Business - What Successful People Do Every Day
Does this Event come with a Guarantee?
Register your place today and attend the one day Elevate your Business Seminar.  Bring a pen and paper.  Absorb every bit of information from your ELEVATE Mentors have to offer. Get all of your planning done and have your business ready to grow massively.
And if by the end of the day you don't think it was worth every penny you paid – and more – just let us know and we'll refund your investment in full – no questions asked!!
SECURE YOUR PLACE
WHO WILL BE COMING?
Some of the most successful women business owners will be coming so there will be opportunity to network at the highest level.
Here's to Your Success!

www.elevateyourbusiness.info
When & Where

Millennium Gloucester Hotel & Conference Centre
4 - 18 Harrington Gardens
London, England SW7 4LH


Saturday, May 13, 2017 from 9:30 AM to 5:00 PM (BST)
Add to my calendar