ELEVATE Women's Conference - South San Francisco
About this Event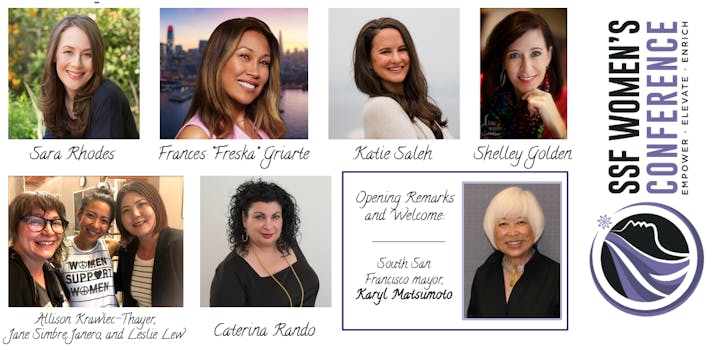 Join The Women on the Rise SSF and Women's Wellness Center SSF for our first annual South San Francisco Women's Conference!
We believe in the power of sisterhood, so we are coming together to Elevate ourselves and one another. We have a full day of speakers lined up, catered breakfast and lunch, and a super empowering hand's-on activity!
(all proceeds will benefit The Breast Cancer Emergency Fund - a Bay Area nonprofit providing financial assistance to low-income individuals battling Breast Cancer)
Get your Early Bird ticket before August 31!
-----------------------------------------------------------
We will begin our day with opening remarks by Karyl Matsumoto, Mayor of South San Francisco
Our program will feature topics such as:
How to Make An Awesome First Impression - Shelley Golden of A Style Experience
Create A Life That Is A Good Fit For You! - Sara Rhodes, Life & Wellness Coach & Consultant
The Fearless Movement - Jane Janero, Leslie Lew, & Allison Krawiec-Thayer of the Women's Wellness Center
Nourish To Flourish: Healthy Meal Planning Basics - Katie Saleh of Saleh Wellness
Keeping a Positive Mindset Through Challenging Times - Frances "Freska" Griarte of 96.5 KOIT
"Believing In YOU"- Discussing Empowerment, Confidence and Sisterhood - Caterina Rando of Thriving Women in Business
and
-----------------------------------------------------------
Doors open at 8:30am and the event will run from 9:30am - 4:00pm. Breakfast and lunch are included.
There will also be an after-party at Antigua Coffee Shop to announce the Woman of the Year.
A Big Thank YOU to the following Sponsors:
Lisa Marroquin, Realtor- Park North Real Estate- Gold Sponsor
Specific Chiropractic Centers- Silver Sponsor
Evolve Training Center- Silver Sponsor
SSF Scavenger Company- Bronze Sponsor
Brentwood Finance Company, LLC - Bronze Sponsor
Soroptimist Int'l of North San Mateo County- Bronze Sponsor
Circle Communications- Copper Sponsor
A SPECIAL THANKS TO:
Antigua Coffee Shop
SNB Party Rentals
ARTdeezine LLC
Submit your Woman of the Year nominee here bit.ly/wotynominees by August 14!